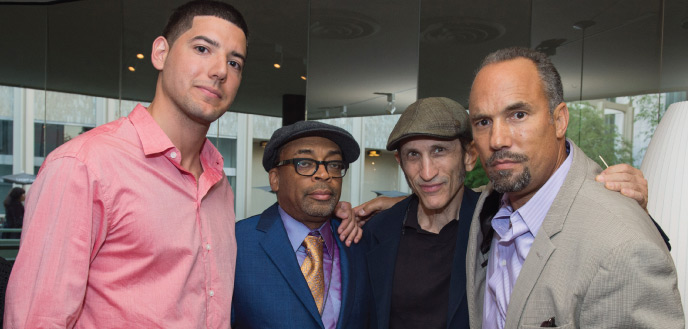 Oxy's Moore Laboratory for Zoology spreads its wings with a National Science Foundation grant; Raffy Cortina '13 meets fellow Student Academy Award-winning filmmaker Spike Lee; and more.
Student Academy Awards alumni Raffy Cortina '13 and Spike Lee—whose wins are separated by 30 years—crossed paths following a 25th-anniversary screening of Lee's Do the Right Thing at the Los Angeles County Museum of Art on June 27. Actors Richard Edson (Vito) and Roger Guenveur Smith '77 (Smiley) round out the foursome. Cortina is a director's assistant on the horror comedy Scouts vs. Zombies (set for release on March 13, 2015) for producer Todd Garner '88.
A $400,000 National Science Foundation grant will allow Oxy's Moore Laboratory for Zoology to purchase modern white steel cases that will better protect the specimens against pests; to fund student and staff work on updating the scientific names of the specimens, which are out of date and impeding research; and to develop a new website that will better highlight the collection and its research and educational uses. Established in 1950, the Lab's collection contains 62,382 bird and 2,158 mammal specimens, placing it among the world's largest research natural history collections.
Special Forces Staff Sgt. Scott Studenmund—son of Laurence de Rycke Professor of Economics Woody Studenmund and his wife, Jaynie—was one of five American soldiers killed by friendly fire from the air in Afghanistan on June 9. Studenmund's team was participating in a multi-day, high-priority mission in the Gaza Valley, Zabul Provence. The mission was nearing completion when the team came under fire by enemy forces in large numbers. He joined the Army in 2009.
Professor Xiao-huang Yin, chair of American studies and special adviser to President Jonathan Veitch on Chinese initiatives at Occidental, has been awarded a Fulbright Distinguished Chair grant to teach and do research in China for the 2014-15 school year. He'll conduct his research at the Second Historical Archives of China in Nanjing, the capital city from 1912 to 1949, for a book on Chinese-American transnationalism.