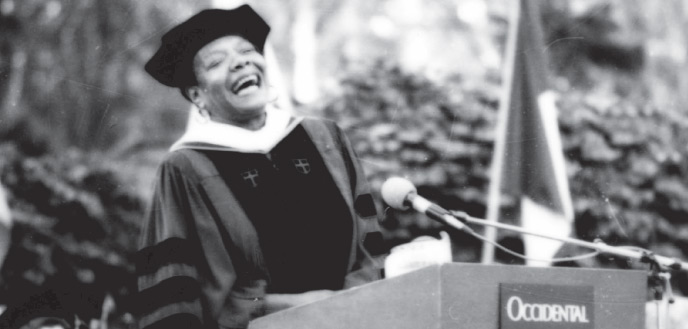 Words worth repeating from the Oxy community
"Lots of folks, way before you were born and way before you came of age, paid for you to get here. … pay for somebody else to get here years down the line!"
—Maya Angelou, speaking to Oxy's graduating seniors on June 14, 1992, as remembered by Dean K. Thompson, father of Nathan Thompson '92, in the Asheville (N.C.) Citizen-Times following her death in May. He called the poet/memoirist's Commencement address "the most powerful speech I have ever heard in person."
"From now on, you can call me Dr. Doctor."
—Bob Winter, Arthur G. Coons Professor of the History of Ideas Emeritus, upon receiving an honorary degree during the Fifty Year Club meeting June 22. A legendary lecturer and nationally known architectural historian and preservationist, Winter arrived at Oxy in 1963 and chaired History of Civilization for six years. Several FYC attendees put their hands together in an arch above their heads to demonstrate Winter's signature teaching move: "It's the arches!"
"I'm still kind of new to this field—I feel like I need to learn a lot more."
—Ryan Metzler '14, an art history and visual arts/media arts and culture major from Doylestown, Pa., whose senior comps documentary, Eth"No"Representation, was a last-minute entry—and a national finalist—in the 2014 Student Academy Awards. His film explores the misrepresentation of Native Americans in mainstream media through the eyes of Native Voices at the Autry, a local theater troupe.