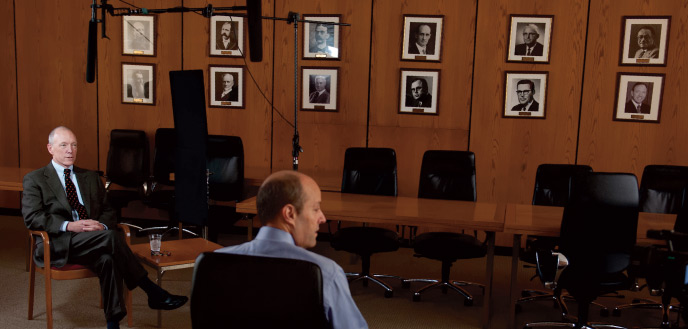 Catching Up With Recent Newsmakers 
Former Occidental President Ted Mitchell was confirmed by the U.S. Senate in May as undersecretary of Education, the Education Department's top higher education official. He was nominated for the post by President Barack Obama '83.
New York Times investigative reporter Andrea Elliott '96 has been named a New American Fellow. She will join a select group of journalists, academics, and other public policy analysts in pursuing "ambitious lines of inquiry designed to advance the frontiers of knowledge and understanding regardless of ideology or party affiliation."
A scrap of papyrus analyzed by Harvard Divinity School professor Karen King that referenced Jesus' "wife" has been debunked as a forgery. The controversy over the papyrus had garnered King, a former religious studies professor at Occidental, international attention—as well as death threats—since her findings were first published in 2012.
Terry Gilliam '62 may be laughing all his way to the bank following Monty Python's recent 10-show reunion concert at London's O2 Arena, but the iconoclastic filmmaker was none too excited about the gig in May. "We worked so hard to get careers beyond it, to get to this stage, and now we're being dragged back again," he told the London Evening Standard. "With any luck, the Python shows will be cancelled." (No such luck.)
Eric Moore '83 and wife Karen, daughter Tara, 9, and son Miles, 2, were personally invited by Moore's old Oxy classmate, "Barry" Obama '83, to attend the 136th annual White House Easter Egg Roll on April 21, after which they all met with President Obama in the Oval Office. Moore is managing director and partner at the regional office of Cassidy Turley, a commercial real estate firm in downtown Los Angeles.