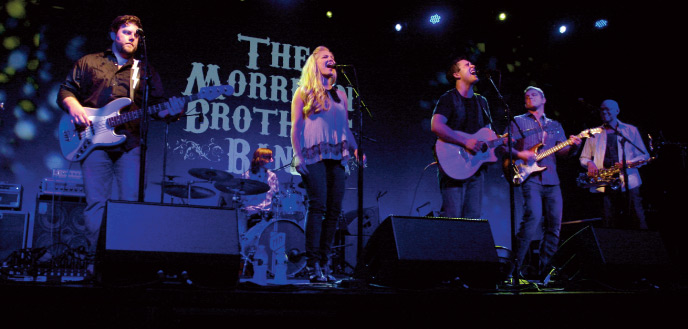 Brothers Willie and Truman Morrison '07 started making music at Oxy and took their act to the Roxy. Now they're knocking on Nashville's door
By Sam Mowe '07
Every Christmas Eve, Truman Morrison '07 and his younger brother, Willie, join their dad, Big Truman—who, incidentally, looks a lot like Santa Claus—on a whiskey-drinking, music-listening tour of their neighborhood in northwest Washington, D.C. They arrive on friends' porches bearing gifts—typically a mix CD compiled of songs by Morrison family ­favorites: Zac Brown Band, Citizen Cope, and Shemekia Copeland, among others. They stay for a few songs—enjoy a drink, reflect on the year—and then, with so many houses to hit in just one night, they're back on the road. 
This cozy little holiday tradition is not so different from when Truman and Willie are officially on tour with the Morrison Brothers Band, the country music group they formed at Oxy in 2007. For the band, music is the vehicle of good times, storytelling, and deepening relationships with family, friends, and fans. Since moving to Nashville in January—and teaming up with another set of brothers, bandmates Matt and Kevin Nolan—the Morrison boys are hoping their music can also help them carry out a dream: to make a living doing what they love. 
There are reasons to believe that they might pull it off. The band won first place in the 2014 Unsigned Only Band Competition, which had more than 11,000 entries for the country music category. They've opened concerts for Merle Haggard, Tim McGraw, and Leon Russell. And earlier this year they wrote and recorded "Ice on Fire," an anthem (complete with music video) for their hometown hockey team, the Washington Capitals. 
Headliners in Nashville have taken notice. Veteran country singer Clay Walker recorded the band's biggest hit to date, "Little Miss Whiskey," and is planning to release the song soon. Perhaps most promisingly, the band is currently working on its fourth album with RPM Entertainment's Maggie Rose and songwriter Dallas Davidson, who has penned No. 1 songs for Lady Antebellum and Blake Shelton, among others.
But it's the intangibles, not the modest accolades or famous supporters, that keep guitarist Truman inspired and enthusiastic. "I'm probably most proud of the band's evolution," he says. "Our live playing, writing, and chemistry on stage are all infinitely better now than when we started jamming with Kevin and Matt."
The Morrison brothers met the Nolan brothers at the New Orleans Jazz and Heritage Festival in 2008. Ever since, they've been honing their sound, a country-rock hybrid with an affinity for storytelling through earnest and heartfelt lyrics. "I don't need a gold mine/to have me a good time, just the girl I love laying next to me. Oh, the life for me/is one where I can be easily pleased," lead vocalist Willie sings on "Easily Pleased."
"Seeing a bunch of people singing along to the words of a song you wrote in your dorm room one night when you couldn't sleep is a feeling like no other," says Willie, who studied at Oxy for a year and later attended the University of Miami in Florida.
Overnight success in the music business can be a long time coming, and the Morrison brothers have been chasing it all the way back to Truman's senior year at Oxy, when they sold tickets in the Quad to their first show at the Roxy on L.A.'s Sunset Boulevard. They play about 12 shows a month throughout the Southeast and hope to land a record deal soon, given their new connections in Nashville and the strength of their new songs.
Truman, who majored in political science at Oxy, has a law degree from American University that he'll fall back on if music doesn't pan out. Willie's Plan B is a little less certain. "Unlike being a banker or a lawyer who can work their way up the ranks, there is no natural progression toward the top in music," Truman says. "Everyone's journey is different, and every measuring stick is subjective." 
So much for being easily pleased.