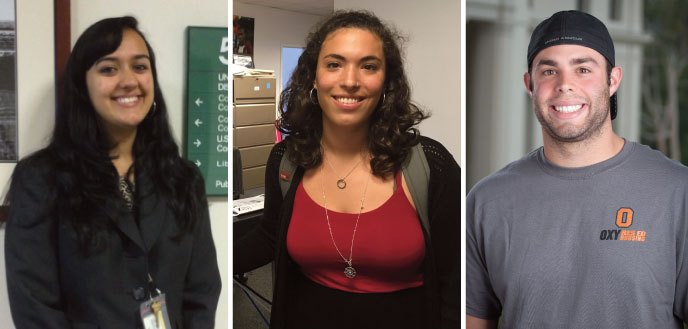 Oxy's InternAway program opens up new ­career paths for undergrads by relieving the financial stress of summer work
Danielle Raskin '17, an urban and environmental policy major from Brooklyn, wanted to spend some time at home this summer and intern with the Working Families Party, a grassroots political operation that endorses progressive candidates for office. Since the WFP is very active in New York, she would be able to work with political staff on various projects, including research on districts where the party has people interested in running for local office in 2017.
There was one small hitch in her plan: The WFP doesn't offer paid internships. And Raskin needed an income as well as the experience. Oxy's new InternAway program "made it possible for me to have an internship in New York City," says Raskin, who hopes to continue to work in the realm of social and economic justice after graduating next spring. "Rather than taking a seasonal job, I was able to earn money to support myself and work toward my career goals."
In a perfect world, every internship opportunity would come with a sustainable wage, allowing students to explore their passions unfettered by the reality of paying the bills. Now, thanks to the support of the College as well as the Hilen Foundation of Seattle, Oxy's ­Hameetman Career Center is underwriting the work of 23 students this summer, enabling them to participate in unpaid internships in a dozen cities nationwide.
The InternAway program is an outgrowth of the Career Center's InternLA and InternPDX (a structured internship program in Portland, Ore., created in 2012). Although InternLA remains Oxy's signature internship program, providing funding for up to 40 students each summer, Valerie Savior '85, director of career services, believes Intern­Away  will attract students of all backgrounds, regardless of financial need. "We welcome the opportunity to expand both programs, based on a growing need for undergraduate students to enter the job market with work experience, as well as the increasing number of students requesting funding for internships," she says.
Unlike InternLA, which partners with preselected and vetted companies, students who apply to participate in Intern­Away have the flexibility to work at any organization that they are interested in, including many nonprofits. This summer, Isaac Glanzrock '17, a geology major from Bainbridge Island, Wash., was interested in acquiring experience in the environmental field while also living in his hometown. So he decided to intern with the Bainbridge Island Land Trust, an organization dedicated to preserving the area's natural environment. "The thought of doing an unpaid internship was never on my radar until this funding source was introduced," Glanzrock explains. "Intern­Away enabled me to explore a part of the environmental sector and still pay for school."
Over the summer, Glanzrock helped the Land Trust develop a database that can be utilized by a geographic information system that takes ecological, economic, and geological factors into account so that it can determine which properties it should focus on preserving. He's headed to Iceland and Greenland this fall to study climate change and aspires to a career in sustainable construction or transportation.
Soumya Kandukuri '17, a diplomacy and world affairs major from San Jose, also chose to intern in her hometown this summer. As a judicial extern for a U.S. District Court judge in the Northern District of California, Kandukuri wrote briefs, created files for upcoming cases, and filed new pleadings. After studying abroad in Beijing last fall, Kandukuri's interest in law was piqued, and she wanted to explore it more fully. She wanted a real-world experience that would allow her to apply and develop her growing understanding of the legal system.
"I would not have known about the ­opportunity to intern at the District Court without InternAway," says Kandukuri, who someday hopes to work for the federal government representing the United States in its collaborations with China as well as teach a college course on U.S.-China relations. "Also, it would have been a lot more difficult for my family if I didn't receive the financial assistance of InternAway."
For rising seniors Irene Lam and Adrienne Adams, Los Angeles is a destination away from home, and InternAway made their summer internships possible. Lam, an art history and the visual arts and English double major from Oakland, interned with Red Hen Press, a publisher that supports diversity and promotes literacy in Los Angeles-area schools. She primarily created mockups for book jackets, as well as illustrations, advertisements, and marketing materials, while working in Red Hen's design department.
"The internship was perfect for me ­because it was at the intersection of both of my majors, English and art," says Lam, who dreams of having a studio space where she can publish and distribute zines, comics, art books, and other printed matter. "Intern­Away made it all feasible for me."
Adams, a critical theory and social justice major from Las Vegas, worked as an archival intern at REACH LA (Realistic Education in Action Coalition to Foster Health), which supports African-American and Latino gay, bisexual, and transgender youth. Adams' ­du­­ties included cataloging and organizing the organization's materials; conducting oral histories with its founders, staff, and participants; and developing an archival exhibit of REACH LA's early years dating back to 1992.
This last spring, Adams took a class at Oxy on queer Los Angeles archives as well as one on anti-gentrification efforts in Highland Park. Both courses included working with community partners and engaging in numerous ­academic fields. "My overall career goal is supporting the economic, social, and ­political empowerment of queer and trans people of color," says Adams. "My exposure to unique educational pedagogies and a range of employment opportunities has prepared me to fulfill my dreams."—CHRIS LEWIS