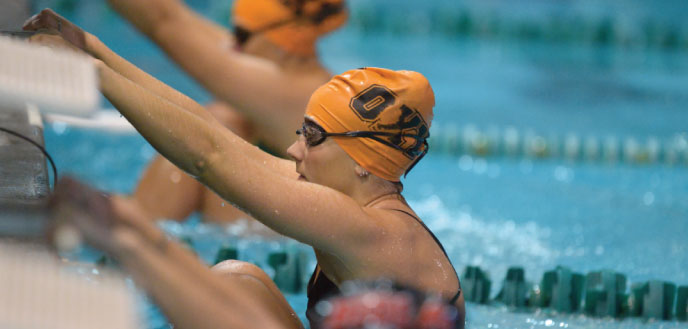 After decades of promises and planning, Oxy's dream of a new aquatic facility is finally within reach—as well as an expanded McKinnon Tennis Center
Oxy's 86-year-old Taylor Pool is so small, swimming practice is held in shifts. Because it's not deep enough, divers have to practice in Pasadena, and water polo goalies take turns standing up in front of the shallow-end goal. "Taylor Pool is not only the oldest pool in SCIAC by 60 years, but it's one of the oldest outdoor college pools in the country," says athletic director Jaime Hoffman.
With several generous lead gifts and a full set of plans from the Pasadena architectural firm of Moule & Polyzoides in hand, Oxy plans to seek approval from the city of Los Angeles by year's end for the long-anticipated Ranier De Mandel Aquatic Center and two additional tennis courts for the existing McKinnon Family Tennis Center. With any luck, student-athletes and their peers will be enjoying the new facilities sometime in 2018. 
The 34,450-square-foot De Mandel Center—named in honor of a lead gift from the late Ranier De Mandel '25—will be built between Jack Kemp Stadium and Campus Road, just north of the Culley Athletic Facility on what now is a parking lot. The centerpiece of the project will be the new 25-yard-by-34-meter pool equipped with 1- and 3-meter springboards. Attached will be a circular recreational pool for general use.
"This project is critical to advancing Oxy aquatics to mirror the standards of excellence in our other programs," Hoffman says. "The De Mandel Center will make us more competitive, improve recruiting, allow us to host major events such as the water polo conference championships, and better serve the entire student body."
The project also includes adding two new tennis courts to the McKinnon Center, which sits atop the facilities management and campus safety offices at the north end of Kemp Stadium. Because SCIAC regulations require a minimum of six tennis courts to host home matches, Occidental has had to rent off-campus facilities to play its conference schedule since the construction of Berkus Hall in 2006 reduced the number of courts to four.
Connecting the pool and tennis courts will be new landscaping designed by Susan Van Atta of the Santa Barbara-based landscape architectural firm of Van Atta & Associates—part of a new water-wise master landscaping plan for campus. Total cost for the project is $17.5 million. Although most of the necessary funding is in hand, several important naming opportunities remain.
Future plans for Taylor Pool and the ­arcaded Field Building that surrounds it—designed by Myron Hunt and built in 1930  at a cost of $45,000—call for the preservation of the Field Building and filling in the pool, creating a new outdoor event space similar to the Booth Courtyard. 
Seeing is believing, of course, and the sight of shovels in the ground will be a welcome one to generations of supporters of one of the College's most successful sports programs. As Hoffman says, "It's time to get Oxy back into the swim of things."