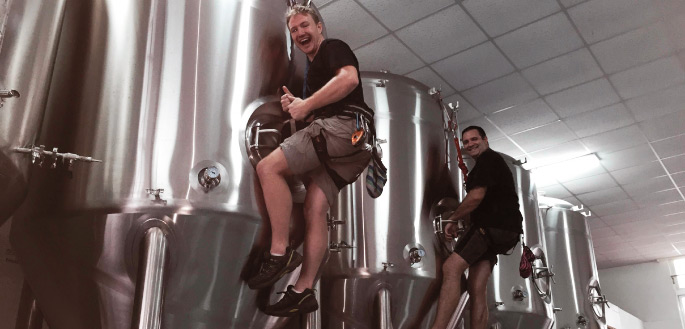 Bringing American craft brewing to the island nation of Taiwan, Spencer Jemelka '08 blends both cultures to produce a better beer
By Ashley Festa
"Taiwan is a place you sort of stumble upon and then realize how great it is," says emigrant-turned-entrepreneur Spencer Jemelka '08. "I don't want to talk about it too much and give away the secret."
A diplomacy and world affairs major from Boulder, Colo., he moved to the East Asian island eight years ago to pursue a master's in diplomacy at National Chengchi University on a Taiwan Ministry of Education Scholarship. But living and studying in Taipei, Taiwan's capital city, Jemelka missed the vast selection of craft beers he left behind stateside. At the time, Taiwan Beer (a large-market lager produced by the Taiwan Tobacco and Liquor Corp.) was the only locally brewed beer and commanded the bulk of the market.
Jemelka figured he'd try making his own brew, just for some variety. He got help from a rugby buddy, Doug Pierce, who was curious to see how the process worked. Soon the two upgraded their small, 20-liter system to a 100-liter system, filling several kegs per week. It was too much for just a couple of guys to drink—which, it should be noted, is a good thing—so they gave it away to their teammates.
"They're rugby players, so they'll drink anything, but they realized it kept getting better and better," Jemelka says. He and Pierce recognized there was a market for craft beers in Taiwan, so in 2012, they started making a plan to turn their hobby into a business, which became Redpoint Brewing Co.
The next step was moving from home brewing to contract brewing—licensing their recipe to an existing brewery—and schooling Taiwanese drinkers (whose per capita consumption of beer is around 5.8 gallons annually) at "beer education" events in locally owned bars and restaurants. "You're drinking something made here on the island, as fresh as possible," Jemelka says. "Our beer isn't pasteurized, so it tastes truer to real craft beer."
Their marketing plan is working, and recently they moved into their own facility—a 30-barrel brewery in Taoyuan, about 45 minutes west of Taipei—where they are operating at about half-capacity, producing 25,000 liters monthly to keep up with current demand. Jemelka and Pierce do all the brewing, bottling, packaging, and deliveries themselves, with a focus on perfecting every step of the process. It's that mindset that helped them settle on the company name Redpoint, a rock-climbing term meaning, essentially, practicing a climb to perfection, which incorporates both their love of the sport as well as their insistence on excellence.
Jemelka and Pierce are adept at infusing their passion for rock climbing with Taiwanese culture. For example, their Long Dong Lager is named after one of their favorite rock-climbing cliffs in Taiwan. Their newest release, Rock Monkey Stout, is named after an endangered Taiwanese mammal, and also hearkens back to rock climbing. Their first beer, an IPA, they call Tai.P.A., or 台.P.A. in Mandarin, the official language of Taiwan.
To fulfill Oxy's foreign-language requirement, Jemelka learned Mandarin, a choice that fit naturally with his major and his East Asian studies minor. These days, he couldn't do without it. Because English speakers are few and far between in Taiwan, everything—understanding business laws, negotiating contracts, buying from vendors, traveling to China to source equipment—must be done in Mandarin.
"Due to Spencer's language skills, we have had opportunities that most foreigners otherwise would not have," says Pierce, a graduate of Southern Methodist University who moved to Taiwan in 2005 and worked in the semiconductor industry prior to founding Redpoint with Jemelka. Being able to walk into any government office and have a conversation in Mandarin, he adds, "is the key to our advantage. Most foreigners can't do that."
Jemelka also says he wouldn't be where he is without the support of Tsung Chi, professor of politics and East Asian languages and cultures, who recommended him for the scholarship in Taiwan. "Spencer is undoubtedly among the top 1 percent of students I have had over the years," says Chi, who himself is an alumnus of National Chengchi University. "I am not surprised at the amazing things he is doing."
When he finished his master's degree, Jemelka managed an automotive enterprise resource planning software company for about two years before making the leap to business ownership. "I was more passionate about brewing," he says. "There's lots more manual labor, but lots more satisfaction from it, especially when you built it from nothing."
Outside of the demands of a 60-hour workweek, Jemelka still finds time to both coach and play rugby. He's a member of the Taipei Baboons, the city's only expatriate rugby club, and he coaches the women's team—the Taipei Babeboons—which won the Macau Beach Rugby Tournament last September.
Sadly, Jemelka says it's been far too long since he's been rock climbing, but he and Pierce still have their sights set on a new summit—exports to Hong Kong, Singapore, and Japan. For now, their largest client is TGI Friday's, which added a pilsner and white ale to the menu at its Taiwan restaurants last July. Redpoint's beers are branded as TGI Friday's, but that doesn't bother the brewers. "It's fine with us," Jemelka says, "because they go through a lot of beer."
Ashley Festa wrote "Air Apparent" in the Spring magazine.