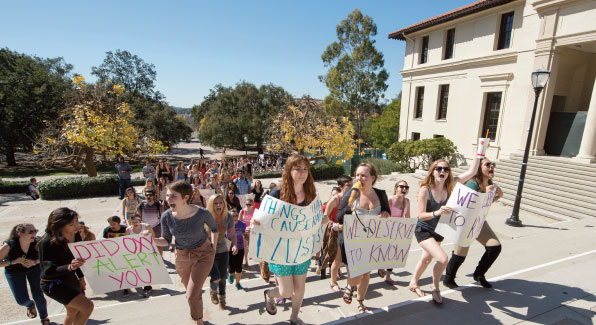 Three-year investigation concludes that—despite delays in resolving some sexual assault cases—the Occidental campus is "actively engaged in important work to satisfy Title IX responsibilities for all students"
Occidental's handling of sexual assault cases did not violate Title IX, the federal gender equity law, a three-year investigation by the U.S. Department of Education's Office for Civil Rights (OCR) has concluded. The OCR did find that three cases in 2012-13 took too long to resolve, but said that the delays did not result in an inequitable response and/or create a hostile environment.
Overall, the OCR reviewed 768 formal, informal, and anonymous reports received by the College from 2010 to 2014. Included in the review were the cases of the students and alumni represented by attorney Gloria Allred, who settled their claims with the College in 2013.
The OCR investigation "found a campus actively engaged in important work to satisfy Title IX responsibilities for all students," Catherine Lhamon, the Department of Education's assistant secretary for civil rights, said in a June 10 press release. "Where we had concerns, Occidental leaders committed to taking appropriate steps to ensure student safety. I am grateful for Occidental's responsiveness during the course of the investigation, as well as its commitment to its students."
"The close of this investigation does not mean an end to our efforts to make Oxy safe for all of our students," President Jonathan Veitch emphasized in a campus email announcing the close of the investigation and the signing of a voluntary resolution agreement with the OCR.
 "We have made significant progress in addressing the problem of sexual assault on campus, but there is much more that we need to do as a community to encourage survivors to come forward and to change campus culture to prevent sexual assault from occurring," Veitch said. "Doing what's required by the law doesn't go far enough for Occidental. We want to continue to improve and do what's best for our students and our community."
Reaction to the OCR announcement, which came almost a month after Commencement, was relatively muted in contrast to what The Chronicle of Higher Education called "some of the most heated and public protests of any campus over sexual violence." Oxy students "were part of the first wave of survivor activists who blew the whistle on campus rape three years ago, and their actions have profoundly impacted Oxy and campuses across the nation," Caroline Heldman, associate professor of politics and a leading Title IX activist, said in a Facebook post. "Virtually all of the changes they demanded have been made. This is a proud moment for these social justice advocates who sacrificed so much."
About 100 staff, faculty, and students attended a June 13 campus town hall at which Veitch, Title IX coordinator Ruth Jones, and College counsel Leora Freedman discussed the investigation process, the OCR's findings and the voluntary resolution agreement. (A second town hall is scheduled for September 13.) "One important takeaway is that this is not about the credibility of survivors. You don't have to make a choice as to who to believe," Jones said. "Three years ago, people had a piece of the picture. Now that we can see the picture in its entirety, we can better understand how the College provided an equitable response."
Freedman emphasized the continuing importance of raising questions and concerns about sexual assault. "That's how we find out if something is wrong, so we can address it," she said. "We want to hear that, because that's how we get better."
While the OCR found the College has not violated Title IX, it expressed some concerns about the timeliness of the handling of certain complaints, staff's understanding of what constitutes retaliation, and whether the campus climate is sufficiently supportive of students coming forward with complaints. Pursuant to the resolution agreement, the OCR will continue to monitor Occidental's progress through the end of the 2018-19 academic year in four areas:
1. Conducting an annual student sexual assault climate survey. The College carried out its first student survey during fall 2015; the next is scheduled for this fall.
2. Development and administration of an annual climate survey for faculty and staff.
3. Conducting an annual review of complaints/reports of sexual harassment, including sexual violence, and the timeline for resolution of such complaints to determine whether any changes to policy or practice are needed.
4. Development of additional training materials on retaliation to be incorporated into the existing annual training sessions for faculty and staff.
The OCR launched its investigation in May 2013 in response to a complaint filed by members of the Occidental community. According to the OCR, the complaint alleged that Occidental failed to respond appropriately and effectively to sexual assault complaints dating back to 2010. During its investigation, the OCR says it interviewed former and current Oxy students, faculty and staff members, top administrators (including President Veitch and then-dean of students Barbara Avery), and student focus groups, among others.
According to the Department of Education, as of June there were 244 open OCR investigations at 193 colleges and universities. Occidental's case is one of 50 resolved since the OCR signaled stricter enforcement of Title IX in April 2011, according to the Chronicle. Of those concluded cases, it appears only a few have resulted in a finding of non-violation of Title IX.
In his email to campus, Veitch thanked the members of the Oxy community who helped draw attention to the issue of sexual assault and the staff and faculty "who have worked tirelessly over the past several years to support our students, shape and implement new policies, improve training and preventative education programs, and bring new resources to bear on this important issue."
 "As difficult and painful as this process has been for our community, I hope we can join in a renewed commitment to working collaboratively in addressing and preventing sexual assault," Veitch said.
While the OCR has closed its investigation, a separate Department of Education review of Occidental's compliance with Clery Act requirements for reporting sexual assaults and other crimes is still pending. It's not clear when that review, also launched in 2013, will be concluded.
The resolution agreement with OCR, the agency's investigative findings, and other relevant documents can be found here.
Here are some of the most widely circulated allegations made regarding Occidental's handling of sexual assault complaints, and the Office of Civil Rights' findings on each.
Did the College's inadequate response allow four serial rapists to victimize other students? "OCR investigated each of the four cases and found that while the College was investigating incidents, additional victims would step forward about incidents that occurred prior to the first complaint that was filed. … there is insufficient evidence to show that the College did not take into account multiple sexual assaults committed by the same respondent during its investigations and when determining sanctions."
Did the College give "book reports" as sanctions to students found responsible for sexual assault? "The evidence did not show that only educational remedies were applied in any sexual misconduct cases; rather they were just one of several sanctions. ... OCR found that the educational assignment was only one part of a remedy that also included other sanctions, including suspension, a formal letter of apology, probation, resignation from leadership positions, and/or training."
Did respondents receive inadequate sanctions when found responsible? "The College applied sanctions, including expulsions, lengthy suspensions and probation. In half of the sexual assault cases where the respondent was sanctioned, the sanction was expulsion."
Did College staff discourage students from filing formal complaints? "None of the students provided, and OCR was unable to identify, any specific examples of situations where College staff discouraged the filing of formal complaints."
Did Oxy retaliate against students who spoke out about sexual assault? "Overall OCR concluded that there was insufficient evidence to establish that staff at the College subjected individual students to unlawful retaliation but the cases raised concerns as to whether College staff understand the definition of protected activity ... The College is resolving these concerns with terms in the [resolution] agreement requiring training for members of the College community on the prohibition against retaliation."
Did Oxy seize the computers and cellphones of faculty critics in an effort to retaliate against them? "The evidence did not show that the request for the computer information substantially affected or disadvantaged faculty members. ... However, even if the request for the computer contents was an adverse action, the College provided a legitimate non-retaliatory reason for the action. Specifically, the College stated that the decision to send out the notice was directly related to the College's obligation to identify and preserve all relevant documents that OCR might request. Moreover, the faculty experienced no adverse impact on their employment, or their roles as advocates."
Did Oxy's response to sexual assault complaints create a hostile campus environment?  "OCR found that the atmosphere on campus at the time of the investigation (spring to fall 2013) was the result of disagreements within the campus community regarding important matters of policy and practice. OCR found no direct or indirect expressions of the College administration failing to address sexual misconduct, or expressions of negativity toward complainants of sexual misconduct. OCR's review indicated that the tense atmosphere resulted from these policy disagreements, and not from a failure of the College to implement Title IX requirements."