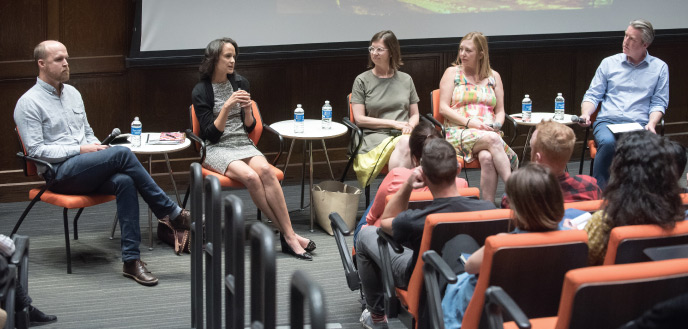 Three popular mayors and an unpopular measure take center stage as Oxy's 3rd LA resumes the dialogue
A wide-ranging conversation with newly reelected Los Angeles Mayor Eric Garcetti and timely debates on the city's slow growth movement and the fate of scarce open space highlighted the 2017 edition of Occidental's Third Los Angeles Project, titled City on the Verge. Developed in conjunction with his urban and environmental policy class of the same name, 3rd LA is "really a natural and complementary extension of Oxy's commitment to a sustained engagement with the city and region," explains Christopher Haw­thorne, architecture critic for the Los Angeles Times and adjunct professor at Oxy.
Garcetti offered a preview of how he will approach development issues during his second term in a March 23 conversation with Hawthorne in front of a Thorne Hall audience of more than 600. The rise of Measure S—the slow-growth initiative decisively rejected by voters March 7—was rooted in the longstanding debate over the nature of development and the city's failure to update its 35 community plans, Garcetti said. The plans languished because of the 2008 recession's impact on the city's budget that led the city council to prioritize police services ahead of planning, as well as the complicated politics of finding community consensus.
While labeling Measure S "the death cough of a past approach to planning," Garcetti cautioned against dismissing the concerns that lay behind it. The city's current goal to update community plans every six or seven years, he said, "is hugely ambitious. That is what bubbled up out of Measure S."
Six days before voters went to the polls, a panel discussion on "The Politics of Housing: Measure S and the Future of Growth in Los Angeles" was held March 1 at the Architecture and Design Museum. While the panelists agreed that the city's current land use system is not working, disagreements surfaced over what the best solution might be. 
Activist/blogger Ken Alpern defended Measure S as a straightforward effort to ensure developers follow existing rules. Crenshaw Subway Coalition executive director Damien Goodmon agreed, adding,  "Billionaire developers have been able to get whatever they want, and city hall doesn't give a darn about anything but what they suggest."
Manuel Pastor, Turpanjian Chair in Civil Society and Social Change at USC, called Measure S "a terrible solution to the problems being raised—but the issues being raised are the right issues." Former city planning director Gail Goldberg concurred, calling for "a framework and a vision we can all agree on as to what this city should be."
The debate over regional planning continued March 29 with Compton Mayor Aja Brown, 34, and her Long Beach counterpart Robert Garcia, 39, two of the youngest city leaders in Southern California. Affordable housing is a key issue in both cities, the two agreed. "We need to have more discussions about what good planning looks like, and the choices to be made, as a region," Brown said. 
The April 19 series finale focused on one of the city's most contentious public-space issues: the future of the Silver Lake Reservoir, which is no longer a source of drinking water. Again, development policy entered the fray, as panelists and audience members debated the need for open space versus the potential to repurpose part of the site for public uses, such as affordable housing.
"What is damaging affordability isn't the reservoir—it's developers who tear down ­affordable housing and build small lot developments," said Anne Marie Johnson, co-chair of the Silver Lake Neighborhood Council.
On the other hand, "It's such an incredible opportunity. It's never going to happen again," said Alexander Robinson, assistant professor of architecture at USC. "There is so much potential to guide an approach that serves everyone, more or less."
The conversations will continue.