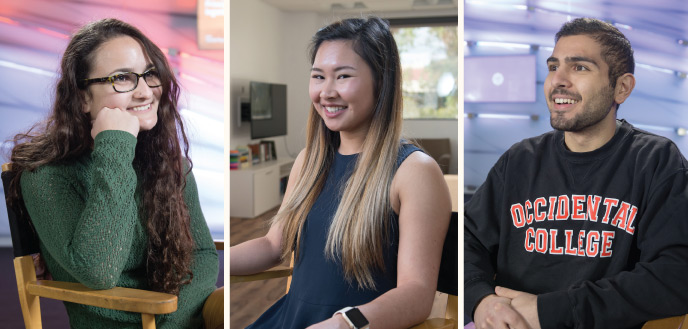 For seven out of 10 students, financial aid helps enable the path to Oxy. Three recent grads recount their journeys, discoveries, and what comes next
Giving promising minds access to a world-class education has long been among Oxy's core values. In the 2016-17 academic year, more than $41 million in financial support created life-changing opportunities that enabled countless Oxy students to pursue their dreams, discover new interests, and forge a path to exciting careers ahead. Three newly minted graduates share their stories.
Malena Ernani '17 was born on Margarita Island, off the coast of Venezuela. When she and her mother moved to California in 2000, "We lived in a working-class Latino neighborhood, and my mom worked her butt off to give me opportunities and the education that I deserved," she recalls.
A politics and French major with a minor in gender, women, and sexuality studies, Ernani started the Planned Parenthood Club as a sophomore to raise awareness about reproductive justice. She also interviewed prospective high school students who were interested in applying to Oxy as a work-study in the admission office. And she studied French feminist literature abroad in Paris.
Without scholarship and grant support, Ernani says she would not have been able to attend Oxy. She navigated her way through the financial aid maze with Gina Becerril, now Oxy's director of financial aid. "She understood where we were coming from, that there are constraints for people who come from all different types of backgrounds," Ernani recalls. "It was obvious that the College was trying to help me, as opposed to being just another number in the applicant pool."
Now with the Teach For America program, Ernani is back in San Francisco undergoing elementary education training as well as going through the certification process for bilingual education. "I'm really excited to meet my kids soon," she says. "My dream of going back home and working came true."
Marjorie Morales '17 appreciates the way the human body moves as much as the way it works. The kinesiology major and biology minor from San Francisco served as co-president of People of Color in STEM, but also participated in Hyper­Xpressions Dance Company and Dance Production.
Morales was born a year after her mother immigrated to the United States from the Philippines in 1994. Her family moved to America specifically for the educational opportunities, and in terms of financial aid, "Oxy was the most generous out of all the schools that I looked at," she says.
Upon entering Oxy, Multicultural Summer Institute "changed my life," she recalls. "It changed the way that I look at and treat people [and] the way that I think about myself and my identity."
Morales is applying to research programs while volunteering at hospitals, with a goal of starting medical school by fall 2019. Prior to arriving at Oxy, at a brunch for admitted students, she remembers meeting an Oxy alumna who was a doctor. "She told me that Oxy will not make you a doctor in four years; however, it will make you a better person, and that in turn will make you a better doctor. And that has stuck with me."
Ashkan Mortazavi '17 traces his interest in economics back to the West's sanctions on his native Iran. "I was able to witness firsthand the effects that the sanctions had on the country, specifically on the relationship between the government and people," says the economics major, who moved with his family to Kirkland, Wash., at age 8. "After seeing the success that the sanctions had in bringing Iran to the negotiation table and in eventually producing a nuclear treaty, I began viewing economics in a new light. I started seeing the discipline as a tool to prevent wars, pollution, and financial crises."
In the coming months, Mortazavi will be working as a research analyst in the New York City office of NERA Economic Consulting. There was a time, he says, when going to college did not seem feasible: "I didn't have any money even to fly down here to visit." When it came down to choosing schools, "Oxy by far was the most understanding of my situation."
Financial aid allowed him to pursue his studies both at Oxy and at Cambridge University as a junior, and it inspired him to raise money to build a well in Liberia through a fundraising event at Oxy called Date Night. The well, in a village in New Buchanan, prominently bears a plaque that reads "Occidental College."