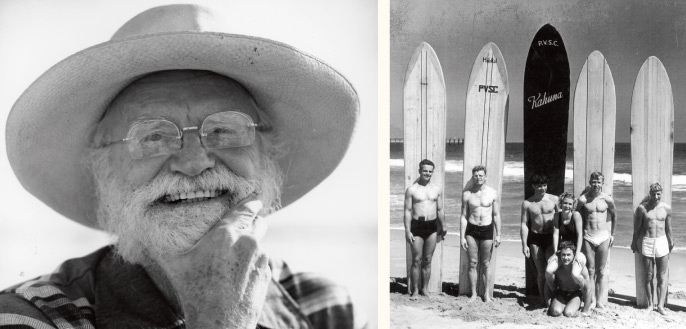 As a teenager, Lewis "Hoppy" Swarts '41 first dragged a heavy redwood paddleboard into the waves off Hermosa Beach. Decades later, with his beloved sport in dangerous waters, he became the father of organized surfing
By Doug Beacham '64
Lewis Earl Swarts Jr. was born June 25, 1916, in Tulsa, Okla. He was known throughout his life as "Hoppy,­" a nickname given to him by his oilman father, who was reading a Hopalong Cassidy novel at the hospital the day his son was born. The family eventually moved to Redondo Beach, and in 1930, at the age of 14, Hoppy learned how to surf on a 120-lb. redwood plank paddleboard in the waves in front of the Biltmore Hotel in Hermosa Beach. He found his passion, an infatuation that literally stayed with him until the day he died.
Preeminent 20th-century surfing photographer LeRoy "Granny" Grannis first met Hoppy in 1934 when they were students at Redondo Beach High School. Hop and Granny took an immediate liking to each other and would drive in borrowed cars to go surfing at Palos Verdes Cove. They were among the earliest members of the Palos Verdes Surfing Club, the second-oldest surfing club on the mainland.
As its numbers grew, the Palos Verdes Surfing Club attracted the best surfers in Southern California (and, arguably, the nation). In the words of co-founder John H. "Doc" Ball, "The club was comprised of mostly younger and under-employed surfers who sought a level of excitement unmatched in tennis, golf, or other outdoor activities."  But the club was well organized, with bylaws, codes of conduct, and guidelines of decorum and dress in meetings—including snazzy green club jackets. (My wife, Sue Swarts Beacham '66—Hoppy's daughter—wishes she had his jacket today.)
Members of the all-male club were required to take an oath upon entering the fellowship. A member was expected to "own his own board," to "ride his own board satisfactorily," and "to at all times strive to conduct [himself] in a manner becoming a Club Member and a gentleman." 
That oath, taken as a young man, may have been the inspiration for the effect Hoppy had on the sport of surfing later in his life—at a time when it needed him the most.
Even before he enrolled at Occidental, where he majored in math with a minor in education, Hoppy enjoyed success as a competitive surfer. In 1934, he and female surfing pioneer Mary Kerwin won the first tandem, male-female surfing contest held in Hermosa Beach. He placed seventh in the 1938 Pacific Coast Surf Riding Championships, and took fifth in 1940.
He was also prominently featured in Doc Ball's seminal 1946 photo book California Surfriders, and photos of him were featured in both National Geographic and Popular Mechanics. Doc once said of Hoppy, "His go-for-broke approach in the surf was in part because he was the most nearsighted surfer on the coast, and often didn't know what he was getting into!"
After completing his undergraduate studies in 1941 and a teaching credential in 1942, Hoppy took a job as a research associate at the MIT Radiation Laboratory in Cambridge, Mass. He was granted a U.S. patent for the airborne radar conical antenna he designed there. After World War II, he worked for the Navy in microwave communications, was assigned to the antennae laboratory at UC Berkeley (where he also earned a master's in electrical engineering), and the Naval Ammunition Depot in Oahu, Hawai'i, from 1953 to 1956 (surfing the waves at Makaha, right in front of his home on the beach). For the next 15 years he worked for Hughes Aircraft and TRW designing various kinds of space radar antenna systems.
Years later, after a professional career as a physicist and electrical engineer, he returned to Oxy in 1971 for his student teaching credential. For the next 10 years he taught high school mathematics in Southern California. 
Hoppy always considered work a sideline, and surfing his real occupation. A pair of attempts to combine his work and his passion—a line of surfboards in the early 1960s and an artificial surfing reef in Hermosa Beach—never caught a wave with the public. His real calling, as it happened, was saving the sport from its own burgeoning popularity.
By the early 1960s, surfing was changing. The success of the movie Gidget (1959) and its beach-movie offspring, coupled with the availability of lighter weight surfboards, created a boom in the sport. Beach cities were in the process of enacting anti-surfing legislation because of overcrowding and the "sometimes malicious behavior of teenage surfers." Old-time surfers, including Hoppy, realized that the sport was in trouble unless something was done.
A group of concerned surfers concluded that competition might be a solution to the image problem. Hoppy and an ad hoc group of concerned surfers addressing the issue concluded that, "Give society a winner, a champion, no matter what the sport, and it will become something they could not only understand, but cheer, and hopefully protect." So they decided to act.
Hoppy became president of the first public surfing organization, the United States Surfing Association, formed in 1961. For the first four years of its existence the USSA acted as a political action group, fighting surfing restrictions on both the East and West coasts. But in 1965 it changed course to concentrate almost exclusively on surfing competition using the judging and scoring system Hoppy literally created in his front room.
In 1966, Hoppy was one of 12 inductees into the inaugural class of the International Surfing magazine Hall of Fame, alongside Mickey Dora, Greg Noll, Dale Velzey, Dewey Weber, and the legendary Duke Kahanamoku. The following year, the USSA split into regional groups and Hoppy became the first president of the Western Surfing Association. He remained with the WSA for the rest of his life.
After Sue and I returned to California in 1969, we helped Hoppy run contests up and down the Southern California coast from the Ventura County line to San Diego. He had established the contest format, competition rules, and judging criteria that are the nucleus of every modern surfing event.
Surfers were scored by judges sitting in beach chairs and marking their grades on pre-printed scoring sheets. The sheets were then taken by runners to scoring tables, where they were tabulated by hand. It was a primitive but effective system. Not until the late 1970s and the advent of the Radio Shack personal computer was Hoppy able to create a program to organize the heat results.
As the contests grew larger and larger, soon the best surfers in the world competed for trophies and exposure in surfing magazines. The exposure led to endorsements and, eventually, to professional surfing contests televised on ESPN.
Hoppy's younger friends, who are still alive today, describe how his tutelage led them into careers as contest managers and professional judges. "He was a hero figure in the surfing community," says Steve Pezman, publisher of The Surfer's Journal, who gave the eulogy at Hoppy's memorial service. "In my slice of time, Hoppy was a promoter of the sport, honoring something he loved. … He was a sweet, positive, foundational contributor to a sport and movement coming of age."
Even as he devoted most of his energies to judging, Hoppy continued to surf competitively until 1984. In 1983 at the age of 67—in a field that included surfers 20 years his junior—he won the Grandmasters West Coast Championship at Ocean Beach. His style, to the end, was graceful and smooth.
On June 9, 1988, Hoppy was standing in line at L.A. International Airport to board a flight for a contest he was to run in Santa Cruz when he suffered a fatal heart attack. He died doing what he wanted to do, for the sport that became his passion as a young man.
Hoppy was buried at sea near one of his favorite surfing spots on July 18, 1988. A large number of surfers paddled out just beyond the break, and after paying their respects to Hoppy for his life and his contributions to surfing, his son, Buzz, released his ashes into his beloved California surf amidst a ring of Hawaiian leis.
"I think of him as the godfather of modern surfing competition on the West Coast," surf historian Drew Kampion recently said of Hoppy. "I remember his sublime equanimity in the midst of many a pointless fracas. Ironically, he seemed to understand that contests are whimsical undertakings that should never be confused with reality. While observing the truth and beauty of mathematics in trying to bring objectivity to a subjective medium, he always appeared to keep the core values in focus: camaraderie, respect, and fun."
The most poignant reflection on Hoppy's life came recently from John Grannis, son of his lifelong best friend. Hoppy gave John his first surfboard when he was 4, a board he fashioned in the workshop above the house the Swarts family owned on the Strand in Hermosa Beach. Hoppy taught John how to surf and encouraged him to become a professional at the age of 17. And he taught John how to be a contest judge, something he still does today.
Almost 30 years since Hoppy's passing, John had to pause for several moments to compose himself. He recalled that he only saw his father cry twice in his lifetime—when his mother died, and on the day Hop died. Why did he think Hoppy and Granny were so drawn to surfing? "It's the rush of being pushed forward by an extremely powerful force," he replied. "A surfer riding a wave is at one with nature."
Recently my wife and I were watching a TV documentary about people who had led extraordinary lives. I casually asked her if she had ever known anyone who had led such a life and, without hesitation, Sue replied, "My father." I thought about her response for a second, and  realized she was absolutely right.
Watching Hoppy surf was like watching an artist create a great painting. He rode waves with long, graceful movements in his uniquely classical style born out of riding those cumbersome planks long ago at the Cove. It took Hoppy just one paddle to get into the wave from the perfect break point. I asked him once how he was able to do that, as I was thrashing about trying to get up, and he replied, "Practice, my son, practice." 
Sue and Doug Beacham live in Grants Pass, Ore. Doug wrote "One-Hit Wonder" in the Fall 2013 nagazine.