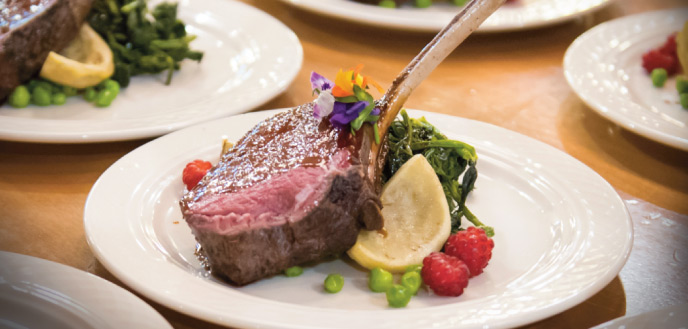 Foodies, wonks, and utensil-minded gourmands chew over a buffet of topics as Oxy hosts an international gathering of food studies scholars
By Samantha B. Bonar '90 | Photos by Marc Campos
The topics weren't your typical college curriculum—the gourmandization of scrapple, peasant farms in Sardinia, fraudulent honey, artisanal cheesemaking, urban chicken ownership, Mexican beer, Kentucky bourbon, even Indonesian fecal coffee—but these weren't your typical classroom inhabitants.
With some sporting tattoos ranging from pine­apples to shrimp, hundreds of food scholars from around the world converged on the Occidental campus June 14-17 for the Agriculture, Food, and Human Values Society/Association for the Study of Food and Society annual meeting and conference.
Since 1992, the AFHVS and ASFS have gathered each year for food, fellowship, and free-wheeling scholarship and debate. This year's theme was "Migrating Food Cultures: Engaging Pacific Perspectives on Food and Agriculture." It's "a unique opportunity to see, hear, and visit with a vast array of leading ­international food studies scholars in one place," says Occidental associate professor of sociology John T. Lang, who organized the conference.
In addition to the lectures and panels, the conference featured excursions around such themes as food justice in Los Angeles and Mexican food in Boyle Heights (with some participants sampling edible crickets at El Mercadito). Local food trucks served lunch in the Academic Quad; some out-of-towners were spotted tackling kogi tacos with knives and forks, while Filipino fusion burritos were requested "gluten-free." A banquet on campus showcased the bounty of California, particularly foods found along the John Muir Trail (elk was an Instagram favorite).
With a cafeteria-sized menu of topics to choose from, you didn't have to be a "foodie" or a wonky food scholar to find the conference fascinating. Grab your figurative fork and dig in!
Food is not addictive—but Lay's Southern Biscuits & Gravy potato chips might be. The winner of Lay's 2015 "Do Us a Flavor" contest (concocted by a 25-year-old woman from Noblesville, Ind.) is a personal temptation of Janet Chrzan, a nutritionist and medical ­anthropologist at the University of Pennsylvania, who largely debunked the notion of food addiction. Unlike alcohol, tobacco, and opiates, "No specific nutrients have been found to be addictive in humans," she said.
However, Chrzan added, highly processed foods can be addictive, because "we're putting drugs in our food." These are not your grandmother's sugar and salt and fat: "It's the refining process that makes something a drug."
Even still, food cannot trigger an addiction cycle, noted Chrzan—not even carbs or sugar. "You cannot develop tolerance to food or experience withdrawal symptoms," she said. "Even a high intake of sugar can't trigger the biological addiction response."
If anything, overeating can be classified as a behavioral problem similar to gambling. Addiction, on the other hand, "is a chronic brain disease," Chrzan said.
"Trump seems to have an attitude toward the food movement." So said associate professor David Beriss of the University of New Orleans in a panel on federal food policy. Beriss pointed out cuts to agencies that regulate food and public health, as well as ties between the Trump administration and industry lobbyists such as the National Restaurant Association, which opposes the minimum wage for restaurant workers.
The future of existing food safety and food assistance programs doesn't look so bright, either. The proposed 2018 budget cuts to farm-bill programs would amount to $38 billion over 10 years, added agricultural anthropologist Lois Stanford of New Mexico State University. Overall, the programs would be cut by 21 percent.
Cuts in the Supplemental Nutrition Assistance Program (SNAP) may cue the reemergence of real hunger and malnutrition in the United States for the first time in decades, according to Maggie Dickinson of Guttman Community College/CUNY. Through the success of the food stamp program, "Hunger and malnutrition were largely wiped out in the United States in the 1970s," she said. However, "There are attempts to cut food assistance now," including a tightening up of the conditions under which people can qualify for food stamps.
Consumers want GMO labels—mostly because they oppose genetically modified foods. Seventy-eight bills have been introduced regarding GM foods from 1996 to 2016, most to do with labeling, according to Sara Velardi of the State University of New York College of Environmental Science and Forestry. A bill passed in 2016 requires that GM and bioengineered foods be identified on labels. The federal label specifically states that the food "would not occur in nature."
Kraft Singles do not occur in nature. The pasteurized American cheese product—patented by James L. Kraft in 1916—contains less than 51 percent real cheese; powdered milk makes up the difference. "While Kraft Singles and processed cheese originally represented the ingenuity of America and the hope of controlling nature that prevailed in the early 20th century, it now remains a prime example of the industrial food system that remains due to convenience, habit, and tradition," said Karen Sudkamp of Chatham University. "Personally, I'm still going to look at Kraft Singles with a little but of nostalgia, thankful that they allowed me to love other cheese and actual cheese."
Insects are high in nutrition, protein … and ick factor. Eating insects would solve a lot of the world's nutritional problems, according to a talk by Gina Hunter of Illinois State University. A cricket, for example, has almost as much protein as beef and much more iron (96 percent of the RDA vs. 15 percent). "Farming" insects has a minimal environmental impact, so they're eco-friendly to boot.
The problem? People in many cultures don't think of insects as animals—and they certainly don't think of them as food. Hunter cites "a ton" of research on "how to create the consumer"—whether the strategies will be effective is another story.
The aboriginal word for broccoli means "white people's trees." There is "very, very low vegetable consumption among Aboriginals" in Australia, and "very high sugar-sweetened drink consumption and high consumption of highly processed carbs, especially white flour," according to Danielle Aquino of Australia's Menzies School of Health Research.
This leads to the question: How do we maintain cultural tradition while improving nutrition and health? "Nutrition improvement is not only an issue of access, affordability, and knowledge, but also one of negotiating ambivalent and evolving identities in relation to the contemporary food supply," Aquino said. She points to broccoli—or munanga trees—as "the middle class white person's quintessential food."
Big food? Big problems. International food trade practices are not set up to encourage good nutrition and good health, according to professor Sharon Friel of Australian National University. Malnutrition affects all regions, she said, noting that almost a billion people are undernourished worldwide—and almost 2 billion are overweight. Both are "very significant health issues."
Unfortunately, food has become commodified, she added, with trade agreements dominated by large countries and large corporations. "The big mega-regionals are all about the investment pathways. It's all about investment rather than the movement of goods between countries. International trade and investment agreements pose direct challenges to health policies."
Jonathan Gold draws the line at endangered species. "Aren't you privileging an animal over an entire culture?" by being publicly against eating shark fin soup, a Canadian scholar asked Gold, the Pulitzer Prize-winning food critic for the Los Angeles Times. "No," Gold replied. "People can stop eating shark fin soup now, or they are going to have to stop eating it anyway 50 years from now when the sharks are extinct."
A 6.1 earthquake in Italy in 2012 caused aftershocks for Parmigiano cheese supplies worldwide. According to Jess Canose of Chatham University, more than 300,000 wheels of cheese were damaged or destroyed in the main cheese production area of northern Italy, "an unimaginable loss" to the industry especially in lost time, considering how long it takes Parmigiana to age.
In the aftermath, the Italian government, international concerns, local banks, and other businesses rallied to save an industry in crisis. To which Canose raised the question: "Would America show the same solidarity for our trademark Tennessee whiskey, Vidalia onions, or Florida oranges if they were hit with a natural disaster?" 
For peanut butter, maybe.
Durian, however, is "the blue cheese of fruit." Known for its very high sulfur content and equally strong malodor, Ty Matejowsky of the University of Central Florida called durian "the ultimate take-it-or-leave-it food … tastes like heaven, smells like hell."
In his presentation titled "Raising a Stink: Anthropological Reflections on the Divisive Delights of Durian in Contemporary Filipino Foodways," Matejowsky also noted that durian can be dangerous. Durian fruits are "really heavy, heavier than a basketball, and the spikes are really hard, like huge rose thorns. People have actually died after being hit in the head with a durian."
Similar to how oranges are iconic to Florida, durians are to the Philippines. "Even among diehard enthusiasts, few locals take pleasure in durian's distinctive smell," Matejowsky added. There is respect for the foreigner who seeks durian out, even if that is followed by disdain for the foreigner who brings it on a bus. 
Food can be used as a tool of oppression—as well as liberation. "Food is a revolutionary survival strategy. It allows oppressed people to regain their health," noted Analena Hope of Cal Poly Pomona, speaking on a panel titled "Gentrification and Food Justice." Food sovereignty tends to be seen as an international concept applied to the developing world, but those same concepts can be applied to inner cities as well, Hope argued. Food sovereignty centers people over profits and reaffirms food as a basic human right. Solutions include urban farming on parkways, free breakfast programs for schoolchildren, and access to information and materials to make healthier choices.
Los Angeles is now the second-largest Mexican city in the world. Sarah Portnoy of USC calls Southern California "a region of Mexico unto itself" with its own authentic "Mexican" food, including taco trucks (the first tacos emerged in Los Angeles in 1918). Mexican food in L.A. used to be mostly norteno; now most Mexican food in L.A. is from central Mexico, although every region and demographic is represented. "Alta California" cuisine is a new term that refers to the rise of classically trained Mexican chefs, rooted in traditional cooking and working in high-end restaurants.
Megan Elias needed a history of American cookbooks—so she wrote it. Elias is the author of Food on the Page: Cookbooks and American Culture (University of Pennsylvania Press, 2017). Just don't expect to find any recipes. "It's about how people have thought about food," she said. "If you read it, you will recognize why we think about food the way we do in America in the 21st century. It's about taste in the broader sense."
Elias participated in the "Meet & Greet an Author" sessions in Samuelson Pavilion, where publishers displayed books covering everything from food in the Greco-Roman world and medieval Anatolia to the GMO debate. Many books tackled a single subject: salt, cod, Twinkies, beans, eggs, chiles, pecans, pomegranates, seaweed, coffee, and bananas, among others.
Sam Malone is the new Sam Adams. Ninety-percent of craft beer brewers and owners are male, between ages 24 and 51, and white, according to Antoinette Pole of Montclair State. Thirty percent have master's degrees.
Peter Gilstrap and Jim Tranquada contributed to this story.