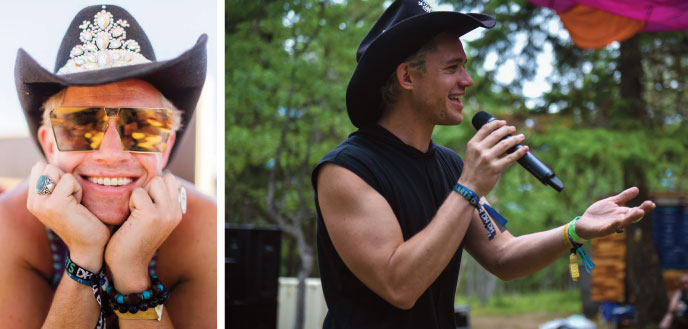 Eamon Armstrong '06 travels the planet researching the best festivals of every flavor—and he won't stop until he's built a global community
By Jasmine Teran
What can you do with a liberal arts degree? For his part, Eamon Armstrong '06 builds communities, dresses fabulously, and travels the world making friends. It's a vocation of his own creation, and one befitting an individual who, as a child, "loved singing and dancing and all the attention."
As creative director of Everfest, a festival marketing platform that recently raised $3.6 million in capital from Live Nation, Armstrong traveled to 18 festivals in 10 countries just in the last year. Among his recent destinations: Rainbow Serpent in Victoria, Australia; Desert Hearts in San Diego; and Garbicz Festival in a tiny village in Poland.
Despite initially regarding higher education as something more naturally found on the East Coast ("I had the stereotypical 'autumn leaf' college view in mind"), the New Mexico-raised Armstrong found his way to Occidental thanks to a high school friend who insisted they venture to the nearby coast. "It was such a warm, welcoming environment," he recalls. "I wanted to study theater at the time, and the theater program was really cool. I ended up deciding to go to Oxy because I'd had such a great experience visiting there."
Armstrong began his Oxy career by setting a foundation for a life in theater, declaring theater as his major, acting in productions like Stephen Sondheim's A Little Night Music and participating in Occidental Children's Theater. After taking a break from his studies for personal reflection, he transitioned into a new interest in history and a passion for sparking change within his campus community. Armstrong's study of history and religious studies plays an unexpectedly large role in his job.
"I don't write about festivals—I write about the human experience and social commentary within festival culture," he explains. "I actually studied Whiteness [the critical theory and social justice course] at Oxy and then I went to South Africa to their Burning Man and wrote about white privilege as an American experiencing race in South Africa. … The way that Oxy taught me how to think has permeated everything in my life."
Travels to festivals around the globe are now commonplace for Armstrong, but his venture into the music world began closer to home in the Bay Area. After using a newfangled tool called social media to create a following for his post-college band I Can Dress Myself, Armstrong's insight into the technology helped him carve out a space within the Burning Man organization. After volunteering to do social media management for an "off-playa" event (that is, not at Burning Man), his work was noticed by local event producers, who began contracting him to promote their street fairs and annual music events.
Armstrong's critical eye gave a unique insight into the promotional work. "I was doing these short-term marketing campaigns for these events," he says, "but I was basically building one big nightlife community that I could leverage for these different events." This was exactly the kind of mission that Fest300, an online guide to the world's best festivals, was building on. Armstrong was hired on as its community manager and began helping the digital website grow into Everfest.
"It's my business to create a global festival community," Armstrong says. This includes linking musicians, visual artists, and producers to create spaces for people to engage in creativity, expression, and openness. "The beautiful thing is that there are festivals for everyone," he adds. "There are festivals for introverts, there are festivals for people who love books. You've got to find your vibe."
Through his work and his lifestyle, Armstrong aims to share the value of festivalgoing and the self-exploration that accompanies the experience. Traveling internationally with the United Nations Population Fund after graduation showed him that it wasn't his path to supporting and sustaining change in the world. But his ultimate mission—to help culture grow globally—remains the same in Armstrong's current job.
"To me, being able to offer tools online to discover new festivals is the mature adult expression of using my talents, and my inexhaustible desire for attention, as well as really deep love of people and wanting to break down walls and barriers," he says. "If you celebrate with another culture, you'll fall in love with them."
Choose Your Own Adventure
Armstrong's advice for those looking to connect across festival scenes? Go to another country to attend a festival, regardless of the theme. Spend days camping with a niche community. Engage in self-­expression. And for those who don't want to leave the culture inside the festival gates, "I think that the way to be successful is to try to discover your most authentic expression in the world and work ­really hard at the things you love most and eventually ­cobble that together into something that makes money."