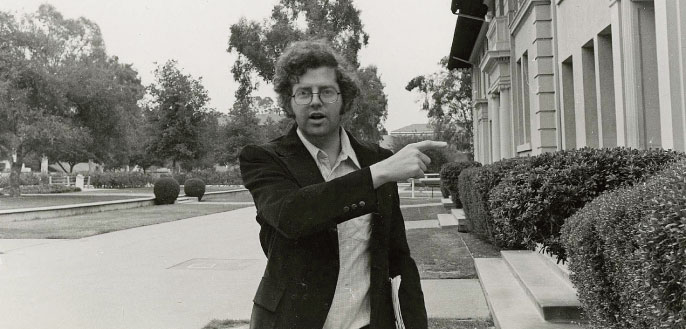 Roger Boesche retired in May after 40 years at Oxy. He died two days later. Alumni, colleagues, and a U.S. president recall his immeasurable impact 
One year after his arrival, Roger Boesche's colleagues knew they were on to someone special. Writing on behalf of the political science department, "We have never seen student evaluations more positive, and … we cannot recall any first-year professor who has had such unanimous praise from students," Professor Larry Caldwell noted. "In short, Professor Boesche has had an absolutely smashing first year. We are tempted to apply the adjective  'unparalleled.'"
Three years later, seniors in the Class of 1981—who arrived at the College alongside Boesche—voted him the Loftsgordon Award for Outstanding Teaching "for exceptional ability to communicate and inspire."
"He is active, aware, compassionate, and humble," Devin Dough­erty '81 said in presenting the award at Commencement. Turning to Boesche, he added, "Because of what you've done for yourself and many others, and because of the individual that you are, I cannot leave Oxy with anything but an extreme amount of optimism."
It was a sentiment echoed by generations of students over his 40-year Oxy career. Accompanied by his wife Mandy, Boesche was saluted with a standing ovation at Commencement on May 21 on the occasion of his retirement as Arthur G. Coons Professor in the History of Ideas. Two days later, he died in his sleep at home. Boesche was 69.
"We have learned from Mandy that Roger's last words were about Oxy and his time at the College, and that in a lifetime of memorable moments, Sunday's outpouring of love and respect from the Oxy community was the icing on the cake," Occidental President Jonathan Veitch said in a campus message announcing Boesche's death. "Roger's impact on our community was profound. He will be deeply missed."
Boesche was widely known as President Barack Obama '83's favorite college professor, a distinction noted in obituaries in the Los Angeles Times, New York Times, and Washington Post. "Your classroom is where my interest in politics began," Obama said in a May 2016 note congratulating Boesche on his pending retirement. "Posing questions that have challenged societies through the ages, your teaching and research remind us of the importance of constant inquiry and debate—lessons that are at the core of our democracy and that I've drawn on throughout my life, particularly in this Office."
In a sympathy note to Mandy,  the president added: "As you know, he had a great impact on my life, as he did with thousands of students who he instructed and inspired."
"Outside of my parents, he was the greatest teacher of my life," Miracle Messages founder Kevin Adler '07 wrote on Facebook—one of dozens of tributes on social media following the news of Boesche's death. "As we embraced at his retirement party, Roger whispered to me: 'You're my hero.' As always, even when feted by hundreds of former students and colleagues in his moment in the sun, Roger gave his students more than we could possibly give him. In my case, he made me want to be better than I am."
"Roger changed my life, from the very first class, to the day I graduated, everything I learned from him shaped who I am today," Janette Sadik-Khan '82, former New York City transportation commissioner and principal of Bloomberg Associates, told the Los Angeles Times. "It was not only about political theory. It was about ideas, about society, community, and public service."
A scholar of de Tocqueville and theories of tyranny, Boesche was renowned for his ability to make the complex comprehensible. "He recounted the great people and ideas in political philosophy with an uncanny knack for storytelling that made even Kant and Hegel accessible," Joe Dingman '13 said in a Facebook tribute.
Diagnosed with rheumatoid arthritis as a teenager, Boesche refused to give in to the disease that eventually shrank his 6'1" frame more than a foot, traveling with his family to more than 120 countries. "His daring travels through mountains, rocky roads, and caves in his wheelchair taught me that with enough determination and resilience anything is possible," Jenna Mowat '16 wrote.
Born in Tulsa, Okla., Boesche went to Stanford University, where he earned his undergraduate and doctoral degrees in political science. There he also met, fell in love with, and married the former Mandy Reynolds. In addition to being a two-time Loftsgordon honoree, he also received the Sterling Award, Oxy's most prestigious faculty honor; the Tod and Linda White Teaching Prize; and served as president of Faculty Council.
At Boesche's retirement party April 25, Eric Newhall '67 concluded his remarks with a favorite passage from William Faulkner's short story "The Bear," saying: "This passage is about the end of a bear hunt that has been going on for many years, but it can be applied to the end of anything that has been wonderful in this life, in this instance the official end of a wonderful career."
"It seemed to him that there was a fatality in it. It seemed to him that something, he didn't know what, was beginning; had already begun. It was like the last act on a set stage. It was the beginning of the end of something, he didn't know what except that he would not grieve. He would be humble and proud that he had been found worthy to be a part of it too or even just to see it too."