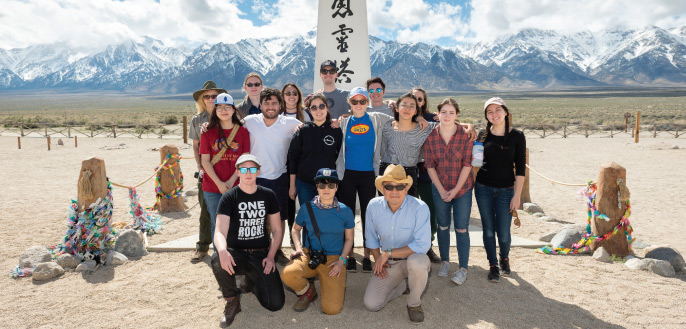 Seventy-five years after the Japanese-American ­incarceration, students in Paul Nam's Modern Japan class visit an internment camp and discuss its legacy
In freshening the syllabus last semester for his Modern Japan course—which covers the country's history from the 1868 Meiji Restoration to the present—adjunct associate professor Paul Nam revamped the curriculum with an eye toward what he calls "current political circumstances." "I really wanted to give my students the tools to see how Japan descended into fascism [that precipitated the country's entry into World War II]," says Nam, who received the 2014 Loftsgordon Memorial Award for Outstanding Teaching.
A second unit within the course that Nam expanded dealt with the wartime incarceration of Japanese-Americans under Executive Order 9066, signed by President Franklin D. Roosevelt on Feb. 19, 1942. "Technically, that is American history, but we're allowed some liberties in our classes," Nam says. The primary text for the section was Personal Justice Denied, a 1982 report by the U.S. Commission on Wartime Relocation and Internment of Civilians studying the causes and consequences of the incarceration.
Located some 220 miles northeast of Los Angeles, Manzanar War Relocation Center was one of 10 remote, military-style camps where more than 110,000 Japanese American citizens and resident Japanese aliens were incarcerated during WWII. Manzanar was designated as a National Historic Site in 1992, and after visiting the site with his wife over winter break, Nam decided that the time "seemed appropriate" to take his class to Manzanar—which his students enthusiastically endorsed. With funding from Oxy's L.A. Encounters program, Nam arranged a trip to the site March 25, followed by an overnight stay in the nearby Alabama Hills.
Prior to the trip students visited the Japanese American National Museum in Little Tokyo. At the end of the tour, a number of people who had gone through the camps joined Nam's class for a Q&A session.
After making the roughly four-hour trek to Manzanar, participants had lunch in the reconstructed mess hall before taking a guided tour of the facility and looking around the exhibitions, including a pair of reconstructed barracks.
"What really struck me was how they had this natural beauty around them," Nam says of the camp's Eastern Sierra Mountains locale, "and to be denied their citizenship and their freedom there—to be imprisoned and incarcerated amid this beauty. It must have been such a dissonance."
"The students were really perceptive," Nam says. During a debrief at their overnight campsite, "they pointed out that the Manzanar tour "had more of a summer-camp feeling" (complete with a basketball court on the premises), compared to the solemnity of the Japanese American National Museum.
Nam's class was not the only reminder of the U.S. government's World War II incarceration of Japanese-Americans. Never Again—a yearlong event series that began in February and will resume this fall—has brought speakers, film screenings, and exhibits to campus. An April 13 roundtable discussion in Choi Auditorium, organized by Nam's students, featured a panel of Japanese Americans and Muslim Americans that included WWII internee Phil Shigekuni; Rosie Yasukochi '18, an art major from Seattle, whose grandmother lived in the camps; Karim Sharif '18, an English major from Los Angeles; and activists Taz Ahmed and Marwa Abdelghani.
"I'm so proud of my students because they did the roundtable discussion," says Nam, a graduate of Williams College. "This is the ideal of what a liberal arts college class should be—to transcend the classroom and to make use of your surroundings."