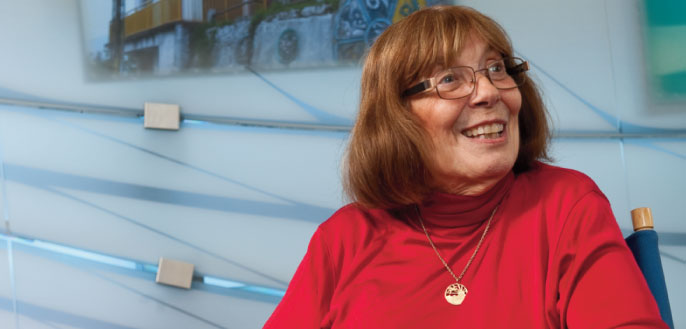 Retiring professor of psychology Anne McCall Schell urged every student to be their Best Possible Self—and she took her own advice to heart
By Andy Faught | Photo by Kevin Burke
As an undergraduate at Baylor University, and later in graduate work at USC, Anne McCall Schell had her heart set on a life in physics. But in her second year of grad school, "I figured out I really didn't enjoy it that much," says the Waco, Texas, native. "I was studying nuclear physics, and it had become so abstract. It was all mathematics, and you weren't looking at anything you could see directly. I found the people around me more interesting than physics, so I switched over to psychology."
Generations of Oxy students would come to thank Schell, who retired this spring as a professor of psychology after 46 years at the College. She leaves a sizable thumbprint on the College and the lives of her students, both in their ability to do field work and participate in experimental psychology. Shortly after her arrival in 1971, Schell established the psychophysiology lab, which studies the way the mind and body interact. 
The early 1970s were heady times for social psychology research. At Stanford, professor Philip Zimbardo had launched his famous prison experiment, in which he used students, playing the roles of prisoners and guards, and mock prison cells to show the corruptible power of the penal system. "It was really the time in which research into the functioning of the brain was starting to kick off strongly in terms of the mind/brain interaction," Schell says.
Different from cognitive psychology, which considers such factors as learning, memory, attention, reasoning, and decision-making, psychophysiology measures changes in heart rate, skin conductance and blood distribution to measure stress, attention, and emotion. Schell's lab experiments included administering mild electrical shocks to students while they looked at neutral pictures, such as a flower or a cat, or at "biologically prepared stimuli," including images of spiders or snakes. 
"We wanted to see if basic emotional responses could be acquired without people being aware of why they were acquiring them," Schell says. "When we have emotional responses and we don't understand why we're having them, we tend to make up reasons for ourselves because we don't like unexplained emotional responding.
"(The research) indicates that you can't make people feel negative about something without their being aware of why they have that negative feeling," she adds. "If we say to ourselves, 'The reason I feel anxious when I see that picture is because it was paired with a shock, it means they tried to manipulate me."
Looking back over her long career, Schell is proudest of the work she did with individual students, both in the research lab, but also in teaching a practicum in which students were required to spend eight hours per week with a community organization in the mental health field. The experience helped students decide whether psychology was their calling. 
By far Schell's most popular course was on abnormal psychology—a subject, she says, "is just inherently fascinating: the study of things like obsessive-compulsive disorder, depression, and schizophrenia. Why do people with schizophrenia have auditory hallucinations? How does obsessive-compulsive disorder come about? How do phobias develop?"
Schell's expertise has always been a work in progress. The 1990s were known as the Decade of the Brain, coined by President George H.W. Bush as a time when national health agencies were working "to enhance public awareness of the benefits to be derived from brain research." 
"We have research tools, such as magnetic resonance imaging, that weren't even dreamed of when I started in psychology," says Schell, who plans to remain professionally active in retirement. She will continue to publish scientific articles (she co-authored a number of studies with her students).
Reflecting on her own arrival at Oxy in 1986, professor of psychology Nancy Dess says Schell was "unfailingly encouraging and supportive. In addition to being a wonderful role model as a scientist, she offered excellent advice for balancing responsibilities as a faculty member." And, Dess adds, "She was scary smart." 
Schell is clear on one point: Her courses were never easy, and her students were expected to do lots of writing. "Some of them moaned about it, and it might have even surprised some of them that they could actually do it," she says. "And then when they go on to graduate school, they are a leg up on most other students."
Through it all, she urged every student to be their Best Possible Self, a happiness exercise torn straight from the pages of Psych 101. Thinking back to her own academic days, and her late-game career change, Schell is unequivocal about her students' aspirations. "I've always said, 'If there's something that you really want to do, have a try at it," she advises. "'You're young, you're not married, you don't have a family, and you don't have a mortgage. Go for it.'"
Her sizable Swan Hall office—decorated with folk art from places such as Mexico, Ecuador, and Burma—overlooks a grove of Oxy's landmark jacaranda trees, which erupt in a blaze of purple every spring. It's the envy of her colleagues: "Ask any member of the department, I really got the nicest office."
Travel is in the immediate offing for Schell and her husband of 37 years, psychiatrist Allen Chroman. At her retirement party, department chair Brian Kim, associate professor of psychology, lauded her "Southern charm" and her "genuine concern for everyone's personal well-being."
"I don't tend to be confrontational when there's any kind of conflict," Schell says. "I try to find ways of working things out in an amicable way. I try to function as a conciliator rather than an adversary."