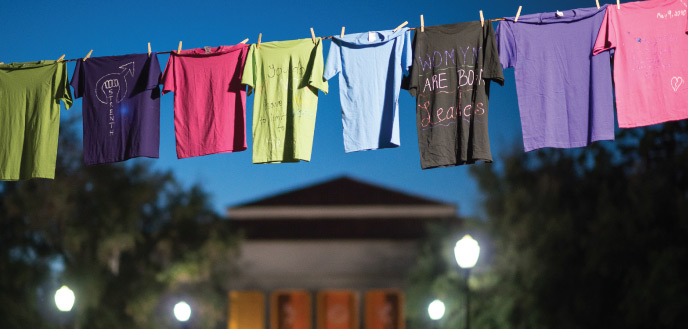 A new study on sexual assault at Oxy underscores a perceptual gap between survivors and bystanders 
A small increase in the percentage of Occidental students who report having been sexually assaulted coincides with a rise in the number of students who reported the assault to an Oxy official, according to the College's 2016 sexual assault climate survey.
Some 10 percent of survey respondents reported they had been assaulted while at Oxy, up from 8 percent in 2015, survey results show. The number of survivors reporting their assault to Oxy officials increased 5 percent over the same period, from 18 percent in 2015 to 23 percent in 2016. Still, 13 percent of survivors told no one, up from 8 percent in 2015.
A new survey question about bystander intervention—the preventative technique taught to all Oxy students—revealed a major gap between the general student population and survivors, according to Teresa Kaldor, the College's director of institutional research. At an April 14 presentation of survey results, Kaldor noted that 80 percent of bystanders who observed sexual assault reported they intervened, while only three of 53 survivors reported any intervention.
"While there are signs of an increase in trust in the College, clearly we still have a lot of work to do," said Ruth Jones, Occidental's Title IX coordinator. "The thing that's most challenging is that we are educating the community about issues, but haven't been able to take the next step of changing behavior. We need to continue to focus on how we can get people to change their behavior."
Jones and Kaldor also discussed the results of the College's first climate survey for faculty and staff. Some 21 percent of faculty, administrators, and staff experienced unwanted verbal behaviors on campus, while 27 percent experienced unwanted verbal behaviors off campus.
"That's unacceptable," Jones said. "We will be including a broader section on verbal harassment to new employee training to try to help address this."
On a more positive note, around 90 percent of faculty and staff reported that they had received Title IX training over the last two years, and three-quarters remember all or most of what they learned.
2016 Sexual Assault Climate Survey Highlights
• Half of reported assaults (53 percent) occurred in Oxy residence halls, up slightly from last year. Some 15 percent took place elsewhere on campus.
• Touching was part of most reported assaults (87 percent), followed by ­vaginal penetration (42 percent) and oral penetration (26 percent).
• Around 40 percent of sexual assault ­ncidents occurred during students' first year at Oxy, 45 percent during the second year.
• Assault by a stranger is relatively rare. Some 81 percent of survivors said their assailant was another Oxy student; 66 percent said it was someone they knew.
• Alcohol was a factor in most reported assaults. Some 68 percent of survivors reported their assailant drinking alcohol; 72 percent of victims reported their own drinking of alcohol.
• Coercion or threat of force was a factor in 47 percent of reported assaults.