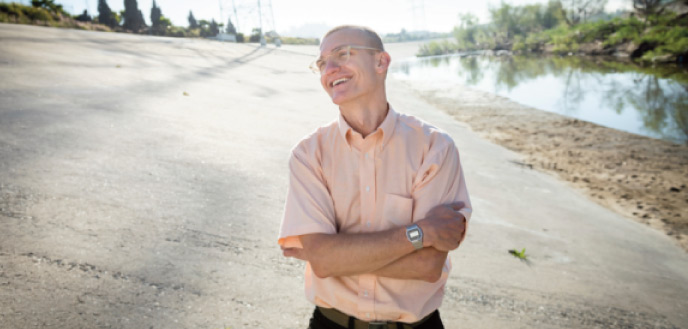 Tom Carroll '08's YouTube videos explore the forgotten fringes of the City of Angels, while schooling viewers about some lesser-known landmarks—and there's no test at the end
By Jasmine Teran | Photos by Marc Campos
For someone who embraces life in the slow lane, Tom Carroll '08 is making the most of 21st-century communication. Over the last four years, the Southern California native has produced more than two dozen episodes of his YouTube series "Tom Explores Los Angeles," which offers off-the-beaten-path looks at the seemingly mundane but history-rich spots that dot the city's landscape.
Typically four to 12 minutes in length, Carroll's videos have generated tens of thousands of views while familiarizing audiences with such overlooked or forgotten locales as the old Los Angeles Zoo, which closed in 1966; Hawthorne Plaza mall, which closed in 1999 "but remains standing as a postmodern cathedral to failed commerce"; and Llano del Rio, Los Angeles' first and only socialist colony.
"I like giving people a shortcut to some piece of knowledge that might spark something in them," says Carroll, a freelance artist who comes from a long line of educators and aspires one day to teach himself. "Hopefully they will pursue that and find out more on their own."
As far back as third grade, Carroll began finding his way around Los Angeles on trips into the city with his dad, Stan, a three-time mayor of La Habra Heights and community college professor. "We'd go to Philippe's, Pacific Dining Car, Grand Central Market," he says. "I remember riding Angels Flight when it still worked." These early expeditions helped form his understanding of the many factors that shape the city's personality, from points of interest that highlight a variety of cultures to the restaurants that once served particular socioeconomic groups.
Many of the locales featured on "Tom Explores Los Angeles" are news to Angelenos who may miss the hidden pockets on their freeway drive and rush-hour traffic jams. One reason Carroll finds them: He bypasses car commutes whenever possible, a habit that dates back to Oxy. He rode his bike a lot, took the 83 bus that goes from Oxy to downtown, and explored the L.A. music scene with his buddies at KOXY, the College radio station. "I was lucky to have friends who were very engaged with the city so I could just piggyback on them and tap into their knowledge."
As an art major at Oxy, Carroll took advantage of many opportunities to get to know the city better. "My friend Max Podemsky '06 ran this club called the Architecture Fellows," he explains. "That was really fun because we got school funds to take field trips. We took an L.A. Conservancy walking tour of the theater district on Broadway." Through an independent study with art professor Amy Lyford his senior year, Carroll deepened his knowledge of the city's history with a self-selected syllabus that included such essential works as City of Quartz (1990) by Mike Davis, Los Angeles: The Architecture of Four Ecologies (1971) by Reyner Banham, and The Reluctant Metropolis (1997) by William Fulton.
All that knowledge proved useful for Carroll's work as a tour guide, first at the Los Angeles County Museum of Art as an undergraduate, and later at the California State Park next to Chinatown. "At those two places I learned what a boring tour is, when you lose people, and just trying to remember to talk in short declarative statements as a way to keep people's attention," he says.
With his button-down shirts and horn-rimmed glasses, Carroll guides his video viewers through landmarks of varying degrees of cultural importance. The one closest to his heart is Triforium, artist Joseph Young's 60-foot, multi-colored musical public sculpture at the intersection of Temple and Main streets and "one of the more campy and colorful facets of downtown," as he says in Episode 3.
Carroll's affection for the sculpture (whose nicknames include "the psychedelic nickelodeon" and "the million-dollar firefly") dates back to a field trip downtown—part of an art class with professor Mary Beth Heffernan—in which students were assigned to build replicas to-scale of artworks they came across. (Carroll chose Triforium.)
His YouTube video was seen by Claire Evans '06 and her Yacht bandmate, Jona Bechtolt. Together they began to dream of Triforium's renovation, a return to the forward-thinking artist's original vision of light and sound, which includes technological components not possible upon its construction in 1975.
This vision is one step closer to completion thanks to a successful campaign for a $100,000 My LA2050 grant. Despite the fact that Triforium's construction ran $700,000 over budget during its initial assembly, Carroll explains that the sculpture as it stands is "not in its final form. Allow us to complete this vision and then you can hate it."
Of all the places he's filmed, the scariest was probably the Lincoln Heights jail, he says, "because we were locked inside, and there's asbestos and pigeon stuff, so it smelled terrible, and I didn't want us all to get arrested because we were trespassing."
Luckily, Carroll and his crew all got out. "That's the problem when you don't pull permits," he says. "But from a filmmaking standpoint, it made for a much stronger third act."
TOM EXPLORES …
1. The White Cross A huge glowing cross is connected to early Hollywood and two outdoor theaters.
2. Murphy Ranch Tucked away in Rustic Canyon is an abandoned Nazi-sympathizer compound.
3. The Salton Sea What does a landscape on the brink of destruction look like?
4. The Piggyback Yard Union Pacific's last railyard may become a wetland park along the L.A. River.
5. Breaking Out of Lincoln Heights Jail It's hard to do.
6. Triforium Built in 1975 for $950,000, the sculpture has been praised and ridiculed.