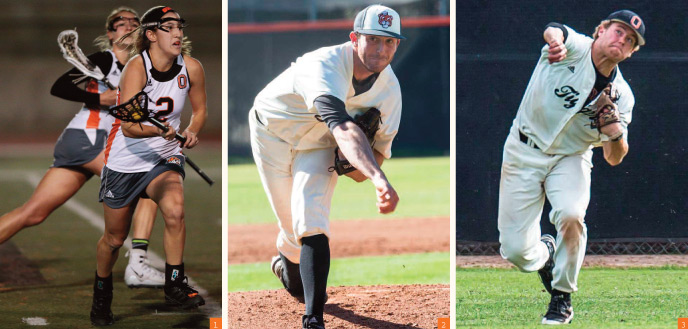 Spring sports standouts in lacrosse and baseball
Senior attacker Sierra Slack, an economics major from Voorhees, N.J., senior midfielder Ciara Byrne, a diplomacy and world affairs and economics double major from Ojai, and sophomore defender Emma Barrow, a politics major from Simi Valley, were all named to the IWLCA All-West Region teams in women's lacrosse. All three players were also named All-SCIAC. Slack led the conference in total points, with 58 to Byrne's 49. In goals, Byrne scored a SCIAC-best 47 to Slack's second-place 42. Barrow emerged as one of the league's leading defenders, ranking eighth in ground balls (23) and seventh in caused turnovers (15). Oxy finished second in the conference at 8-2.
Pitcher Josh Cohen '18 and outfielder Eamon McNeil '19 were both named First Team All-SCIAC after outstanding seasons with the Oxy baseball team, which missed the postseason by one game with an 11-13 conference mark, 19-20 overall. McNeil, a geology major from Portland, Ore., tore the cover off the ball late in the season, finishing first in the conference in home runs (7) and slugging percentage (.696), fifth in batting average (.392), and fourth in RBIs (24). Cohen, an economics and DWA double major from Berkeley, finished first in the conference in innings pitched (59.2), third in strikeouts (58) and wins (5), and fifth in ERA (2.87).