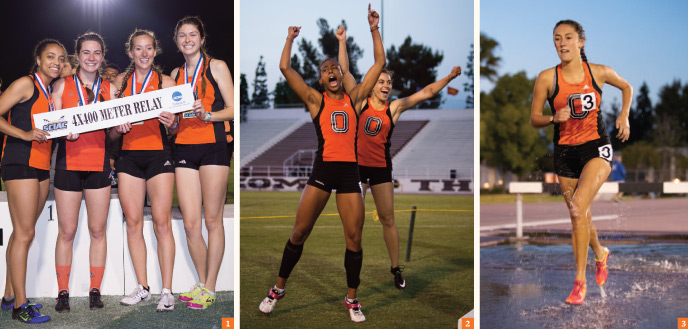 Oxy's men's and women's track teams cap another spring campaign with four All-American honorees and their 31st consecutive trip to the nationals
When it's May in Eagle Rock, you can count on two things: Commencement will be held in Hillside Theater, and members of the men's and women's track and field teams will be off to the NCAA Division III Nationals.
This year was no exception, as the Tigers brought back four All-American awards from the national meet in La Crosse, Wis. Oxy sent athletes to the nationals for the 31st consecutive year. In Rob Bartlett's 12 years as head coach, the program has produced 42 All-American honorees.
Austin DeWitz '19, a biology major from Oregon City, Ore., raised the bar one final time to cap an outstanding year. The two-sport standout finished his season as an All-American in the high jump, clearing 6'09" for a sixth-place finish. DeWitz, a two-time SCIAC high-jump champion, also earned First Team All-SCIAC and All-West Region honors with the 2018 men's basketball team. 
Zach Greenleaf '19, a biology major from Lake Oswego, Ore., finished eighth in the pole vault, clearing 15'9". Jada Newkirk '20, a psychology major from San Mateo, finished eighth in the 100m with a time of 12.28. LaShauna Porter '19, a psychology major from Minneapolis, finished eighth in the 200m with a time of 25.34. The top eight athletes in each event are named All-Americans.
Sabrina Degnan '19, Melissa Braun '19, and Isabelle Dunne '18 also competed for Oxy, each placing higher than their national ranking in their respective events. Degnan, a psychology major from Atascadero, finished 13th in the javelin with a best of 127'¾" after being ranked 17th. Braun, a kinesiology major from Scotts Valley, jumped up from 22nd to 14th in the pole vault by clearing 11'5¾". Dunne, a sociology major from Boston, placed 16th in the 400m hurdles with a time of 63.58, also moving up from 22nd. Dunne finished her Oxy career as SCIAC champion in the 400m hurdles and received the College's Pat Yeomans Award for outstanding achievement in an individual sport.