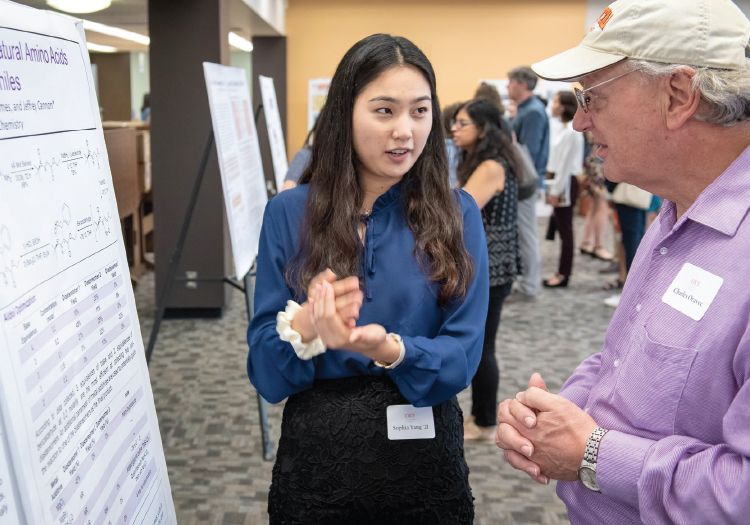 Oxy's Summer Research Program marks 20 years of explorations, observations, and presentations
From tracking bumblebee species regeneration in areas ravaged by Southern California fires to analyzing educational integration strategies for immigrants and the Native American environmental ethos, Occidental students have been up to their iPads in research this summer.
On July 31, more than 100 students presented the fruits of their labor at the annual Summer Research Conference, which marks its 20th anniversary this year. Disseminating results is part of the research process, notes Janet Morris, Undergraduate Research Center director, "and this conference is a terrific first opportunity for students to present their work in familiar, friendly circumstances."
Over the last 20 years, more than 2,000 students have participated in the program, which was created with an Award for the Integration of Research and Education from the National Science Foundation. The award "recognized Oxy's robust research program in the sciences," says Professor of Chemistry Chris Craney, founding director of the URC. "Our vision was to extend that opportunity to the arts, humanities, and social sciences; to link the academic year and summer programs; and extend these opportunities to off-campus venues like JPL and City of Hope."
For 10 weeks, students representing 24 majors worked closely with 64 faculty mentors on focused research of their choosing, both on campus and in Los Angeles. "The biggest legacy of the Summer Research Program is it's not just providing research opportunities for 20 students in the sciences," Craney says. "It's doing it for 110 students in all kinds of disciplinary areas and from all kinds of backgrounds. We're making this opportunity available and allowing them the possibilities of flying."
Growing up in Arcadia, Kevin Conroy '20 spent several months as a child living with his maternal grandparents in Anshan, China. They didn't speak any English, so Conroy was immersed in Mandarin at an early age. He arrived at Oxy with a lingering interest in both Chinese language and history, and was inspired by Professor Alexander Day's History 348 class on the Chinese Cultural Revolution (1966-1976).
"The class struck my interest because this was the time that my grandparents lived through," says Conroy, a history and East Asian studies major. Taking a second class with Day—The Transformation of Urban and Rural China—he revitalized his language skills during three weeks of study abroad.
Under Day's guidance, Conroy enrolled in an independent study last semester and began conducting primary source interviews for an oral history, not only with his grandparents but also their peers in Los Angeles' Chinese-American community. Those interviews became the backbone of a research project exploring how the politics of Maoist industrialization affected the daily lives of both cadres and workers in China during the Cultural Revolution.
With funding from Oxy, Conroy returned to China in May for three weeks of solo research, spending time in both Beijing and Anshan. "My family is from Anshan"—a city about the size of Houston—"so this is like my hometown once removed," he says. "I really hope that this project gets me to understand more about where my family came from and how being in Anshan under the shadow of Angang [the second-largest steelmaker in Mainland China] has affected our lives."
Conroy's work has continued through the URC's Summer Research Program. Professor Day has been an integral part of the process, he says, offering lots of constructive feedback on how to outline his project and refine his focus when needed. "He's hands-off where he's supposed to be, but really hands-on where he needs to be."
"Kevin is doing a lot of this research on his own," says Day, who joined the Oxy faculty in 2013. "He is taking the answers from the interviews and working through them to figure out other questions. Then we go through his work and try and develop new questions out of it."
Conroy's research has brought him even closer to his grandparents. "I can now hold my own in Mandarin in a political discussion with my family," he says. "I've been fully accepted by them as someone who is actually Chinese and not just American."
When Elena Daniel '20 enrolled at Occidental from Annville, Pa., she was interested in premed, so a biology major was a natural first choice. But the human focus of kinesiology won her over. "It seems like a very specific major—the study of human movement—but kinesiology is actually very interdisciplinary," she says. "My particular interests are developmental motor behaviors, specifically in early childhood, as well as the public health implications of kinesiology."
As part of her ongoing research on greening schoolyards, Daniel has worked with Associate Professor of Kinesiology Marcella Raney '01 on the positive effects of replacing playground asphalt with natural elements such as grass and trees. Their findings show that this increases physical activity and creative play among students while reducing physical and verbal conflict.
Through the URC, Daniel spent much of her summer reviewing data from local elementary schools to evaluate the relative impact of schoolyard design features and green infrastructure on physical activity and social behaviors: "We're hoping that the results of the study support the provision for equitable access to green space for all students."
Raney is an extremely supportive and dedicated mentor, Daniel adds. "She was there for me every step of the way in constructing my proposal, and was always available if I had questions."
In addition to her schoolyard research, Daniel was awarded a Public Health Internship funded through the Urban & Environmental Policy department. Working with Every Woman Counts, a program of the California Department of Health Care Services, her dental health research highlighted the lack of Denti-Cal clinics relative to the size of the beneficiary population.
A native of Budapest, Hungary, Máté Major '22 spent most of his summers in San Diego, where his father taught courses at UCSD. He remembers going to Sea World and the YMCA, and his exposure allowed him to practice his English. By the end of his first year of high school in Hungary, he and his family were deciding what was best for their collective future. It came down to the educational path for Máté and brother Benjamin.
"Either we finished high school in Hungary," Major says, "which most likely meant college and life there, or we would return to the United States to attend high school so we could apply for college as in-state residents. At 15, I pretty much decided the latter was going to be the path."
He and his brother ultimately moved to Los Angeles, where they lived with their older sister, and Major graduated from Harvard-Westlake School. His transition to Oxy was pretty natural following an inspiring meeting as a high school senior with Professor Damian Stocking of the Comparative Studies in Literature and Culture Department.
Sold on Oxy, Major took Stocking's Cultural Studies Program course, Literature and Philosophy ("mind-blowing—I fell in love") as well as Philosophy and the Arts and Russian Science Fiction and Fantasy.
"My first semester was packed with CSLC courses and so was the second," Major says. "I got a broad and deep overview of the history of philosophy as well as different ways of reading literature and engaging with art through multiple lenses."
At the end of Major's first year, Stocking encouraged him to continue his studies and thinking process through the URC's Summer Research Program. They worked together to refine and define Major's project. Titled "Laughing Into the Abyss," Major describes it as an investigation of two extremes of the comedic genre, the works of classical Greek playwright Aristophanes and 20th-century Irish writer Samuel Beckett—analysis that may lay the groundwork for his senior comps.
The highlight of Major's first year at Oxy, he says, was reading Herman Melville's epic Moby-Dick in Stocking's class Prometheus: Agonies of the Absolute. "When I finished that book and my related paper, I just felt like a better person. I felt elevated. I was ecstatic. Which is weird, because I know that Moby-Dick gets a bad rap, and people have mixed feelings about it, but if that doesn't speak to the merits of the CSLC department—that we can make Moby-Dick awesome—then I don't know what will."