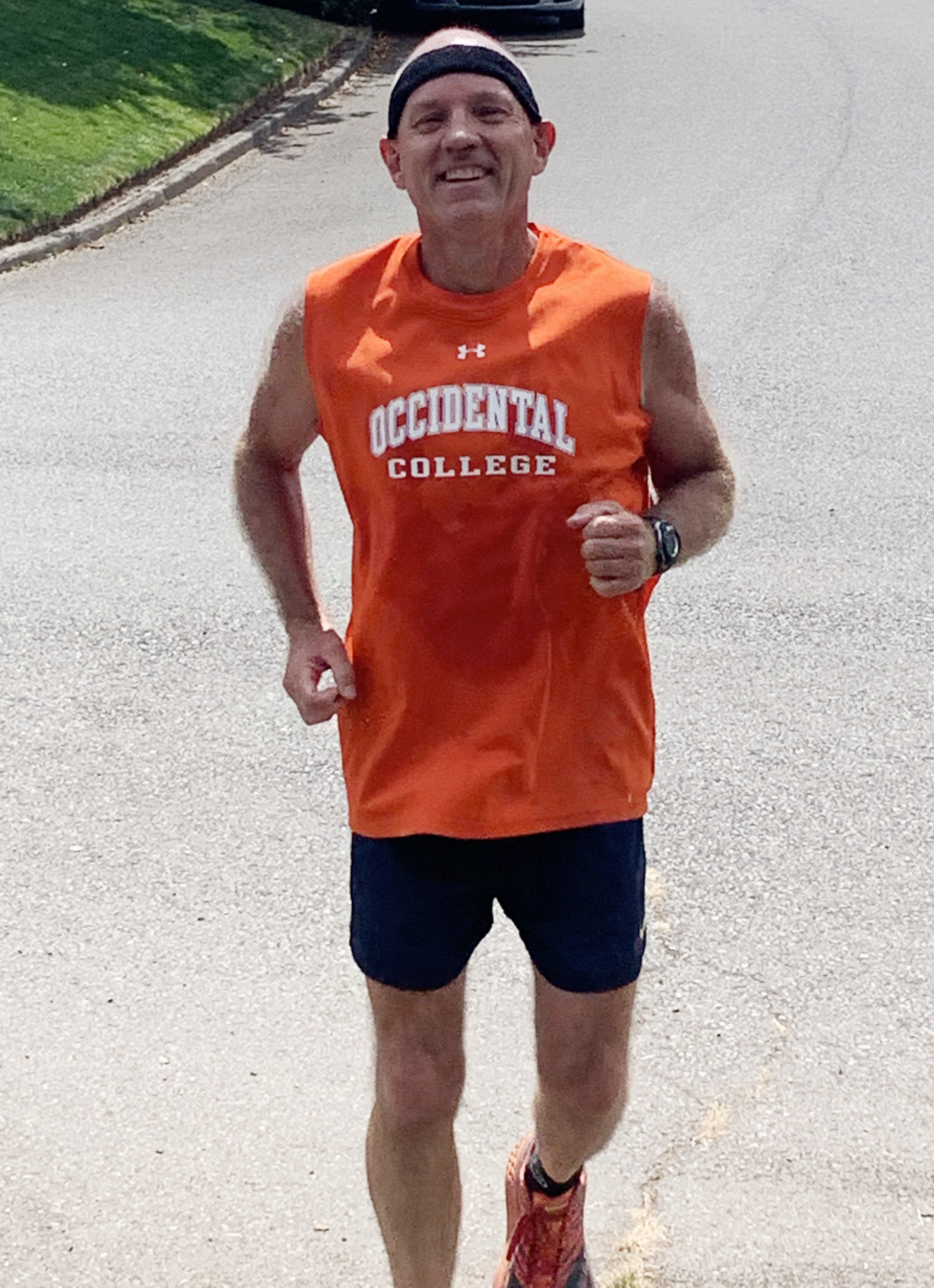 Peter Quint '87 channels his life experiences—as an educator, athlete, and advocate for the Deaf—into his debut novel, Resilient Silence
Like many aspiring novelists, Peter Quint '87 has long felt that he had a story to tell. "I just needed to find the words I really believe in and have the confidence and time to buckle down and produce a novel that touches on a topic that has always been very close to my heart—the Deaf experience," he explains.
In February, Quint—who lost his hearing at a young age—published Resilient Silence (Redemption Press), "one of the few #OwnVoices novels featuring Deaf characters, written by a Deaf author," he notes. Billed as "A Deaf Experience Suspense Novel," the story focuses on the relationship between two brothers, separated by grief at the loss of their father, and the resilience they both develop in overcoming their respective barriers.
"The novel transports the reader into the language experience and life perspective of a young Deaf child first learning to communicate and also that of an adult who experiences the trauma of a sudden-onset hearing loss," Quint writes. "It is a celebration of the Deaf experience as well as an examination of how faith and the search for and dependence on a higher power can lead to true recovery."
For more than three decades, the story that became Resilient Silence kicked around in his mind. Along the way, he experienced many of life's milestones: getting married, having a family, and building a career. (Quint, who received a master's in deaf education from Lewis & Clark College in 1989, has worked as a teacher of the Deaf for nearly 30 years and has taught as a middle school teacher of the Deaf in the Seattle Public Schools since 2015.)
"To fully develop the premise, I needed to experience some challenging life situations and get to know a variety of people," writes Quint, who is also a mentor of New Life Deaf Fellowship, a ministry created by and for Deaf Christians, and is the founder of Deaf Heartlight, a step-based life support program for Deaf people."What has driven this whole process has been a maturing of my relationship with God and lots of prayer."
It took Quint being "stuck on a bus commute for hours each day" to commit the first draft of his novel into a bunch of notebooks. When the pandemic hit, pausing his teaching job for several months, "I was granted an unexpected windfall of time which allowed me to type this first draft into a coherent collection of chapters," he adds.
In a Q&A, Quint revisits his time at Occidental as a student-athlete, his own obstacles adjusting to college life as a Deaf student, and the messages he hopes to share through his writing.
How did you wind up coming to Occidental?
I was the third generation and ninth member of my family to attend Occidental. My first exposure to Oxy was as a toddler when my father [Mike Quint '58] was the coach of the Occidental rugby team. I remember hanging out with the guys in the stinky old locker room under the rickety wooden stands on the side of the football stadium nearest the street. When it was time for me to choose colleges my senior year in high school, I was impressed by the academic quality and also the rich track and field tradition of Oxy so decided to enroll.
When I attended Occidental, I was what people label as an oral Deaf person—I did not use or have any skill in American Sign Language. I have since evolved from an oral, non-signing Deaf person to a signing, culturally Deaf individual. Although Julius [the novel's protagonist] doesn't read lips as well as I do, many of his experiences in Resilient Silence mirror my track and field as well as social experiences while at Oxy.
How was your college experience? 
College was a time of growth and continuing along a path toward resilience. I learned how to be a much better writer and critical thinker. In sports, NCAA Division III was a good level for me as it allowed me to be both a student and an athlete competing at the national level. I made some good friends and the smaller class sizes allowed me to follow along with instruction in the absence of accommodations for my hearing loss.
It was my first time living away from home and I needed to learn the hard way how to advocate for myself with very little understanding of my rights as a Deaf person. I failed a French class but didn't know that I could appeal for alternative assessments due to the difficulty of accessing the language via lip reading. It was a bit of a socially awkward time for me because I was not able to access much of the social scene and effectively handle the group dynamics of people who lacked an understanding of Deaf people and people with hearing loss.
How did you choose English literature as a major?
I originally intended to be a biology major but a low grade in the introductory course prompted me to think I would have more success and enjoyment in English literature as I have always loved to read. Since high school I have had a talent in creative writing and I do credit Oxy for its institution-wide emphasis on solidifying writing skills.
You are a member of the Oxy Track and Field Hall of Fame, having been inducted in 2015, and a two-time NCAA DIII All-American in the 3,000-meter steeplechase. Where did your interest in that event come from? 
In high school, I was a member of the Washington state high school cross country championship team and wanted to continue distance running in college. I tried several distance events in track but my talent was mostly in the steeplechase. I had the fastest debut steeplechase time for an Oxy freshman (9:23) and so focused mainly on that plus the 10,000 meters. Compared with the other events, in the steeplechase I found I was better able to keep up with and compete with some of the top athletes in the region and nation. I was able to maintain around a 4:40-mile pace over barriers to set a personal record of 8:58.
What were the challenges of competing as a Deaf student-athlete?
Since the time I was a little boy, I have practiced overcoming barriers and doing the extra work that it takes to keep up with or even perform better than other people who don't face the same barriers. That instilled in me a confidence and perspective that gave me a mental advantage over some other talented distance runners who saw the steeplechase hurdles as barriers that slowed them down.
Are you still an active runner?
Running remains a physical activity in which I can engage that helps with my mental balance. I try to maintain a running schedule that allows for an injury-free experience given my age. Nowadays I set 5K time goals, as that seems to be a good distance to run fast and still not get injured with overtraining.
You mention in your vlog that you started thinking about this novel around the time that you graduated.
After I graduated from Oxy I spent a year working at a Christian residential school for boys in Gujranwala, Pakistan. I continued to run and one day found myself completely lost on the streets in one of the slum areas of the city. The seed of the idea for 
Resilient Silence
was actually planted when I got lost while on a run through the maze of streets. Naturally, I attracted quite a crowd of young children and some adults. It struck me that if I asked for directions, even if they could speak English I would not understand them due to the incomprehension of lip reading their thick accents.
Later that day I was reflecting on the experience of finally figuring out how to get out of that place and came up with the idea of a story of a Deaf boy trying to navigate his own way through challenging situations where most people around him communicated in a way that is inaccessible to him.
Resilient Silence takes place in the 2030s and 2040s. What prompted you to set the story in the future?
I wanted to imagine America turning to a measure of self-protection and building border walls in response to a nuclear attack by foreign terrorists. Although this isolationism is not a major theme in the story, it does influence the decision of one of the main characters to join the military and fight against an often unseen "other," which gives him a sense of purpose.
Who are your influences as a writer?
There are very few of us Deaf authors who write full-length novels with Deaf characters and depict the community of Deaf people interacting with sign language. A few of my contemporaries are Sara Nović (Girl at War), Alison Gervais (The Silence Between Us),  and Laura Brown (Signs of Attraction). The niche I fill is that I tend to write suspense fiction with Deaf characters facing situations that challenge their faith and foundational beliefs. Sometimes these characters make choices that cause them to repeatedly fail and they eventually learn the true meaning of grace. Sometimes they never learn and that is part of life.
Your YouTube videos detail the writing and editing process. How much did the book evolve in the editing process?
The first draft needed a lot of work. I was lucky to work with a very good editor at Redemption Press, Tisha Martin, who is herself a published author. She provided guidance, enabling me to start over again with each chapter and move the story forward through good character development, dialogue, and actions so that the reader would be motivated to continue to the next chapter.
The biggest evolution this novel experienced in the editing process was the development of the relationship between the two main characters—two brothers who start out distant and inaccessible to each other.
What has been the response to Resilient Silence so far? 
One of the goals I had in publishing this novel is to draw the reader into a deeper understanding and experience of the life experiences and perspectives of Deaf people. There is not one way to be Deaf. The challenge I am addressing is in showing how a young intelligent Deaf boy who cannot read lips very well experiences the verbal language presented to him and his confusion as he progresses through school and other parts of life. From the feedback I have received, I believe I have succeeded in giving the reader an experience of this confusion as well as the clarity and illumination that often comes when a Deaf person learns the native sign language of their country.
Now that you have published Resilient Silence, do you have another book in you?
Resilient Silence traces Julius McLellan's story as a young Deaf child struggling to understand and communicate, continuing through his high school experience as a track athlete with a phenomenal running talent. Throughout the book, his best friend, Amy, often functions as his Deaf "sounding board" which allows the reader to see and understand Julius' thoughts and motivations through dialogue. I am in the midst of planning a sequel, which is a continuation of the story of Julius and Amy.
Resilient Silence is available through Quint's author website as well as through other online booksellers. Follow him on Facebook (@peterquintdeafauthor).