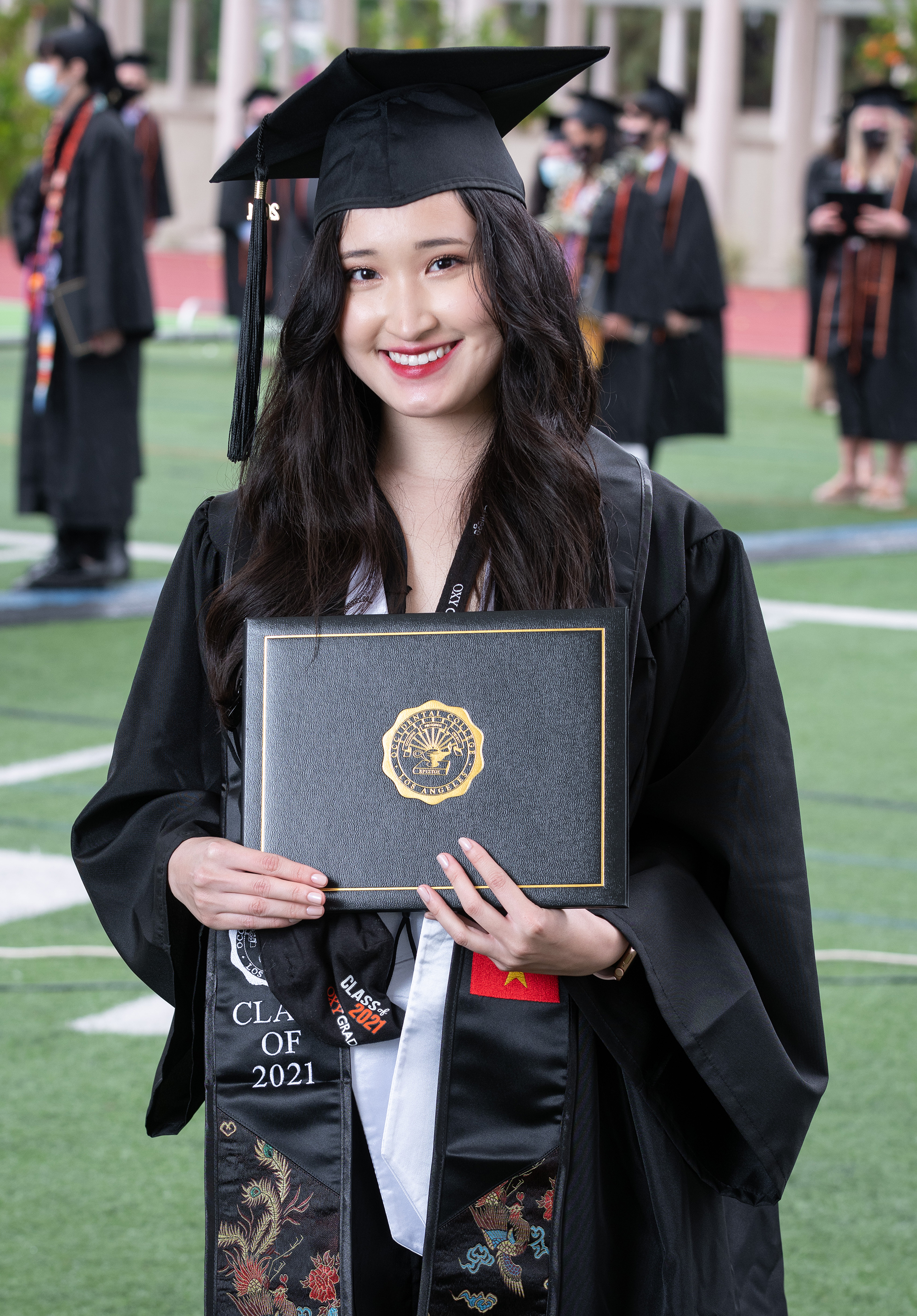 With a new home and a new supervisor, Oxy's student calling program gears up for the fall
For many years now, the Tiger Den in the basement of Thorne Hall has been the hub of student calling from Oxy. But while the students were away, the space was fully renovated and soundproofed to accommodate the Music Department's percussion studio. This fall, Oxy's Telefund program has a new home—right next door to its old one—and a new supervisor.
Less than three months after her graduation, Linh Lai '21, left, has returned to the College as the new assistant director of the Oxy Fund, Telefund, and student philanthropy. As a student at Occidental, Linh worked as a Telefund caller and manager, guiding the program through an entire year of remote operations during her three years on the team. She also served on the Student IA Committee, helping to set up campus-wide promotions and events geared toward educating students about the Oxy Fund. 
Outside of Oxy, Lai has also worked as a social media intern for the New Media Film Festival and at LadyBossBlogger, an online resource for current and aspiring female entrepreneurs, bloggers, and media influencers. Her experience will be greatly useful in highlighting the impact of giving to all members of the Occidental community and beyond.
Why did you come to Oxy? How did you choose your major?
I wanted to go to a small liberal arts college in Los Angeles and Oxy seemed like the perfect fit for me—and this has proven to be true! I was also interested in both media arts and culture and diplomacy and world affairs. I ended up choosing MAC because I really enjoyed my classes and thought it was broad enough to be able to cover a wide range of career choices after graduation. 
You personally raised over $28,000 for the Oxy Fund. How does that feel?
I know many people at Telefund were able to raise even more than that for the College, but it definitely felt really great when I hit that number. We have a little Wall of Fame poster in the room and it felt like an achievement to be able to write my name on it.
How did you become involved with Telefund as a student?
I knew about Telefund through a friend who also was a student caller for Oxy. 
What was it like working remotely for Telefund? Are there any calls or moments that stand out?
It was definitely more challenging working for Telefund remotely because usually during shifts, we would be able to talk to each other, play games, and have some snacks (the best part of the job), but we couldn't do all of that on Zoom. That's why I'm so excited that we're going to be in-person again! I'd say the most memorable moment was when we were able to get together in front of Thorne for Day For Oxy. After almost a year of calling remotely, it felt really nice to be working together in-person again even if it was just for one day.
What did it mean to be back on campus for Commencement?
I was just so happy to have my graduation in real life and not on Zoom. I missed my friends a lot too so when I was finally able to see them, I definitely took advantage of that. 
Telefund has a new home on campus this fall. Can you tell us about that?
Our new home is right next to our old Tiger Den so hopefully it would not feel too different. I'm excited about getting to decorate it with our Telefunders. 
What are your goals in your new role?
We're still in the process of transitioning (back to campus and into our new room), so my main goal is to get Telefund support back to pre-pandemic levels. 
How do you communicate the importance of philanthropy to students and alumni?
I hope to further promote the Oxy Fund because I know so many people have no idea what it does or how beneficial it is to all of us. The Oxy Fund helps to cover so many aspects of our Oxy life from financial aid to study abroad to clubs and organizations and so much more than that.
Photo by Marc Campos.