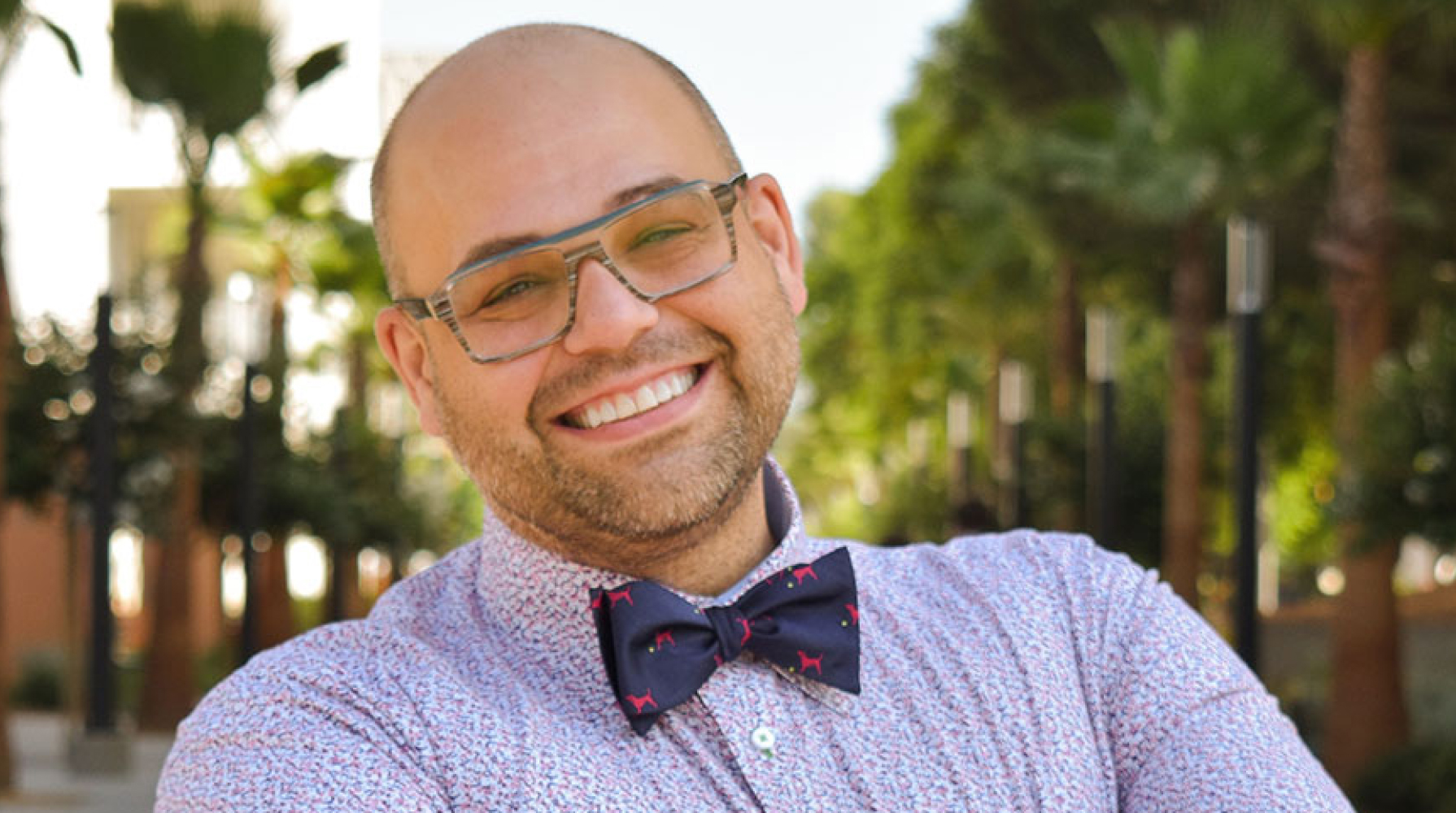 A new voice for equity and justice at Oxy and other newsmakers from a busy summer
David T. Carreon Bradley has been named Occidental's new vice president for equity and justice and chief diversity officer after an extensive national search. Carreon Bradley comes to Oxy from Cal State Fullerton, where he served as faculty diversity officer.
"As a first-generation college student, queer person, and faculty member of color in a STEM field, Dr. Carreon Bradley has deep knowledge of the challenges and barriers to achieving a truly equitable and just experience for all members of the Oxy community," says President Harry J. Elam, Jr. "He is committed to working with faculty, staff, and students to help Oxy achieve its equity and justice aspirations."
"I am honored and excited to join the Occidental community and help lead the College on its journey to becoming a more equitable and just institution," Carreon Bradley says. "My goal is to collaborate with partners across the College to maintain, develop, and accelerate the work to dismantle inequities and ensure that all students, staff, and faculty have a strong sense of belonging and the opportunity to succeed."
A native Angeleno, Carreon Bradley received his B.A. in physics with a minor in gender and women's studies from Grinnell College, and his Ph.D. in architectural engineering-acoustics from the University of Nebraska. He is currently finishing his Ed.D in organizational change and leadership at USC.
A Piece of a Pulitzer
had just flown into town for Commencement on June 11 and was sitting with her parents on the patio of Delia's Restaurant waiting for her breakfast burrito—"the chorizo is my favorite"—when she got the news on her phone. The 23-year-old English major and theater minor from Everett, Wash., was part of a Kristine White '20 New York Times team that won a public service Pulitzer for its data-driven coverage of the pandemic. "I think I screamed," says White, who graduated last year in the midst of a global pandemic with no job prospects and a future clouded by fear and uncertainty. "Now I'm back winning a Pulitzer for covering the pandemic. It's not at all what I expected."

After finishing her senior year, White—who spent four years as a staff writer, editor, and podcast host for The Occidental—flew home and began applying for jobs. She had no luck until she heard from the Asian American Journalists Association about an opening for young grads to work on a big data-based reporting project. She applied, and at the end of July began work remotely as a New York Times news assistant.
White found herself part of a team making endless phone calls, filling record requests under the federal Freedom of Information Act, and monitoring press conferences from her childhood bedroom still decorated with posters of Zac Efron, One Direction, and Princess Diana. "It wasn't lost on me that I was covering the pandemic in the same county where the first confirmed U.S. COVID case was confirmed back in January 2020," she says.

In its June 11 announcement of the 2021 awards, the Pulitzer board called the Times' coverage "courageous, prescient and sweeping," particularly for filling "a data vacuum that helped local governments, health care providers, businesses, and individuals to be better prepared and protected." According to the Times, the coverage was the product of hundreds of staff members across 10 different departments.
A Pair of Ambassadorships
Denise Campbell Bauer '86, who served as U.S. ambassador to Belgium under President Barack Obama '83, has been nominated by President Joe Biden to serve as U.S. ambassador to France and Monaco. As ambassador to Belgium from August 2013 until January 2017, Bauer focused on transatlantic security partnerships and international trade while leading one of largest embassies in Europe.
Meanwhile, a former adjunct assistant professor of diplomacy and world affairs with a high-profile job—Los Angeles Mayor Eric Garcetti—has been nominated by President Biden to be U.S. ambassador to India. Garcetti, who delivered the Commencement address and received an honorary degree from the College in 2019, taught at Oxy during the 1999-2000 academic year.