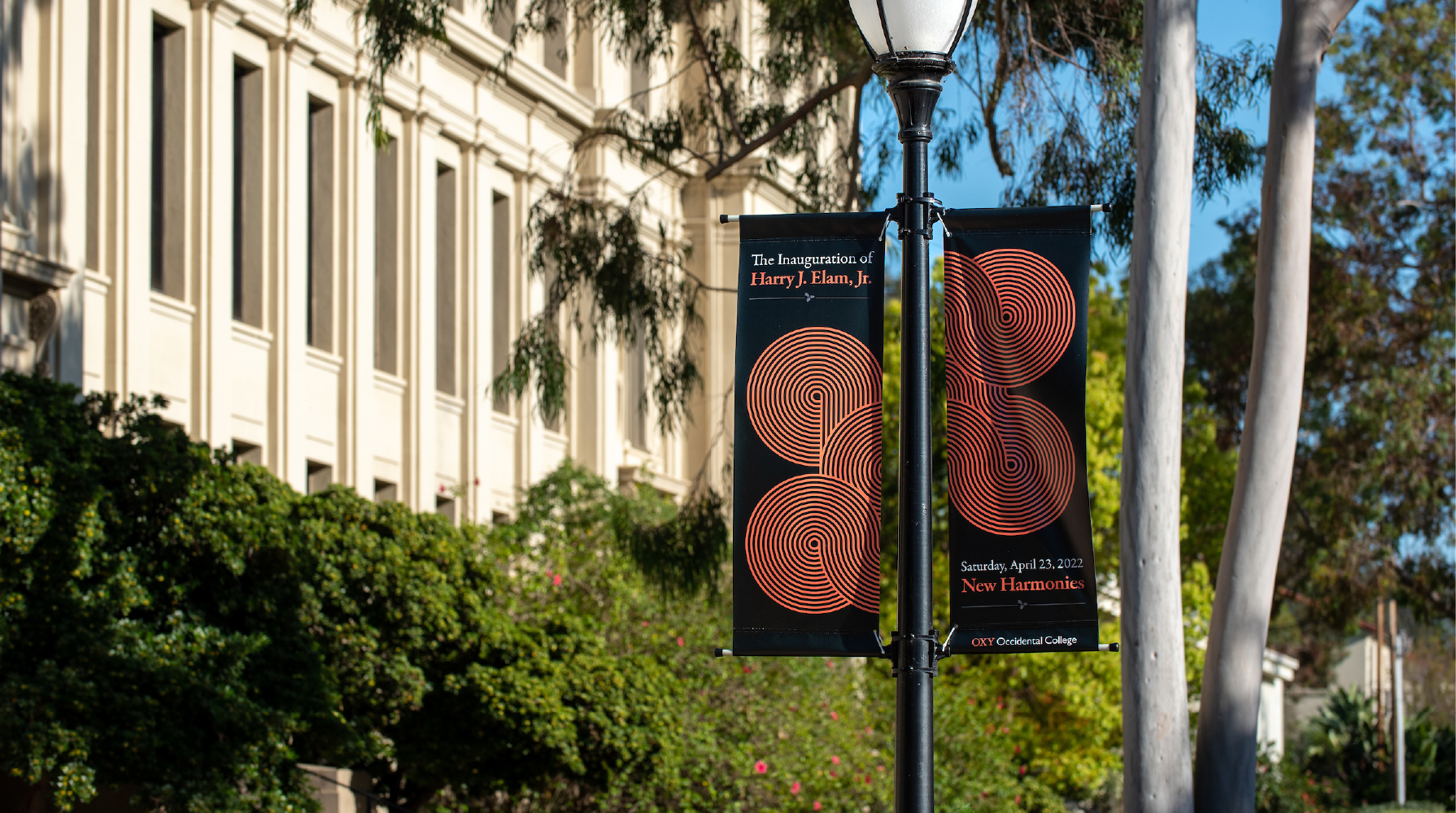 What will the College look like in 2030? Oxy's Integrated Strategic Plan identifies 11 key issues
President Harry J. Elam, Jr. and five Integrated Strategic Plan working groups made up of faculty, staff, and students will move into high gear this fall as they focus on developing specific recommendations and proposed initiatives for the plan that will articulate a new vision to guide the College through 2030. (Oxy's current strategic plan was adopted by the Board of Trustees in 2012 and extended with few changes in 2017.)
The five groups will focus on five intersecting, strategic themes: financial stability, academic excellence, the student experience, Los Angeles engagement, and issues of justice, equity, inclusion and diversity. The working groups will build on an environmental scan completed this spring, which included internal data reviews, assessment of broader trends in higher education and direct input from more than 600 Oxy community members, including alumni.
In recognition of the importance of delivering an actionable roadmap for the College, Elam has insisted on an "integrated" strategic plan. That means that budget and finance issues will be central to the process, and that the final plan will clearly articulate the necessary financial investments, timeline and accountability needed to make the plan a reality.
"While the College's mission remains unchanged, our new strategic plan will articulate a distinct vision that centers around furthering an exceptional liberal arts education by creating new harmonies between academic instruction, our urban location, co-curricular activities, real-world experience, and social impact," Elam says. "All of this is geared toward propelling students to become engaged global citizens and leaders who will make a difference in the world."
The planning process began last fall with the appointment of a 16-member multi-constituent steering committee, whose first task was to carry out the environmental scan. With the findings from the environmental scan, the steering committee identified 11 key issues that the plan needs to address:
Strengthening the long-term financial health of the College

Ensuring the academic program meets future needs, and maintains innovation and excellence

Attracting and retaining excellent faculty and staff

Fully realizing Oxy's connections to Los Angeles in every way (career opportunities, community engagement, arts, academics, student life)

Enhancing the holistic student experience and sense of belonging

Maintaining and upgrading campus infrastructure

Utilizing a JEID (Justice, Equity, Inclusion, and Diversity) lens to address specific issues and the strategic plan as a whole

Clarifying Oxy's value proposition in an increasingly competitive environment

Preparing students for life after Oxy

Assessing the pandemic's short- and long-term impacts

Strengthening Oxy's sustainability commitments
With the assistance of the steering committee, Elam developed these ideas into the five strategic themes. Each working group will write a report and make recommendations on its specific theme to the president. Along with the input of the steering committee, and aligned with his own vision, Elam will translate these recommendations into an innovative, achievable, and affordable plan.
"I am confident and enthusiastic that our new plan will set us on a course for success," Elam says. He and the steering committee plan to share a draft of the strategic plan with the Oxy community next spring.