Pulitzer Prize-winning author and historian Isabel Wilkerson addresses the Class of 2023 at Occidental's 141st Commencement ceremony
While the problems facing America can seem overwhelming, history shows us that we each have more power than we know—power that can change the course of history, Pulitzer Prize-winning author and historian Isabel Wilkerson told the Class of 2023 at Occidental College's 141st Commencement ceremony on May 21.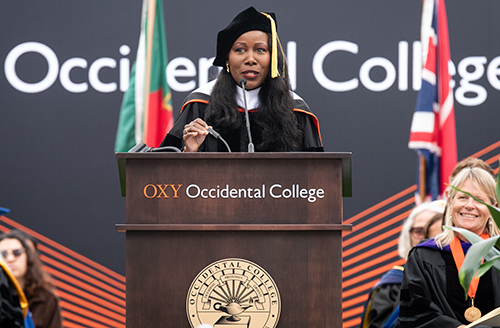 "If our ancestors could do what they did, with so much less than we have been given, then there's nothing that we cannot do in our day," Wilkerson, author of The Warmth of Other Suns (2010) and Caste (2020), told the 514 graduates and more than 3,500 family members and friends who filled Remsen Bird Hillside Theater.
"We labor to this day under the weight of the history that we have inherited, the history of manufactured divisions of hierarchy and caste, because our country is like an old house," Wilkerson said. "Many people might rightly say I had nothing to do with how this all started. I had nothing to do with the sins of the past ... Not one of us was here when this house was built. ... But here we are, the current occupants of a property with stress cracks and bowed walls and fissures built into the foundation. We are the heirs of whatever is right or wrong with it."
All of us have the power and the duty to educate ourselves about "the true and full history of this old house we inherited, to raise and educate the next generation to be fairer, and more just than the ones before," she continued. "We have the power to harness our own strength, and the responsibility to harness our own strength. ... One person has the power to influence everyone around them."
The collective impact of the 6 million Black Americans who rejected the South's Jim Crow system and moved north through much of the 20th century—the subject of The Warmth of Other Suns —provides an inspirational example of what Wilkerson called "the power of the individual decision," which multiplied millions of times became a leaderless revolution.
By making the decision to leave all that they knew and everyone they loved—like all migrants everywhere, and as the ancestors of most Americans did at some point—"they freed themselves, and in doing so helped free the country of a formal Jim Crow system and put so much pressure on this country it was forced to take notice," she said. "They paved the way for civil rights and rights for immigrants and other marginalized groups."
Wilkerson was presented with an honorary degree by President Harry J. Elam, Jr., one of two presented at the ceremony. The second was awarded to Tim Sanford '75, whose 25 years as artistic director of Playwrights Horizons in New York turned the nonprofit theater into the one of the country's leading incubators of modern American theater.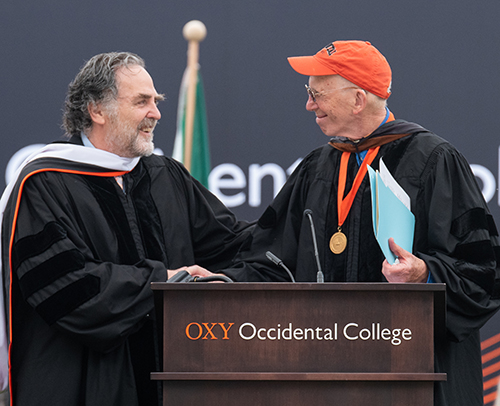 While Sanford's talent was obvious even as a student, Professor of Theater Emeritus Alan Freeman '66 M'67 noted, "none of us could have predicted what an amazing roller coaster ride your life in the theater would become after graduation. … You are someone who senses what's needed and what's possible in the theater, who welcomes every new voice and every new possibility."
In paying tribute to Sanford's "all-embracing vision," Freeman recounted the controversy surrounding Playwrights Horizons' production of The Flick, by playwright Annie Baker. On opening night in March 2013, "Part of the audience left at intermission of the first performance and began canceling their season tickets," Freeman recounted. "You emailed the entire subscription list not to apologize but to say, 'I respect your right to dislike this play. I hope you understand why we chose to produce it.'" In April 2014, The Flick  (which a New York Times critic described as "moving, beautifully acted, and challengingly long") was awarded the Pulitzer Prize for Drama.
"Today," Freeman concluded, "we are proud to join those who have honored you before for your pivotal role in sustaining and elevating American theater, your ambitious and audacious artistic achievements, and the lasting legacy you leave behind."
The College also presented posthumous master's in urban studies degrees to Richard Earl Brooks and Herbert Alvarez, who completed their coursework in 1972 but were denied their degrees because they had been admitted to the program without having completed their bachelor's degrees. (At the time, the faculty required that students have a bachelor's before conferring the master's.) After being contacted by Alvarez's family, faculty voted earlier this year to award the degrees.