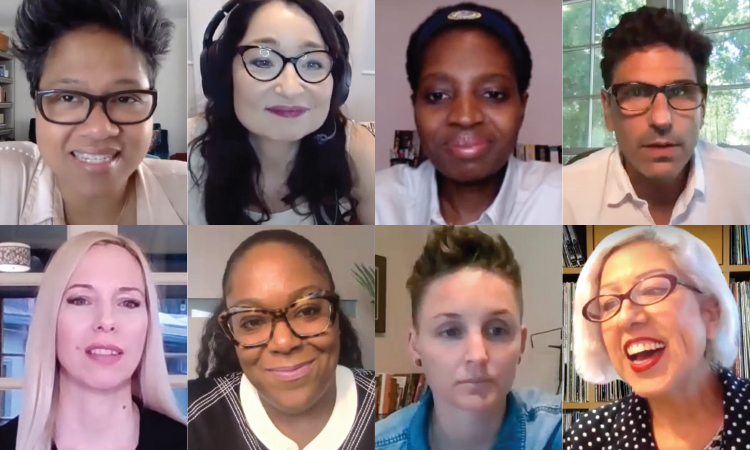 Oxy's Critical Theory & Social Justice Department puts social justice upfront
Mary Christianakis' son is not a COVID-19 researcher per se, but as a Ph.D. student at UC Berkeley, Anastasios Angelopoulos analyzes statistical reliability in relation to health and high-risk settings. In January he implored his mother, "'Stock the pantry, go buy masks,'" recalls Christianakis, professor of language, literacy, and culture in the Department of Critical Theory & Social Justice (CTSJ). After the College moved to remote learning last March, she found that a number of her students were struggling, particularly those living in the New York tri-state area.
A member of the Occidental faculty since 2002, Christianakis reached out to a number of her former students that she knew back East—many of whom are now education administrators—to figure out how to connect students with alumni in meaningful ways. With the support of the College's Institutional Advancement team, she enlisted colleagues Caroline Heldman, CTSJ professor and department chair, and Malek Moazzam-Doulat '92, adjunct assistant professor, to make these connections nationwide. In addition to the tri-state area, Oxy has fostered internships in Los Angeles, the Bay Area, Denver, Milwaukee, and Washington, D.C.
Working with alumni at the Coalition for Humane Immigrant Rights in Los Angeles (CHIRLA), including executive director Angélica Salas '93 and managing attorney Maritza R. Agundez '06, Oxy secured over 30 internships working with students in L.A.'s public schools. This semester, a total of 108 Oxy students are interning at public and charter schools nationwide.
Christened the Oxy Student-Alumni Generations Project—OxyGen for short—"We also have students placed at UNICEF and students who are going to do journalism internships," Christianakis says. "It's a very business school-kind of model, but for social justice purposes, not for capital-making."
With 37 majors and 11 minors enrolled in the program, CTSJ has long emphasized rigorous training in critical theory and transformative political practice. The addition of Heldman and Moazzam-Doulat—who have taught at Oxy since 2006 and 2002, respectively—to the department's ranks prompted a reimagining of the major with a commitment to shore up the "SJ" end of things.
"We might be the only interdisciplinary undergraduate major of our kind in the United States," Heldman says. "We've always been good about the critical theory side of our major but now we're putting all of our chips in on social justice."
"We're asking our students to reimagine the world right—to rethink why things are the way they are and how they could be different," Christianakis adds.
At the start of the CTSJ experience, all students take a Justice Bootcamp, which introduces them to the tools and technologies used in political and activist campaigns, from electoral politics to nonprofit, non-governmental and community campaigns. "The bootcamp provides a historical context for successful social movements—or important but unsuccessful ones—and the techniques that they used," Moazzam-Doulat says. "It also teaches the students real-world, usable skills for inventing their own campaigns."
Deeper into the major, in the Social Justice Practicum, students select an internship site whose mission is to address matters of inequality and social justice. "We had the practicum before, but we had it sort of compartmentalized," Christianakis says. "Now we have embedded it in everything."
In the midst of remote learning, one thing that is anchoring all of their students to a common experience is CTSJ's video podcast, The Matrix. Launched in June, the webinar series draws a dedicated live viewership every Wednesday, Heldman says. Even more people are watching the videos later on, "which makes us happy," she adds.
For a July 31 webinar on the Black Lives Matter protests and police violence in Portland, Ore., the professors talked to two protesters on the ground (one of whom, Nonda Hanneman '10, is a third-year medical student at Oregon Health and Science University in her native Portland) as well as a constitutional attorney with the ACLU.
Other Matrix panelists "are often people that we know or we have worked with," Moazzam-Doulat says, "so we can connect our students to them and help them grow not only their understanding, but also own social or political or activist reach."
One teachable lesson that the pandemic has revealed, Heldman says, is that "people are highly dependent upon other people for their own well-being. The challenge of creating a virtual community that serves the heart and mind is appealing to all of us."
Above: Participants in CTSJ's ongoing Matrix webinar series: Top row, l-r, filmmaker Christine Swanson; Mary Christianakis, professor of language, literacy, and culture; Larissa Sousa of Gorongosa National Park in Mozambique; and Malek Moazzam-Doulat '92, adjunct assistant professor of critical theory and social justice. Bottom row: Caroline Heldman, professor of critical theory and social justice; D'Angela Proctor, CEO of Wayfarer Entertainment; Kelly Simon, interim legal director of ACLU of Oregon; and punk rocker and activist Alicia Armendariz (aka "Alice Bag").