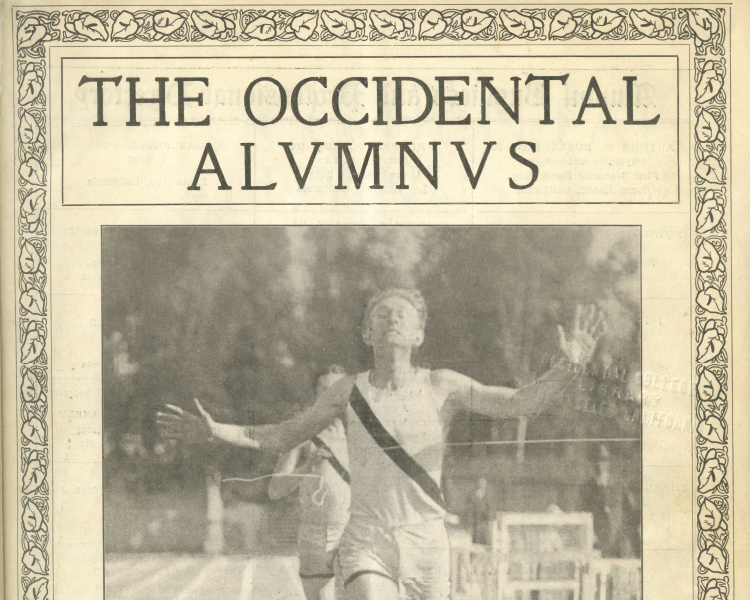 A warm welcome for President Elam, and what to expect from Occidental magazine in our centennial year
From the Editor: A Century's Tales
A couple of years ago, when I was combing through the College's Special Collections gathering fun facts and Oxy minutiae for a cover story devoted to College trivia, I came across the first edition of The Occidental Alumnus, the progenitor to the magazine you are reading today. It was published in June 1920—mere months after the last wave of the 1918 flu pandemic had passed. The nation and the world were getting back to some sense of normalcy.
When I began my initial planning for the Summer 2020 issue—marking my 20th anniversary as editor, and the centennial of the magazine—I had hoped to revisit some of the stories and moments that we have covered over the last 100 years. Then along came COVID-19, and I won't bore you with all the details (since we covered some of this in the Spring magazine) but I've been working from home since mid-March, meaning that frequent trips to the archives were out of the question—and that we would be devoting much of this space to covering history in the making: the pandemic and the residual challenges of being a residential liberal arts college when much of the world is in lockdown. Suffice it to say, there is no shortage of things to write about.
Given the budgetary limitations on the College's resources this fiscal year, we've had to get creative in delivering this magazine to you without sacrificing the quality you have come to expect over the years. Consequently, we have adapted a slightly different model for the next couple of issues: a combined Summer/Fall 2020 edition, which should be arriving in your mailbox in mid-November (it is Election Day as I write this); and a combined Winter/Spring issue, which we expect to publish in April 2021. (We'll be revisiting the publishing calendar at the end of the school year.)
The biggest change inside these pages is to the class notes: For this issue and next, alumni up to the Class of 1974 will receive class notes covering their years; alumni from 1975 to 2020 will receive a separate edition covering news from their classes. Alumni wishing to read class notes in their entirety will receive an email with a link to the full set of class notes in mid-November. (For future editions, we be also be posting class notes on this website behind a password-protected page.)
In between issues, we'll be posting fresh content to the magazine website after the New Year. As always, I welcome your feedback. In the meantime, raise a glass—we're 100!—and enjoy this issue.—DICK ANDERSON
An August Occasion
Many thanks for the recent Spring issue introducing Harry J. Elam, Jr. to us as Oxy's 16th president. August Wilson—the focus of his academic studies—is a hero to many in Pittsburgh who have seen his plays and in the Hill District, where his talents began to develop. Pittsburgh Seminary and the University of Pittsburgh are nearby, where we lived for many years. Your piece on President Elam ("In Good Hands") was excellent, and Doris and I look forward to meeting him and his wife, Michele.
I also enjoyed "A Quiet Place," about life on campus during the pandemic. We are grateful, Dick, to you and your team for your work on the magazine.
Finally, our sincere best wishes and gratitude to President Jonathan Veitch for his contributions to Oxy during his leadership. He will have stories to write, no doubt.
Sam Calian '55
Evanston, Ill.
The black box theater in Stanford University's
Roble Gym, created as part of a 2016 renovation project, has been named the Harry J. Elam, Jr. Theater to honor the director, theater scholar, and administrator who is now Occidental's 16th president. Elam's 30-year career at Stanford "left an indelible mark on university life, particularly in the arts where he worked to ensure the university was a vibrant home for art and artists," Stanford said in its August 4 announcement. "It is fitting that his name now graces one of the principal performance spaces on campus." For Elam, the naming of this theater "has a profound significance," he said. "Theater has been central to my life's work as a scholar, educator, and director. It's also a space I know well, with lots of wonderful memories." Elam was the artistic director for the first production there after the 2016 renovation and directed
A Raisin in the Sun, above
, in November 2018.
Neighborhood Watch
Thanks for creating such a great magazine. I always enjoy staying up to date at Oxy through the interesting stories and photos.
I am writing because I am very concerned and upset by a comment printed in the class notes in the Spring magazine. In the 2006 column, an alumna wrote about moving back to Highland Park. "It's pretty crazy to see how much the area has changed since we were in school," she stated. "If it had been this cool back then, I bet more of us would still live around here!"
I found the blatant disregard and disrespect to the historic Highland Park neighborhood to be, at best, offensive and thoughtless. Personally, when I went to Oxy back in the early 2000s, I found the neighborhood vibrant, comforting, and "cool." It was a diverse, family neighborhood full of children and working-class people. There are many graduates of Oxy who happily stayed in the neighborhood post-graduation and it didn't take it "becoming cool" to do so.
Beth Berlin-Stephens '08
Berkeley