Remembering Evelyn Kieffer '40 M'43 and William Tom '51
A Child of Oxy and Lifelong Neighbor
One of EVELYN (THOMPSON) KIEFFER '40 M'43's earliest memories of Oxy was handing out cookies during the office hours of her father, English professor Guy Thompson. It was the start of a lifelong association with the ­College—as a student, faculty member, and loyal alumna—for Kieffer, who died Dec. 2, 2012, in Los Angeles. As an undergraduate, Kieffer had to take two classes from her father, which she conceded "was a bit nerve-wracking." She followed in his footsteps, teaching English literature and the History of Civilization from 1943 to 1963 and establishing a reputation as a tough grader. Persuaded to retire by her husband Jay, a Pasadena book dealer, she quickly tired of staying at home and went back to work for a mortgage banking firm and then as director of alumni, public affairs, and development for the USC School of Education. The Fifty Year Club awarded Kieffer the Auld Lang Syne Award for "unswerving loyalty to the College" in 2004. Thompson House—the New England-style house that her parents built on Campus Road and her home for almost 80 years—was left to Occidental and will be used as a residence for the dean of the College.
Olympian, Fulbright, Coach, 'Dragon'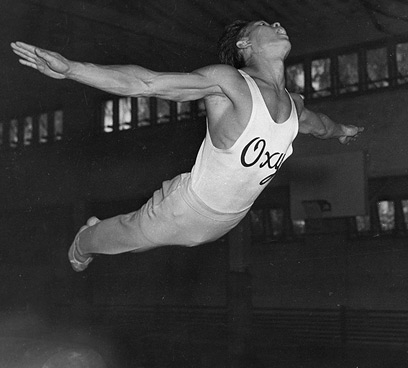 WILLIAM TOM '51 was a double threat athletically—an Olympic gymnast and a nationally ranked badminton player as well. Nicknamed "Dragon," Tom won the elite vault title at the 1949 AAU Championships and became, at age 33, the oldest member of the 1956 U.S. Olympic team that competed in Melbourne. Tom—who died Oct. 31, 2012, in Los Angeles—became friends with the Taiwanese Olym­pians and found himself dealing with deep-seated personal issues of cultural identity. That led to his moving to Taiwan for awhile—using a Fulbright award—and establishing the country's first gymnastic team. He served as an instructor at Normal University in Taiwan before accepting a position at Los Angeles Junior College, where he was a physical education instructor and gymnastics coach for more than 30 years. "When he was a teacher at Polytechnic High School in South L.A., he would challenge incoming students to a badminton game, and if they could beat him he would automatically give them an A," recalls Sammy Lee '43. "None ever got an A." Tom competed in badminton and ping pong tournaments locally and in Asia well into his 80s, winning numerous championships. He is survived by three children and six grandchildren.