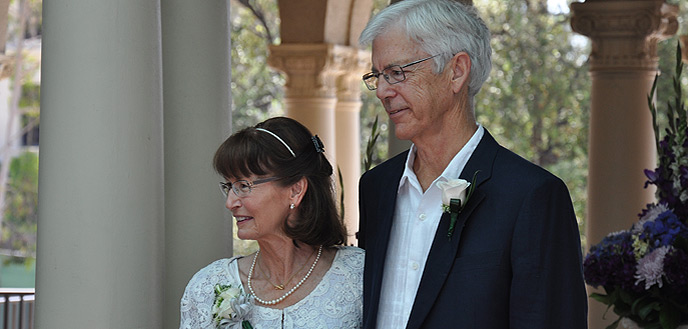 Fifty years after a disapproving dad quashed their dream wedding, Janice Rude '64 and Prentiss Willson '65 tie the knot at Oxy
It was a match made at Clancy's. Janice Rude '64 met Prentiss Willson '65 when she worked in campus dining. A Kappa Sigma brother (and later president of the chapter when it withdrew from the national fraternity over its refusal to allow the Oxy chapter to pledge a black member, Gene Grigsby '66), Willson was immediately taken with Rude as well. The couple quickly became inseparable and just as quickly were engaged. The besotted pair announced their news in an Arcadia paper in December 1962, with the exact wedding date undetermined.
Not everyone shared their bliss. "My father forced us apart the following January by refusing to pay my tuition if I didn't 'stop seeing that boy,'" recalls Rude, who majored in biology. "Prentiss and I should have taken his mother's advice at the time, which was to elope. I became fearful that Prentiss would be attracted to smarter women if I didn't get a college degree. He did not understand my angst, and so we went our separate ways."
Each married another, and both developed successful careers. After graduating from Harvard Law School, Willson became a tax attorney practicing in the Bay Area. Rude ran her family's diving board-manufacturing business, Duraflex International, out of Reno, Nev. (In recognition of Duraflex's contributions to the sport, she was among the first class of inductees into the USA Diving Association Hall of Fame in Seattle alongside Sammy Lee '43, Greg Louganis, and four others.)
Eventually, both divorced. After Willson's mother died, he found that she had held on to that newspaper clipping announcing his engagement to Rude all these years.
Rude, whose father was deceased, found a similar clipping upon her mother's passing, in her wallet. "The mothers knew that we should have been married," she says. The twin finds kindled old memories, and after Willson reached out to Rude, the two reunited over brunch at the Cliff House in San Francisco on June 20, 2010, to see if the spark was still there. Less than six months later, they became re-engaged, and Willson and Rude married on Branca Patio at Oxy on Aug. 19, 2012, with Fran Cosand Wielin '63, Suzanne Rosse McCullough '65, and Chuck McCullough '63 on hand to witness the fairytale ending.
Their wedding program featured lyrics from six songs that "tell the 50-year story," according to Willson, including these from "The Story," by Brandi Carlile:
All of these lines across my face
Tell you the story of who I am
So many stories of where I've been
And how I got to where I am
But these stories don't mean anything
When you've got no one to tell them to
It's true. … I was made for you
Now that they are settling into marriage together at their new home in Yountville, north of Napa, the honeymoooners can't believe the good fortune that reunited them. "We continue to lament every day that we missed being together," Willson says. "That's about 17,500 days, but who's counting?"