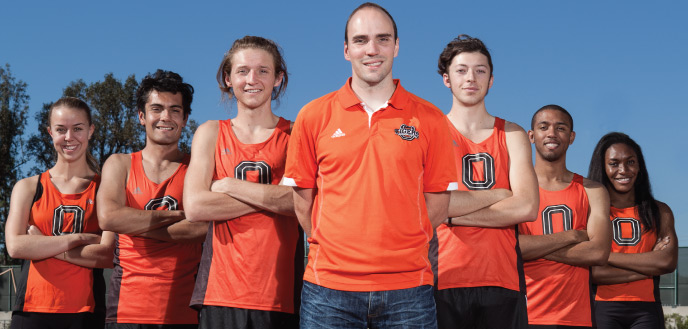 Coach Rob Bartlett 
builds on the 
Tigers' storied track 
and field history—and hopes to usher in a new era of 
competitiveness 
for Oxy athletics
By Dick Anderson & Michael Wells | Photos by Max S. Gerber & Kirby Lee
In his first campaign as head track coach at Occidental—succeeding the legendary Joe Pipal in 1947—Payton Jordan introduced two new trophies to boost interest in the sport. One was awarded to the individual student selling the most tickets to a track meet; the other to the campus group selling the most tickets. "Both trophies were awarded for sales at the UCLA-Occidental meet," according to his college bio from 1948. "Coach Jordan also had everyone admiring and discussing the snappy style in which the track meets were conducted."
Jordan wasted no time in cementing his reputation as "Coach of Champions." His track and field squads won all 10 SCIAC championships under his leadership (as well as top-five finishes in the NCAA championships in 1951 and 1952 and an NAIA national title in 1956). And even after his departure, Oxy's dominance at the conference level continued, as the Tigers amassed a staggering 41 ­titles between 1946 and 1990.
For prospective recruits, a track and field display in the office of Rob Bartlett gives them an opportunity to get a snapshot of Oxy's storied history. And in one expert's opinion, there may be no greater student than Bartlett, the 21st head coach in the 120-year history of the College's track and field program. "He's plugged himself in to Oxy's legacy," says Dixon Farmer '63, the College's athletic director from 2000 to 2007 and himself a former NCAA champion in the 440 hurdles. "Sometimes, when there's a gathering of alumni, he knows more about that history than anyone else in the room."
"I remember being overawed by some of the stories and anecdotes about the great teams of the '50s, '60s, '70s, and '80s when I first heard them as an athlete and young coach," says Bartlett, who first came to campus in fall 2002 as an exchange student from the University of East Anglia in Norwich, England. Now in his eighth year at the helm, Bartlett has guided the Tigers to three men's SCIAC cross country titles (2007, 2008, and 2011), two women's SCIAC cross country titles (2007 and 2009), a men's NCAA Division III Western Regional cross country title (2011), and 20 All-American citations. And while he's still seeking Oxy's first track and field crown since 1998, "I don't feel any pressure ­because of that legacy," he says. "My job is to coach the current teams and to give the men and women on our roster the best possible athletic experience for four years."
"You have to sell the old days and sell what's going on now," Farmer says. "Everyone who is successful in ­recruiting utilizes the satisfied people in their program now to be their best salespeople. Rob's got a great ability to analyze what has happened and to think on the run about how to make changes."
"He's very inspirational and knows how to get the best out of people," says one of Bartlett's most prized recruits, two-time All-American John Guzman Aguilar '15. "He sees more in you then you do in yourself." Guzman Aguilar won the West Region race for the second time to earn a spot at nationals, completing the 8k in 24:31.8 and finishing 24th overall even after falling four times on a muddy course in Mason, Ohio, on November 22. 
Considering the strength of cross country at Oxy, both historically and today, it's easy to forget the rebuilding process that followed the arrival of Troy Engle in 1999. In four seasons, the women's team went from last place to a SCIAC championship in 2002. The men's squad, which went 0-7 in dual meets in Engle's first season, finished 6-1 five years later and trailed Pomona-Pitzer by just seven points at the  SCIAC championships. Both squads placed second in 2005, the best combined SCIAC finish since 1995. 
In track and field, Engle restored the program to healthy levels, growing the men's and women's squads from a combined roster of 20 to more than 70 in just one year. Engle's track and field teams produced 18 SCIAC individual medalists, sent eight student-athletes to the NCAA Division III National Championships, and produced three All-Americans: Marisa Omori '03 (pole vault, 2001), Justin Gruber '06 (javelin, 2004); and Kristen Stuart '05 (200 and 400 meters, 2004).
As an exchange student at Occidental in 2002-03, Bartlett ran for Engle and the Tigers in the 200m, 400m, and relays, earning All-Conference recognition in all four events. A runner from the age of 15, he had a "phenomenal" experience at Oxy before returning to the U.K. for his final year of study as an American and English history major. "About 18 months later, though, Troy had a vacant coaching internship position available and he was kind enough to offer me the position," he says. "I jumped at the chance to give something back to a program that had been so good to me and started coaching at Oxy as Troy's assistant for cross country and track and field in the fall of 2005." A year later, Engle left Oxy to work for the U.S. Olympic Committee, Bartlett took over as interim head coach.
Bartlett, then 25, won out over what Farmer calls "a terrific pool of Division I and Division II candidates" in large part because of Engle's input. "In Rob, I saw a young guy who had enthusiasm and who loved the sport, but was not that experienced as head coach. Troy convinced me otherwise." In the interview process, "Rob came to the front in a situation like that," recalls Farmer, who himself coached the teams from 1971 to 1977. "What I see now is a guy who really gets it."
It wasn't long before the conference took notice as well. In fall 2007, Oxy's men's and women's cross country teams captured SCIAC titles in the same season for the first time in a decade, with Oxy's 1-2 men's duo of Kevin Chaves '08 and Alex Ramón '08 copping All-American honors and Bartlett being named West Region Coach of the Year.
The programs' continued excellence, coupled with a renewed focus on athletics ("What Price Glory?") has prompted Occidental to make a bigger investment in its storied track and field and cross country programs, branding them as the College's signature sports. In addition to hiring a full-time strength and mental ­conditioning coach with a background in track and field, the Tigers promoted longtime assistant coach Tyler ­Yamaguchi to full-time status.
"Tyler has been a fixture on our track and field and cross country staffs for some time now, and we're happy to have him in this elevated capacity," says Oxy athletic director Jaime Hoffman. "We've been advocating for a greater investment in our athletic programs for some time now, and these four sports made sense as the first to commit more resources to because of our longstanding tradition, excellent facility, and excellent coaching."
From a logistical standpoint, Oxy's investment in track and field and cross country makes sense. The ­programs have unlimited roster space for both men and women, and an additional assistant coach not only ­expands the College's recruiting efforts, it potentially ­improves the athletes' experience through the season. "I firmly believe that Tyler is one of the best sprints and ­relays coaches in the country," Bartlett says, "and we're incredibly lucky to be able to have him here."
Since he began as an assistant in 2008, Yamaguchi has coached 17 performances on Oxy's all-time top 10 lists. Among his biggest accomplishments: mentoring star sprinter Jonathan Padron '14, Oxy's third-fastest 100-meter sprinter in school history; and leading the 4x100 relay team to a time of 41.02 seconds last spring, fourth-fastest in Oxy history and seventh-best in SCIAC history.
"The track and field program is absolutely in the right hands with Rob and Tyler," Farmer says. As for a track and field championship, he urges patience. "I really do believe within the next several years that we're going to see movement in conference. It's been typical for us to finish in the top third. For those of us used to winning the conference, I don't think that dominance will return. But I think a level of competitiveness on regular basis certainly will."
Both programs are expecting improvement from last year's finish, but the men's program in particular has high expectations with a deep returning class and 17 incoming recruits. "I honestly don't think of recruiting to Oxy as challenging," Bartlett says of the process. "Certainly we're looking for driven, successful students with the talent to make a difference, and that limits the number of people we can recruit in good conscience. However, once we identify suitable prospective student-athletes, the total package of academics, athletics, and intangibles that Oxy offers makes my job as a salesperson incredibly easy."
"Athletics are honestly the driving part behind my ­college experience," says Alex Nieves '15, a diplomacy and world affairs major from Stevenson Ranch. "It keeps me sane with all the other work that I'm doing. My Oxy experience would be nothing without track and field."