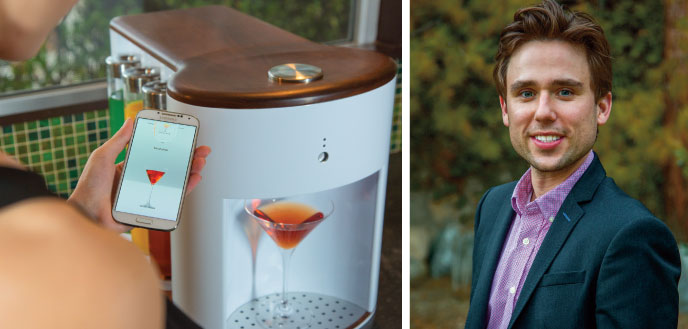 Dylan Purcell-Lowe '12 taps into the Oxy network to kickstart the ultimate home bartending device
By Dick Anderson
Like many budding entrepreneurs, Dylan Purcell-Lowe '12 and his pal, Ammar Jangbarwala, spent hours brainstorming ideas for their own business. One night while waiting for drinks at a busy L.A. bar, "We realized there hadn't been any automation in the bartending industry in 100 years," Purcell-Lowe says. After doing a little research, they discovered a technology in Japan that was dispensing premade Jack and Cokes to the public. And that led them to the idea of vending cocktails in the home.
Three years, multiple prototypes, and a network of 10 investors later, Purcell-Lowe and Jangbarwala launched a Kickstarter campaign to raise $50,000 for Somabar, their Wi-Fi-connected craft cocktail appliance designed for the home kitchen. On January 13—last call for the campaign—Somabar wrapped up a jaw-droppingly successful 53-day funding period with $312,707, with more than 800 backers and orders from more than 20 countries. But any afterparty will have to wait: Now they must finalize the design, manufacture the first units, and deliver them by the end of July.
Sharing office space in Beverly Hills with four other startup companies, Somabar is now a full-time vocation for Purcell-Lowe, who grew up in Tujunga. He opted for Oxy over UCLA because of the College's small class sizes and study-abroad opportunities (he was in Jordan in 2011 during the Arab Spring). After graduating, he spent 14 months as a marketing and operations analyst with McMaster-Carr and then took a job as a sales engineer for Keyence, a Japanese manufacturer of factory automation equipment—all while nursing Somabar through the development process with Jangbarwala, a project manager and engineer at KORE Infrastructure. "We made a variety of prototypes while both of us having our jobs," Purcell-Lowe says. "It eventually got to the point where we had a good enough prototype that we could start showing people."
One of those people was Dave Berkus '62, a founding member and chairman emeritus of Tech Coast Angels, the largest angel investment group in the country. "Dave ­didn't invest in our company directly, but he reviewed everything, gave us a couple of notes for adjustments, and then we finally presented formally to Tech Coast Angels," Purcell-Lowe says. They found their lead investor in TCA vice president Chris Hameetman, son of Fred Hameetman '61 and founder of rainforest.LA, who has provided seed money to some two dozen companies. "Everything came back to Occidental in the end," Purcell-Lowe says.
After Brooklyn-based Kickstarter gave its blessing to Somabar in an email, the heavy lifting began. "Everything on Kickstarter is more or less organic; you have to do it yourself," says Purcell-Lowe, who drove traffic to the page through social media and a persistent PR push that led to mentions on Fortune.com, CNET, and TechCrunch (which did a limerick on the machine). "The biggest thing was be­ing on Uncrate, TechCrunch's purchasing site," he adds. "That probably brought the most people to our campaign."
Kickstarter, however, is just the tip of the ice bucket. Purcell-Lowe says that he is in talks with a top-five liquor company, a major appliance manufacturer, and two major retailers about Somabar-related products, and he's confident that first-year revenue will reach $1 million—and 10 times that amount in 2016. With 300 cocktail recipes at his fingertips, he'll drink something to that.