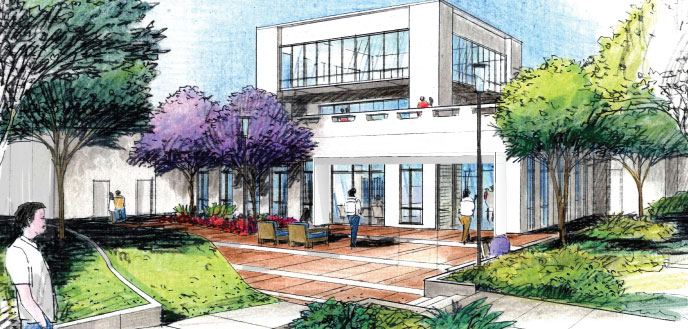 As Oxy's Career Development Center prepares to expand its footprint on campus, eight young alumni share the lessons they learned forging their own career paths
By Andy Faught | Photos by Marc Campos
Recent economic upheavals and the ever-escalating cost of college haven't tempered the ongoing debate about the value of a liberal arts education. President Jonathan Veitch acknowledged as much in his 2009 inauguration speech when he observed: "Even as we dedicate ourselves to the future of an institution we love, we must be prepared to admit that much of what we do here is not well understood by the world at large." Which begs the question: In a rapidly changing world, how can liberal arts colleges best prepare their graduates for prosperous, fulfilling careers?
A key part of Occidental's answer to this question is the scheduled renovation and expansion of its Career Development Center, which has been housed in the same space since the Arthur G. Coons Administrative Center opened in 1967. A $1-million pledge from Fred Hameetman '61, coupled with generous support from other donors, will nearly double the space currently occupied by the CDC while bringing the offices of ­career development, pre-health advising, and national awards together. "The new Career Development Center will be a focal point on campus for preparing Oxy students for the opportunities that await them after graduation," says CDC director Valerie Savior '85.
During construction—which is expected to be completed this fall—the CDC will continue to offer its services to students, from career counseling and experiential learning to internship opportunities. In the meantime, we had the chance to talk with eight millennial alumni, all of whom have been influenced heavily by their Oxy experience and their interaction with the CDC, about their own journeys to postgraduate success. And from that we mined these nuggets for anyone setting out on a new career.
1. Stay true to yourself.
As a senior at Oxy, Allison Glatstein '03 participated in the CDC's Walk In My Shoes program, in which she spent a day shadowing a professional art therapist who worked with abused children. "That was really special. I knew that I cared about art and I knew that I cared about people," says Glatstein, now a senior child testing researcher at Mattel Inc. in El Segundo. "If you can find those core values that are meaningful to you, then you will be fine. That's what's gotten me through the last 12 years."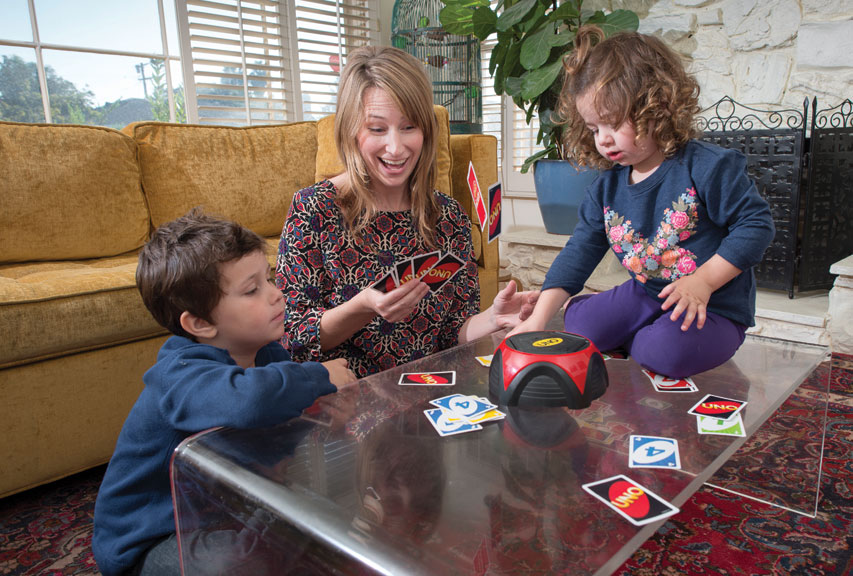 An art history and visual arts major as an undergrad, Glatstein went on to get her master's in marriage and family therapy at Loyola Marymount University. She merged her educational experiences to provide art therapy to everyone from children to patients with Alzheimer's disease.
That synchronicity found a new purpose in 2011, when her then-3-year-old son, Ari, "really got interested in toys, and I was spending my paycheck buying him stuff," she recalls. Glatstein happened upon a listing for the Mattel position, for which she applied. In the role, researchers consult children during all stages of toy development. Researchers conduct focus groups with parents as well.
"I thought of it as my dream job, but that probably nothing would come of my application," she says. "But I actually ended up getting a call, and I interviewed with them and was hired."
 In summer 2013, Glatstein shared her career experiences with Oxy students involved with InternLA, a CDC-sponsored program that provides students with paid 10-week internships in various community organizations. All games aside, she considers her professional life to be a work in progress. "It took shape at Occidental, and it con­tinues to take shape," Glatstein says. "It's ­always evolving."
2. Be open to change.
Careers don't always happen with much advance planning. Just ask Doug Regner '02. He started as an English and comparative literary studies major at Oxy before switching to economics. After spending more than seven years as an account executive at a Bay Area investment firm, Regner found himself enamored of the region's high-tech spirit.
"I hadn't even thought about technology as a career option," he says. "This is really ground zero for innovation and startups. You cannot live here without meeting entrepreneurs. I'm an avid user of technology myself, and it was something that I was always passionate about."
He began looking around for early-stage companies, "and the rest is history," Regner says. In 2009 he joined Wildfire, a social media marketing company that was bought by Google in 2012. Regner stayed with the company until October, when he was named vice president of Menlo Park-based Liftoff Inc., a marketing technology company that works in the field of mobile apps.
Looking back, the career change "was a big risk professionally, and I left a lot of guaranteed income on the table," he says. "But I had the chance to help build a business, and it was one of the most enjoyable moments of my career."
His Oxy education played no small part in the transition. "Occidental definitely stresses being well-rounded and being able to pivot in your way of thinking as the world changes," he says. "I didn't have a ton of fear going into the change because I was confident I had a set of skills that I could apply to this new thing."
Since graduation, Regner has worked with the Career Development Center to expose new generations of students to technological fields, even hiring four Oxy graduates to work at Wildfire.
"I would encourage students of all majors to be open about what direction they might choose," he says. "Your first job choice when you graduate isn't necessarily locking you in to a particular career. You always have the opportunity to reinvent yourself. There are heaps of career paths."
3. Don't be a robot.
"My great uncle used to be fond of saying, 'Be interested in people, and they will be interested in you,'" says Chris Cianci '03. "It might sound glib, but if you manage to actually internalize that, it will get you a lot farther than you might think."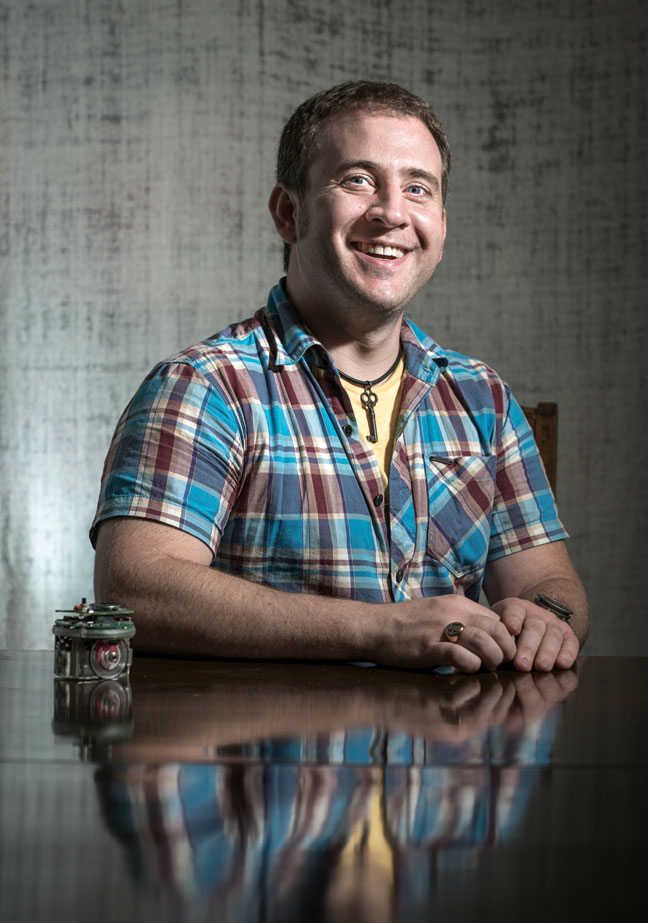 Cianci brought that attitude to Oxy, earning a physics degree and then (in the College's 3/2 program with Caltech) a bachelor's degree in electrical and computer engineering. He went on to get a doctorate in distributed robotics at Switzerland's École Polytechnique Fédérale de Lausanne.
These days, Cianci is a senior roboticist with Applied Minds, a Glendale-based research laboratory where he and his colleagues work for clients that "come to us with problems or requests, and we invent things for them to keep them well-positioned and prepared for the future." And that's about all he can tell us. "Unfortunately, given the nature of our work, they also ask us not to talk about the specifics of what we're doing."
He's not so secretive when it comes to recalling his time as a work-study in the CDC, where he helped the office with its day-to-day duties. "I spent rather a lot of time there, and I'd like to think that I absorbed a fair amount of information and have put it to good use," Cianci says, noting that he still occasionally takes part in networking practice sessions held in conjunction with the Office of Alumni and Parent Engagement ("It's always been a great experience").
In a world in which ideas and technology are changing by the day, Cianci regularly must draw on his liberal arts experience. "As a small team, we can't really afford to be specialists in only one thing," he says. "Every few months I end up needing to learn something new, effectively teaching myself to be a sort of local, temporary mini-specialist in the topic of interest, before moving along to the next one."
4. Have a game plan.
Leave it to Kera Bartlett '09 to set her sights high. The former All-American and three-time national qualifier in the pole vault holds the Occidental women's record in the event (12'8¾"). She also won the bronze medal in the 19th Maccabiah Games, held in 2013 in Israel (informally referred to as the "Jewish Olympics").
The diplomacy and world affairs graduate has a new goal these days. She's on track to complete her MBA next year at the Tepper School of Business at Carnegie Mellon University, after which she hopes to gain a corporate leadership position that allows her to positively affect the lives of those around the globe.
But it hasn't been without the help of Occidental alumni. When Bartlett took a job with the Washington, D.C.-based Brookings Institution think tank after graduation, she reached out to the CDC to seek out other Oxy graduates who could share their career experiences over coffee or lunch. "I wanted to get as much value as I could out of their experiences," she says.
"When I was a senior, no one really prompted me to start applying for a job," Bartlett says. "It helps to have a game plan, and even a project to carry you through the year to help you achieve your goal of hopefully having a full-time offer by the end of the school year."
Bartlett did have a plan. She took part in Oxy's U.N. program, and she also was an intern for the Clinton Foundation, where she worked on the Clinton Health Access Initiative. That effort provides HIV/AIDS treatment to patients in low- and middle-income countries. Bartlett hopes her MBA will allow her to build on such acts of goodwill.
"I've always been attracted to public health and working for a company that has a global reach and the ability to make a difference and helping people stay healthy," she says. "Being a good corporate citizen is something that's very attractive to me."
5. Find a mentor.
Kenturah Davis '02 has found success in art by sticking to her mantra: "Experiment, experiment, experiment!" But that alone isn't enough. "I would encourage all students to identify a professor who they can really connect with, and who can give them advice," says Davis, whose work focuses on drawing, textile work and sculpture. "That's a great thing about the relatively small student body and class sizes. Occidental has great faculty members who are working in the field, whether they are writers, artists, or biologists."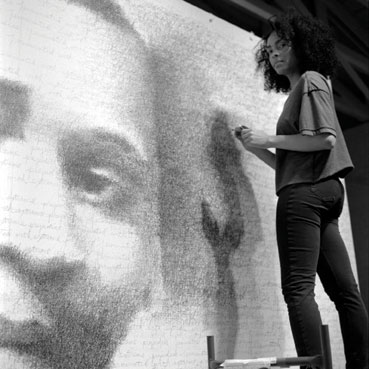 For Davis, it was Linda Lyke, professor of art history and the visual arts, who helped her excel in the studio printmaking program and beyond. Davis' work has since been exhibited around the world. In 2009, she was commissioned to draw a portrait for a TV documentary on Ray Charles, and last year she got another commission to create a mural for the Alliance Français d'Accra in Ghana. In November, her drawings were displayed at art shows in China and Japan.
While she grew up knowing that she wanted to be an artist, it wasn't until after Davis graduated from Occidental that she began to question her goals. "Figuring out how to be an artist was challenging," she recalls. "I had lingering interests from my anthropology classes and a semester abroad program at American University that nudged me toward considering a more practical job as a city planner."
But after working in the sales department for an art gallery and print atelier, at which she got to glimpse the lives of many world-renowned contemporary artists, Davis knew she had to make good on her original dream.
Enrolling at Oxy, she says, offered more than just an exploration of art. "A liberal arts program, for me, represented an opportunity to take a range of non-art courses that would inform my art practice," Davis adds. "Occidental offered a great balance where classes in anthropology and sociology provided an intellectual foundation that I could apply in my art classes."
6. Connect with a professor.
"Building human connections always outperforms any kind of skill set, or even networking," says Jessie Evans '06. "Oxy professors are willing to engage with students on a kind of level that helps them get their professional career."
As a conflict stabilization specialist with the U.S. Department of State, Evans has served at American embassies in Afghanistan, Burma, and Bangladesh. "I'll go to an embassy and help them if a problem set needs additional people to think it through," she says. "There's tons of facilitation. I'll write analyses on a situation and sent it through cables to high-level decisionmakers in Washington."
From the moment she enrolled at the College, Evans never wavered from her desire to work on the global stage. "I'm a pretty linear person," she says. "I went to Occidental for the diplomacy and world affairs program."
Evans fleshed out her skill set when, as a senior, she completed an internship in New York City with what is now known as the Kahane United Nations Program. She credits DWA associate professor Anthony Chase with being her "champion"—and, true to her own advice, Evans has hosted U.N. participants in Washington, D.C., when she's stateside. She has introduced dozens of students to Foreign Service officers, civil servants, and government contractors like herself.
"Being around people who genuinely care about you and who take a little bit of risk on you means a lot more than exchanging business cards at a wine and cheese party," she says. "That can't hurt, but it's not enough."
7. Get involved in the community.
Leo Magallon '09 M'10 entered Oxy as a physics major with dreams of becoming an engineer. He found a new purpose as a junior, when he took a class taught by adjunct assistant education professor Adelina Alegria. "She changed my outlook and helped me find my passion," says Magallon, who grew up in Boyle Heights. "It was a transformative process. I wanted to go back to the inner city and work really hard to bring change."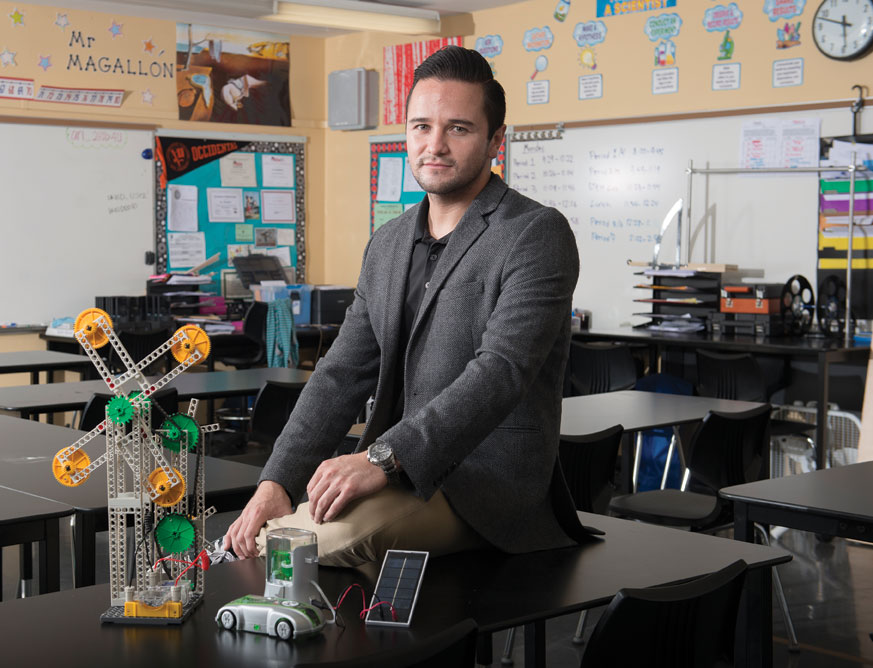 He was one of six teachers who in August opened the STEM (for science, technology, engineering, and math) Academy of Boyle Heights, a high school run by the Los Angeles Unified School District.
"We really looked at it as a social justice issue in a big way because we've always had to get students bussed out of the neighborhood to receive exposure to STEM fields," Magallon says. "We said, 'Hey, no, a school can exist in the inner city where students can receive quality exposure to these skills.' That's something I developed at Oxy: questioning the system and wanting to make things better."
He got his first job teaching at Roosevelt High School in Boyle Heights, where he taught for four years before joining the academy. The CDC helped him get in the door. "They cleaned up my resume, and I had a mock interview on the spot, which I wasn't expecting," Magallon says. "They put me at ease."
He urges students early in their Oxy careers to develop relationships in the campus community. "As a first-year student, definitely take a variety of courses and make sure that you interact with your peers and your professors," he says. "Get involved in the community so you can be well-rounded and have a worldwide perspective. No matter what field you go into, you'll be able to sell yourself as someone who can adapt easily to changing environments. The opportunities at Oxy are endless."
8. Tap the alumni network.
"Some of the best people to talk to are those who came before you," notes Aaron Resnick '01, who as a diplomacy and world affairs major initially sought career advice from alumni as a senior and immediately after graduation. "I was less interested in continuing to pursue a policy career than I was in making a specific, positive difference with tangible outcomes."
The Seattle resident was two months into his current position as planning and preparedness manager for the Northwest Healthcare Response Network when news broke that the nation's first Ebola case had been diagnosed in Texas. The case raised immediate and pressing questions for Resnick, whose job is to help create regional emergency response protocols among member hospitals and the greater healthcare community, "How can hospitals screen for and treat real and suspected Ebola patients?" he asks. "How do they handle medical waste and deal with family members and the transport of patients to a hospital from home? The Dallas case gave a lot of people in my field pause about how this could be better run."
His Oxy days didn't seem to augur a future in healthcare. Resnick worked after graduation as a research assistant at the Washington Institute for Near East Policy, a Washington, D.C., think tank focused on the Middle East. A side interest in healthcare propelled him to earn his emergency medical technician certificate, after which he served as a volunteer EMT. In 2010, he took a job as emergency preparedness coordinator at Inova Fairfax Hospital in Falls Church, Va., where he worked until last September.
"Oxy taught me to be open to opportunities and situations that you may never expect to come your way," says Resnick, who has hosted several students through WIMS. "The College also taught me to take risks and make adjustments along the way in thinking about my career. Just because one field of study may lead you in a certain direction doesn't necessarily mean that's where you're going to end up." 
Faught wrote "Wide Open Spaces" in the Summer 2014 issue.