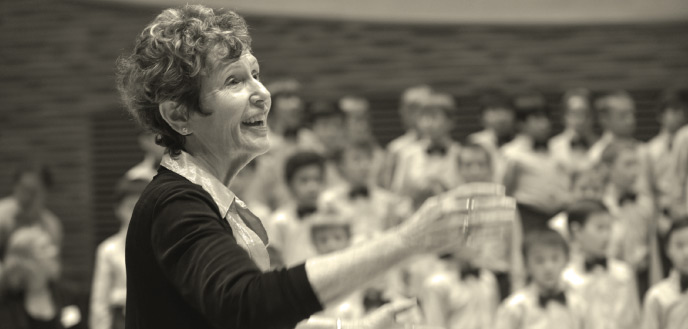 Carrying the baton 
in the tradition 
of her Oxy mentor, Howard Swan, 
Joyce Keil '64 shares 
the music of the 
Ragazzi Boys Chorus 
with the world
By Lori Ferguson | Photos by Alex Johnson & David Allen
As a high school music teacher in the late 1980s, Joyce Keil '64 realized she had a problem: She was finding it difficult to attract boys to sing in a mixed-sex choir. Keil quickly realized that desire wasn't the issue—many young boys were eager to sing, but the message they received from the world around them said that sports was the preferred activity. Yet emerging research, coupled with personal experience, told Keil that the boys needed each other, so in 1987 she ­decided to start a boys chorus and see what would happen. That September, Keil founded the Ragazzi Boys Chorus with seven boys. By February 1988, she had 35 boys and growing confirmation that her instincts were correct. Today, Ragazzi includes some 185 boys, ages 7 to 18, drawn from more than 100 Bay Area schools in 26 communities, from Milbrae south to San Jose and Pacifica and east to Fremont. "Once you convince the boys that it's cool to sing, you're all set," Keil says.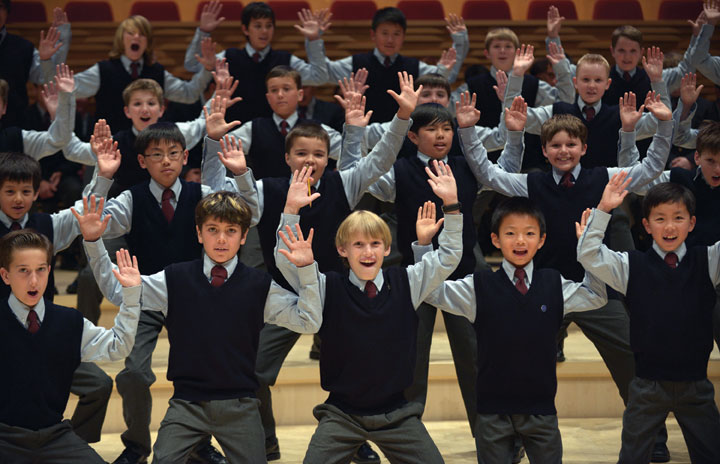 And sing they do. The chorus maintains a rigorous performance schedule around the Bay Area throughout the year, hosting its own concerts and recitals and appearing with the likes of the San Francisco Opera and the San Francisco Symphony. The ­chorus' efforts were nationally recognized in 2000, when Ragazzi shared a Grammy for Best Classical Album for its participation in Stravinsky's Perséphone with the San Francisco Symphony.
Ragazzi also takes its show on the road, touring both nationally and internationally to such destinations as Australia, New Zealand, Japan, and Cuba. The program's growth has eclipsed Keil's expectations, and she couldn't be more delighted. "I love working with boys—they're so smart and task-oriented," she notes. "They have incredible energy—the challenge is to focus it. It's a great fit for me."
Chorus members receive a comprehensive program of music education including vocal training, ensemble singing, music theory, movement, and showmanship. "We train boys to be musicians and performers, not just singers," says David Jones, Ragazzi's executive director.  Furthermore, multiple studies have shown that children who sing in choruses make better grades, improve their memory and creativity, learn teamwork, and gain confidence. "In short, doing music lights up the brain," Jones says. Since its inception, 100 percent of the chorus' graduates have gone on to college.
Nathan Wilen, who completed his studies at Chapman University last spring, joined Ragazzi at age 7 and is now a member of the chorus' alumni group Ragazzi Continuo. "My love for music and the training that Ragazzi provided contributed greatly to my acceptance into Chapman's vocal performance program," he says. "Ragazzi truly cemented me as a musician and music lover."
The social and intellectual returns that students receive are no surprise to Keil, who grew up singing in choirs and playing the piano. When it came time to select a college, she looked to music for guidance. "It's funny, I wasn't even a music major at Oxy—I majored in psychology," Keil says. "It never
occurred to me that I could make a living in the field, and yet I chose Oxy because of the music program and Howard Swan."
The legendary Swan, who died in 1995, led Occidental's Glee Clubs from 1934 to 1971 and is still remembered fondly by all who worked with him. "Howard Swan didn't major in music either; he majored in history, and I found that very inspiring," Keil says. "He singlehandedly built the choral program at Oxy, and yet he didn't have a degree in the field. Dr. Swan used to talk to us about the spiritual mission that one has as a musician—he said that performance wasn't about us, but about the people listening and the composer's message that you're trying to communicate to the audience through the music. His commitment to the music and his students made a huge impression on me."
All these years later, many speak of Keil's teaching endeavors in much the same way. "Joyce and I met as freshmen at Oxy," recalls Sally (Dixon) Heaverne '64. "She was one of only two freshmen admitted into Oxy's Glee Club our first year. Joyce has always been very musical, and she's done amazing work with Ragazzi. She's just a very giving person." Fellow classmate Betty Boyd '64 concurs. "Joyce's choral work is pure joy for her, and a lifelong passion to which she has been steadfastly dedicated," she says.
After graduating from Oxy, Keil got her master's in psychology from The New School in New York City. She pursued an array of jobs after that, all the while working as a professional singer performing in local groups and churches. Keil found her calling quite by accident when she was asked to direct a church choir, "and it was wildly successful," she says. That led to her pursuing a degree in conducting in 1980 at Cal State Northridge, during which time she conducted six small school and community choirs throughout Los Angeles. After working as a music theory teacher and choral conductor at Crystal Springs Uplands School in Hillsborough, she founded Ragazzi in 1987.
 "The chorus has grown beyond my wildest dreams," says Keil, fresh off of a holiday concert at San Francisco's Davies Symphony Hall in early December. "The boys cover a vast repertoire—all of Western music, from Baroque to the Beach Boys—as well as music from around the world, in the original languages." Ragazzi performs about 15 times each year in standalone concerts and recitals, as well as in collaboration with others. For instance, this December the chorus sang with the San Francisco Symphony in a live musical accompaniment to the film Home Alone.
"Witnessing the power of music in the boys' lives and the friendships that are formed over the years is humbling, exciting, and incredibly rewarding," adds Keil, who started Ragazzi Continuo in 2010. "Seeing these kids come back as grown men is amazing."
What's next for Keil? "We're experimenting with something near and dear to my heart: an outreach program to the Latino population in Redwood City. We're working with the group Music for Minors to set up some choruses on-site in their schools, but ultimately I'd like to find a way to bring the most talented and committed singers to our central location and integrate them into the performing chorus." There's much work to be done, Keil admits, but history shows the odds are in her favor. 
Ferguson is a writer in Bedford, N.H.