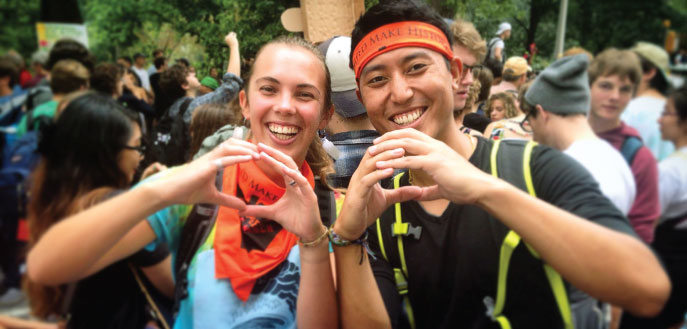 Seniors Julia Kingsley and Tsering Lama didn't see eye to eye on divestment until a study abroad program on climate change brought them together
Judging by their LinkedIn profiles, Oxy seniors Julia Kingsley and Tsering Lama couldn't be more different. Kingsley, an urban and environmental studies major from Marblehead, Mass., wears a wide smile and sunglasses against a desert backdrop in her profile photo, whereas Lama, an economics major from Tibet, sports a suit and tie and is perched in front of vaguely Romanesque columns. She was a community-organizing intern; he's an intern at an investment firm. When it comes to the melting of the polar ice caps, however, the two have much in common.
Last spring, Kingsley and Lama became the first Oxy students to participate in the School for International Training (SIT)'s International Honors Program, Climate Change: The Politics of Food, Water, and Energy. ­Students enrolled in the 15-week program traveled to Can Tho and Hanoi, Vietnam; Rabat, Morocco; and Cochabamba, Bolivia, to study the social impacts of climate change through the political economy of food, water, and energy in some of the world's most productive and vulnerable landscapes.
"I never in a million years expected to see Tsering on this trip," says Kingsley, who is vice president of Oxy's Sustainability Fund. She recalls butting heads with Tsering in his former role as vice president of the Charles R. Blyth Fund—the student-run investment portfolio within the College's endowment, with assets of more than $150,000—when her group presented the Blyth Fund with information about divesting from fossil fuels.
"I have been passionate about climate change my whole life," Kingsley adds. "When I saw this brand-new program, I thought, 'This is a dream; this is a joke.' I wanted it so badly." Lama, conversely, waited until a week before the deadline to even apply. "I wasn't planning on going abroad at all," he says, until Woody Studenmund, the Laurence de Rycke Professor of Economics, offered some encouraging words to the effect of "Are you stupid? Go abroad," Lama recalls with a laugh.
But Studenmund's curt advice wasn't his only motivation. "I wanted to challenge myself and put myself out of my comfort zone. Water and energy are of interest to me as an economist," Lama says. The native Tibetan saw the melting of Himalayan glaciers as a personal call to action.
As it turned out, the two had not only signed up to spend the semester traveling on three continents in the same small group of 24 students, but they had also approached the same person for recommendations on the program's application: Dale Wright, the David B. and Mary H. Gamble Professor of Religion.
"Although they knew that climate change was an issue all over the planet, they suspected that it would manifest differently in different places and that cultural reactions to it would differ significantly. And they were right on both counts," Wright says. "Talking to Julia and Tsering upon their return, both felt that this was a life-changing experience, and both underwent some change of mind about what climate change would mean for life on this planet."
 "What we found abroad is a lot of policy discourse in countries where people are ­mitigating and adapting to climate change," Kingsley says. "Change is hard, and these developing countries are going to be impacted."
In addition to a greater interest in global climate change, Lama and Kingsley share an Occidental education—and they brought that mindset to the program. According to Chris Williams, an SIT traveling faculty member who accompanied students on the trip, the two contributed significantly to the group with the skills they developed within Oxy's intimate and challenging classroom settings.
"The fact that neither Tsering nor Julia were shy about sharing their often competing ideas, and testing them out on the class during discussions, helped move the thinking of everyone forward or in new directions," he says. "They were both excellent and important additions to the course and made important and unique contributions."
Williams also observed an evolution in both students' thinking as the class moved across the globe. "I would say that Julia's views became more complex and her explanations more nuanced as she grappled with the nature of the world and how to understand it. Because she is more committed to seeing it change, I think that helped Tsering and others see some of the flaws in the current socio-economic arrangement of societies around the world more clearly," he says. "The further into the course we progressed, the more Tsering illustrated his abilities as a communicator who is at ease in front of an audience and is able to delve into complex topics from a variety of angles." Williams adds that he was equally impressed by Lama's rejection of "rigid preconceptions and prior assumptions in the face of new information," and the way Lama ­assimilated that data into how he viewed the world.
Not only did the pair receive a deeper understanding of issues affecting the entire planet, they gained a deeper appreciation for their education in Eagle Rock. "Coming back to campus, I had so much more appreciation for the UEP department," Kingsley says. "There were concepts discussed on the trip that other people hadn't heard of, and I already had a groundwork for the political and economic effects of climate change."
Both students received grants—Tsering from Associated Students of Occidental ­College and Lama from the Under­­­graduate Research Center—to attend the People's Climate March in New York City on September 21. The event was the largest-ever of its kind, with an estimated 400,000 participants taking to the streets two days before an emergency U.N. Climate Summit.
"It was imperative for me to attend and support the People's Climate March," Lama says. "Climate change will affect all of human civilization, with the developing countries bearing the majority of the adversity. It will cause major changes environmentally, economically, and socially."
While studying abroad provides an opportunity for students to grow and develop new ideas and skills, monumental shifts in opinion are not always guaranteed. "I think I was the most anti-divestment person on the fund, and now I'm the most pro-divestment," Lama says—to which Kingsley adds with a smile, "It only took going around the world."—Joy Hepp