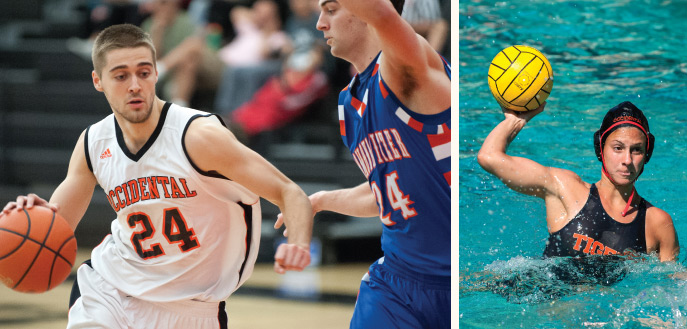 With 21 sports to support 
and limited means to do so, 
Oxy gets selective in its approach to reviving its fortunes
By Dick Anderson
If you had to pick one moment that crystallized the recent shift in Oxy's athletic fortunes, it might be Feb. 22, 2011. That night, the Caltech men's basketball team ended a 26-year run of conference futility by defeating the Tigers, 48-47—a victory that made headlines nationwide (Ben Stiller and Walt Disney Pictures even optioned the Beavers' story for a possible feature film). One shouldn't read too much into a single loss—and Caltech went nearly four years without another conference win before beating Redlands and Whittier back-to-back (!) in early February—but it was a moment that suggested that Oxy might be closer to the bottom of the conference than the top.
Of the 108 teams Oxy fielded in conference competition from 2009 to 2013, only eight finished first, and another 25 finished second or third. Put another way, 70 percent of Oxy squads finished beneath the top three in conference play—and the program as a whole has slipped to seventh among the nine SCIAC teams in combined performance across all sports.
It's been 30 years since Oxy last won the conference's all-sports trophy for overall athletic excellence. Over that span, Claremont-Mudd-Scripps has won the overall SCIAC competition 26 times—and these days CMS is gunning for a top-10 ranking in the Learfield Sports Directors' Cup, awarded annually by the National Association of Collegiate Directors of Athletics and USA Today to the colleges and universities with the most success in athletics. (CMS finished 13th in the 2013-14 standings; Occidental tied for 112th.)
So what happened? As the College's enrollment dropped in the 1990s, coincidentally or not, Oxy lost much of its competitive edge. Between 1990 and 1999, only cross country (five men's, three women's) and track and field (two each) won conference championships. Over the next decade, as admissions rebounded, six different sports won a combined 19 titles.
And while the College continued to invest in its facilities—regrading Bill Henry Track in 2001, enlarging and renovating Bell Field in 2003, and installing a new artificial turf on Patterson Field in 2005, most notably—it failed to keep pace with its conference peers on the personnel side, putting Oxy at a competitive disadvantage when it came to recruiting.
"Ultimately we concluded that the prolonged period of 'benign neglect' athletics has suffered from at Occidental has had a profoundly negative impact on the performance of our teams and athletics," a strategic plan for athletics presented to the trustees last June concluded. "A comprehensive strategy is required to start to claw our way out of the position Occidental finds itself in. This strategy starts with leveling the budgetary playing field with the SCIAC schools consistently finishing above Occidental in the standings. But it will also require a more successful collaboration between Occidental's admission and athletics departments."
"We have an impact on enrollment, on student life, on alumni, every aspect of the College," says Jaime Hoffman, the College's athletic director since 2007. "We really have a relationship across every department, and yet we're an afterthought." When she gave a presentation on the state of Oxy athletics to the Board of Trustees in January 2013, she closed her remarks by saying, "We just want to be a part of the conversation."
Adding fuel to the conversation was Bill Redell '64, who returned to Oxy in May 2012 as the Tigers' head football coach following the departure of longtime coach Dale Widolff. Redell, who compiled a 144-17-1 record in 12 seasons at Oaks Christian High School from 2000-2011, requested a meeting with President Jonathan Veitch. "I'm an alumnus, and athletics is not getting its fair share here," Redell told Veitch. "I've coached the football team, and I'm telling you, we can't compete." (In his single season at the helm, the Tigers went a disappointing 2-7.)
Persuaded that the issue needed to be addressed Veitch called for the formation of an athletic strategic planning committee in April 2013. The 17-member group of alumni, parents, faculty, and staff was tasked with identifying ways in which Occidental athletics can be instrumental in distinguishing the experience afforded to future generations of students. In putting the committee together, Hoffman and her team consciously sought out alumni who would bring "very extreme perspectives" to the table. 
On one side, there was Conway Collis '70, a Stanford Law School graduate whose son, Luke '13, played alongside Colin Kaepernick as a quarterback at the University of Nevada before transferring to Oxy. "He has seen big-time athletics, and his perspective was that we should be excellent in everything," Hoffman says. "But then you have John Kuechle '74 [an NAIA All-American and three-time SCIAC long jump champion as a student], whose perspective was that really this should be about participation."
The group ultimately concluded that success does indeed matter for Oxy athletics, and that the success metric Oxy should strive for is to place each of its teams in the top third of the conference—"where we're within striking distance of a championship but we're not the perennial doormat," Hoffman says.
In presenting various models before the Board of Trustees last June—from making athletics the cornerstone of Oxy's commitment to excellence, to staying the current course, to reducing and reorienting Oxy's athletics footprint—dropping less-competitive sports was quickly removed as an option. ("We don't want to divest from ­opportunity," Hoffman says.) What they concluded soon after was to invest in one sports area at a time, starting with track and field and cross country, which historically have been the College's strongest-performing sports.
As a byproduct of the conversation, the report lit a fire under Oxy's fundraising efforts to bring longstanding plans for two athletics facilities closer to reality. A pledge of $1.5 million by trustee emeritus Ian McKinnon '89 and his wife, Sonnet, will make it possible to add two courts to the McKinnon Tennis Center, bringing the total to six—the minimum required for SCIAC competition. (One set of Oxy tennis courts was demolished to make way for Berkus Hall in 2006, leaving the College with only four courts.)
In addition, significant new alumni pledges have been made for a new NCAA-certified swimming and diving pool—the centerpiece of the proposed 30,000-square-foot, $9-million De Mandel Aquatic Center to replace the 85-year-old Taylor Pool.
"I do think we've gained traction," says Hoffman, who oversees an annual operating budget of about $2.8 million (about a quarter of which comes from fundraising, camps, and clinics). "All of a sudden, there has been tremendous momentum around the pool and tennis court projects. But that really wasn't the intent of this committee—we need those two things. To succeed on the field you need the bodies. The more people you have on a coaching staff, the more prospective student-athletes you can recruit."
In his 12 years as vice president of admission and financial aid (1997-2009), Bill Tingley was probably the strongest advocate for the student-athlete outside the athletics office since Ben Culley. "Our student-athletes participate in the life of the College in many of the same ways as non-athletes—they study abroad, do research, and are involved in multiple clubs and causes," says Tingley's successor, Vince Cuseo. "The opportunity to play sports, understandably, is in an important factor in their choice, and our coaches are a critical extension of Oxy's outreach to prospective students."
"We need manpower to be hitting the road finding the perfect fit for Occidental," Hoffman adds. "There are so many aspects and deal-breakers along the recruitment cycle that it really takes a coach who gets who we are, and is philosophically aligned with who we are our recruitment process. So is ­recruiting people who are a good fit into this small, intimate community."
"The recent initiative designed to elevate our track and field program is a step in the right direction," says Colm McFeely, assistant athletic director and head women's soccer coach since 2002.  "Relationship building is one of the keys to successful recruiting, and there is no doubt that an assistant coach who is especially active in this area throughout the year would reap significant rewards."
"The ability to hire and retain quality assistant coaches will change the landscape of athletics at Oxy," adds Luke Wetmore, who is entering his fourth season as Oxy's head baseball coach. "There is not enough manpower to identify and attract enough qualified student-athletes, and we see that reflected in our rosters."
After tying for third in the conference in the 2012 and 2013 seasons, Oxy slipped to fifth last year. (Cal Lutheran, which won its 11th title in its 22-year SCIAC history, holds a 66-8 advantage over the Tigers in the series—and boasts a five-person coaching staff to Oxy's three.) "Without question we have ­talented student-athletes, just not as many as we need," Wetmore says. "Championships are won with in-team competition and depth, and we don't have enough of either." 
Oxy athletics' wish list is personnel-heavy, including hiring full-time coaches for men's and women's tennis and golf, adding full-time assistant coaches in swimming and diving, and increasing compensation for coaches in general. Of Oxy's 19 full-time employees in athletics, 17 had no prior head coaching or equivalent experience prior to taking on his or her current position—making competitive starting salaries a priority as well.
On the physical side of the equation, Hoffman and her team are hoping for long-overdue renovations to the athletics offices and Culley Athletics Facility, soccer field restrooms and locker rooms, in addition to the aquatic center and tennis court projects. While the road to implementation may be a long one, experience has shown that a prospect's first impression of Oxy may be the most important. 
"When we host recruits on ­campus, we sit them down for meetings with admission, classroom visits, and show them all that Occidental has to offer," Hoffman says. "We tend to yield the greatest number of recruits when they come to visit Oxy ­because the campus is so beautiful. But our department and ­facilities need a makeover."
More than an extracurricular activity, she adds, "Athletics embodies everything about the College. The combination of an Occidental degree and the student-athlete experience is the best product." (Case in point: Out of the 36 alumni who are currently trustees of the College, 20 participated in a varsity sport at Oxy.) 
For Brian Newhall '83, who has seen the athletics program through its ups and downs in his 27 seasons as head men's basketball coach, "The most rewarding part of my job is working with such a bright and talented group of people. Student-athletes at Occidental get double-teamed by their coaches and their professors. It's a first-class education and a wonderful opportunity to compete at the intercollegiate level." 
"I'd always wanted to be an Ivy League head coach," says Hoffman, who joined the College as head women's basketball coach and senior women's administrator in 2005. "When I heard about Occidental, I felt like this could be my Ivy League on the West Coast. Oxy really does have it all: a dynamic, driven student body; a beautiful campus; and this 75-degree weather that you can count on."
As Oxy marks 100 years of SCIAC competition, the prospect of a new aquatic center and additional tennis courts—"bringing our students home to compete on campus in front of their peers," as Hoffman puts it—suggests that Oxy athletics may be primed for a new era of competitiveness. "Coming from the coaching side of things, the most gratifying thing is being a witness and maybe a part in the development of young adults into adulthood," she says. "Now I'm in conversations all day long where my bottom line is to enhance the experience of our student-athletes—and it's gratifying that we are moving the needle a little bit."