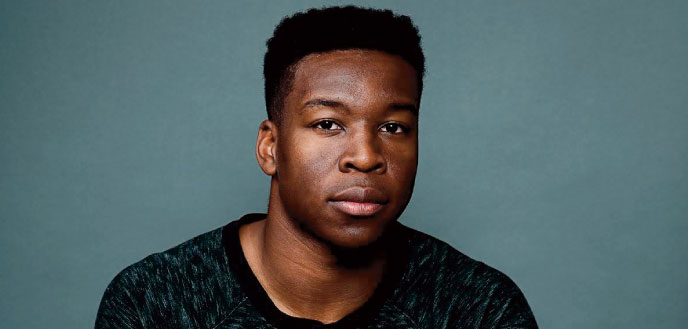 Before Kwame Do '16 became SCIAC's all-time rushing leader in football, he had to rekindle his love for the game. It's a good thing for Oxy that he did 
By Michael Wells | Photos by Max S. Gerber and Kirby Lee
Midway through his freshman season as a backup running back for the Tigers, Kwame Do '16 was on the verge of giving up on football. "It's just not fun for me anymore," he told his mother. "I've lost my passion for the game."
He expected his mother to be supportive—after all, she was never in favor of him playing the collision sport in the first place. But the strongest woman in his life surprised him. "I've never known you to be a quitter," Cheryl Williams told her son. That flipped a switch inside Kwame: He went from surviving sprints in practice to winning them, and his results on the field went off the charts. Following his subpar freshman year, Kwame had just three games where he didn't rush for at least 100 yards. "After my mom called me out, my complete work ethic changed," he says.
Those numbers started adding up quickly for Do, an economics major and a math minor from San Marino. Following the most productive season of his four years at Oxy, Do hangs up his No. 8 jersey as the SCIAC's all-time career rushing yards leader, the 2015 conference offensive MVP. During his senior season he finished second in all of NCAA Division III with 174.6 yards per game and reset his single-season rushing yards record at 1,571.
"The thing that most amazes me about Kwame is his incredible mental strength," says Bryan Scott '17, Oxy's All-SCIAC quarterback who played alongside Do in the backfield for the last three seasons. "He never gets tired, he rarely makes mistakes, and he's always been there as a brother, on and off the field."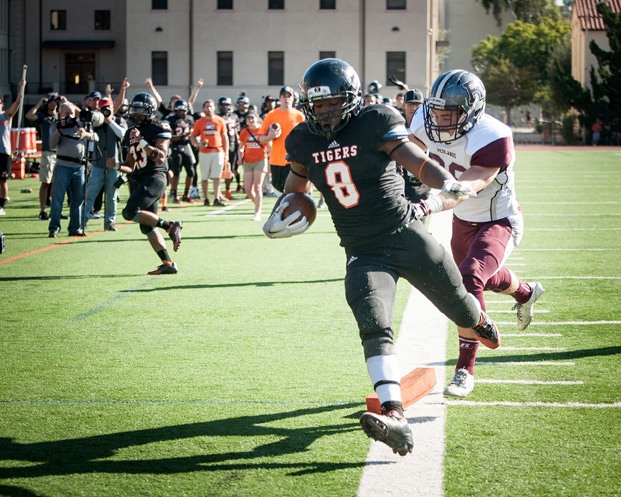 On November 14, in the second quarter of the Tigers' last game of the season against Redlands, Do put an exclamation mark on his brilliant career. Taking a direct snap in the wildcat formation on 4th and 1, Do broke free for a 29-yard touchdown run, breaking Claremont-Mudd-Scripps' Ryan Gocong's 13-year-old record of 4,044 career rushing yards. His 129-yard effort set the new conference mark at 4,133, and his smile lit up the sideline as he and his teammates celebrated to chants of "Kwame! Kwame!"
Do's mother isn't the only family member who gets partial credit for his amazing football career. Kwame says he gets his work ethic from his father Williams, who immigrated from Ghana at age 24, spending two years living on the streets trying to make his way in America before finally becoming a successful accountant. "I got the drive and the ability not to be affected by external factors from him," Kwame says. "Not caring about what people think."
Older brother Kudjo launched Kwame's football career when he was only 9. Kudjo came into his room and said, "Grab your baseball cleats, we're going to a friend's house." Instead, he took his younger brother to Pop Warner football practice with the Monterey Aztecs without his parents' permission. "I was always athletic, and they needed players," says Kwame. He started out as a safety and a kick returner, playing mostly with boys three years his senior. "I had an interception every season until I got to college," he notes.
As a linebacker and running back at San Marino High School, Do's numbers were good, but not great. After he tore his ACL his junior year, he wasn't sure he'd make a college roster without much film to show potential suitors. Then one of his coaches, Mike Hobbie, pushed him to look at playing football at some smaller elite academic schools since his grades were even better than his athletic potential. After flirting with the University of San Diego and CMS, he applied to Oxy on the very last day for applications—and got in.
Despite not being the starting running back, Do showed flashes of the player he'd become toward the end of his freshman season in Oxy's two biggest rivalry games. He had a pair of touchdowns in the Battle for the Drum against Pomona-Pitzer, including the game-winner with 58 seconds left, and the following week caught 10 passes for 129 yards and two touchdowns in the Battle for the Shoes at Whittier. As a sophomore under first-year head coach Doug Semones, Do ran away with the starting job—and by the end of the season, into the Tigers' record book. He rushed for 1,325 yards in 2013, breaking Gene Moore '69's Oxy 1968 single-season mark of 1,084 yards. (He smashed his own record in 2015, resetting that milestone at 1,571 yards.)
"He was the total back because he ran the ball hard between the tackles, but also had that burst of speed that didn't allow guys to catch him once he got out in the open," says Semones, who coached the Tigers to their third consecutive 5-4 finish this season. "He could catch the ball well, he was an excellent pass protector, and he doesn't fumble."
Do, who will graduate in May, already has a few job offers in the finance world and aspires to a career in investment banking or investment management. "I want to make sure I'm working with numbers and do something where I'm moving upward and can give back eventually," he says. "I want to help kids from less fortunate situations."
Down the road, Do adds, "I'd like to coach and mentor kids. If it wasn't for the teachers and coaches I had, I don't know what I'd be doing right now." And football Saturdays at Oxy would be the less memorable for it.