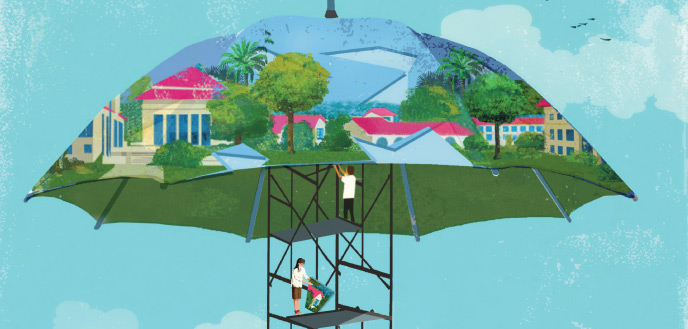 Affirming the cornerstones of the College in the wake of proposed changes to federal laws, Oxy constructs the framework of a "sanctuary campus"
Shortly after the bombing of Pearl Harbor in December 1941, Occidental President Remsen Bird launched a campaign to try to ensure that Oxy's Japanese-American students could continue their education. Bird was instrumental in the founding of the National Japanese American Student Relocation Council to facilitate the transfer of Japanese-American students to colleges outside West Coast military zones.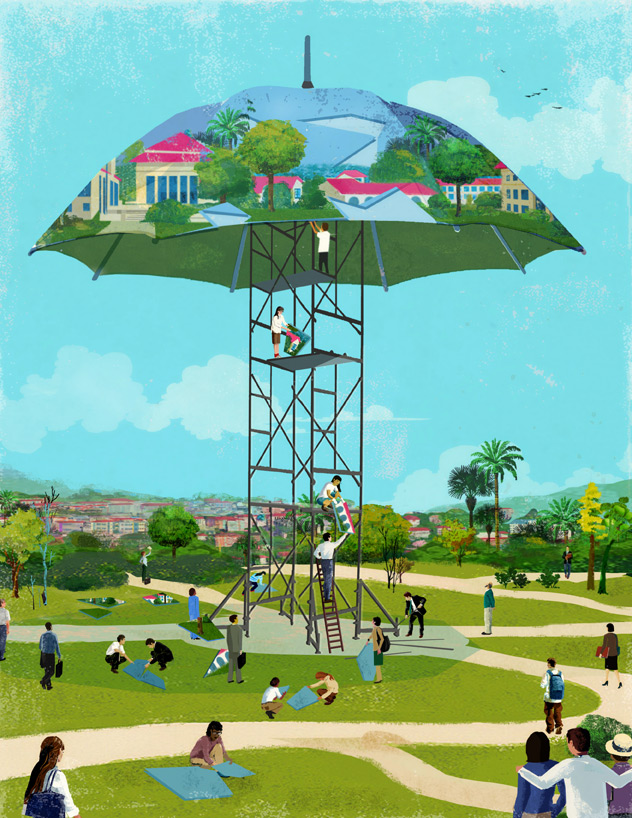 Revisiting that decades-old tradition of advocacy, the Occidental Board of Trustees has laid out a set of guiding principles to support students, faculty, and staff in response to proposed federal policy changes and their potential impact on Oxy's diverse community.
In a unanimous January 23 vote, trustees pledged that, absent a subpoena or other judicial order, Occidental will not honor requests for student or personnel records, voluntarily assist in the enforcement of federal immigration laws on campus, or voluntarily cooperate with any effort to create a registry of individuals based on religion, national origin, or any other characteristic.
"Now more than ever, we must proclaim our cornerstone values that are consistent with a deeply felt opposition to bigotry and discrimination," President Jonathan Veitch said after the Board's vote. "Although we cannot predict the future direction or implementation of federal law, there can be no question about our mission or the values we share as a community."
Veitch reaffirmed the newly adopted principles in the wake of a January 27 executive order by President Donald J. Trump suspending entry to the United States by people from seven predominantly Muslim countries and barring admission to most refugees. (Enforcement of the order was subsequently blocked by the U.S. Ninth Circuit Court of Appeals.) "True to our commitment, we will continue to extend our care and support to all members of the Oxy community, regardless of their religion, country of origin, or immigration status," he said. International students make up 7 percent of the Oxy student body, but none are currently from the seven countries named in the order.
As a result of Veitch's outreach to peer institutions, Occidental will host a March 10 symposium co-sponsored by the Association of Independent California Colleges and Universities to bring together policy experts, advocacy groups, campus administrators, faculty, and students from throughout Southern California to share information and discuss possible options. "It is our hope that convening this extended network will make it possible to plan how we can work together and create a powerful collective voice," Veitch said.
With the Board's action, Occidental joins the University of California, the Cal State University system, Pitzer, Loyola Marymount, Reed, Swarthmore, Wesleyan, Princeton, and other colleges and universities in declaring similar principles to guide their response to changes in immigration policy.
Early in November, Veitch was among more than 400 college and university presidents who signed a statement circulated by Pomona College President David Oxtoby urging the preservation and expansion of the federal Deferred Action for Child Arrivals (DACA) program. Shortly thereafter, it became clear that both Veitch and Oxy faculty had reached the conclusion that the College should make a public statement of its principles, with the faculty urging that Occidental declare itself a sanctuary campus. But absent any universal or clearly understood definition of the term sanctuary, an ad hoc campus committee was formed to develop a clear set of principles to recommend to trustees at their January meeting.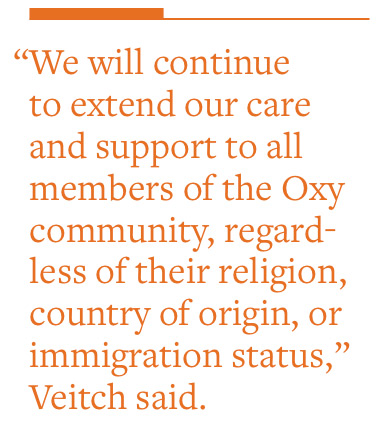 Based on the recommendation of Veitch and the ad hoc campus committee, Oxy trustees affirmed that absent a lawful subpoena or judicial process:
• Occidental will not honor requests for the education records of students or confidential personnel records without the individual's written consent. The College will continue to vigorously protect the privacy of all members of the Oxy community. All provisions of the Federal Educational Rights and Privacy Act (FERPA) still apply.
• Occidental has not and will not voluntarily assist any federal, state, or local agency in connection with their enforcement of federal immigration law. Furthermore, Campus Safety will not question or detain any person on the basis of their immigration status.
• Occidental will not voluntarily cooperate with any effort to create a registry of individuals based on religion, national origin, race, sexual orientation, or other protected status.
In addition, the Board pledged that:
• Occidental will continue to enforce its policies and procedures that deal with harassment, discrimination, and retaliation while protecting freedom of expression. The College will continue to provide support to those who have been targeted and take appropriate action against violators of Oxy policy.
• Occidental will vigilantly monitor relevant changes in federal law and policies. The College will continue to vigorously advocate for public policies that reflect the College's values and mission, and challenge those that do not.
• Occidental will continue to identify on- and off-campus resources available for community members who are in need, and will update its online resource directory.