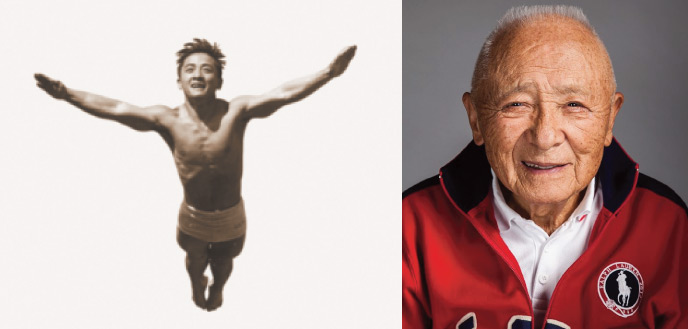 In chasing his Olympic dreams, Sammy Lee '43 (1920-2016) dreamed big and lived even larger
Although he barely topped 5 feet in height, diver Sammy Lee '43 was a giant:  The two-time Olympic gold medalist was the first person of color to be elected student body president at Franklin High School, the first Asian-American man to win an Olympic gold medal, and the first American platform diver to win gold medals in consecutive Olympics. As a coach, his athletes went on to win 10 Olympic gold medals.
"Dad was bigger than life," Pamela Lee '77 says of Oxy's greatest Olympic athlete, who died at age 96 on Dec. 2, 2016. "But our best memories are the simple ones: making root beer floats at home, going to his office where he always had a box of See's candy in the drawer, or driving around in his 1964 Aston Martin."
It wasn't what anyone would have predicted for the skinny kid born in Fresno of immigrant Korean parents, who operated a York Boulevard grocery store in Highland Park. Lee often told the story of his family's neighbors who told them that they didn't wants "Chinks" or "Japs" living next door, and how he was one of the "colored" children who swam in the public pool in Pasadena on Wednesdays—International Day, after which the pool was drained and refilled for the white children who used the pool the rest of the week.
A talent for somersaulting led him to diving; he was practicing in the Olympic pool near the Coliseum as a high school senior when he was spotted by "Big" Jim Ryan, a well-known coach who told Lee he would make him the world's best diver or kill him in the process.
The 6'4", 275-lb. Ryan wanted Lee to go to UCLA, but Lee enrolled at Oxy, where his father had attended the old Occidental Academy and sister Elizabeth "Dolly" Rhee graduated in 1937. A chemistry major—he had promised his father he would become a doctor—Lee won the 10-meter U.S. national champion­ship in 1942. He also won the heart of Rosalind Wong, whom he met at Taylor Pool while giving a diving exhibition on his last day as a student at Oxy and subsequently married.
World War II forced the cancellation of the 1940 and 1944 Olympics, but Lee—by then an Army doctor—was ready for the 1948 Games in London, where he won the 10-meter gold and a bronze meal in the 3-meter springboard. He repeated as a gold medalist in platform at the 1952 Olympics in Helsinki, winning on his 32nd birthday. The following year, he became the first diver to win the Amateur Athletic Union's Sullivan Award as America's outstanding amateur athlete.
On his discharge from the Army in 1955, Lee made headlines again when Orange County real estate agents refused to sell him a home in a white neighborhood. (Among those who successfully intervened on his behalf was then-Vice President Richard Nixon.) He then turned to coaching, leading the American diving team at the 1960 Olympics and coaching gold medalists Pat McCormick (1952, 1956), Bob Webster (1960, 1964), and Greg Louganis (1984, 1988). "He took a so-so high school diver and made me into an Olympic champion," Webster says of Lee. "He made me believe in myself. That faith in me changed my life forever."
Lee—who didn't charge athletes for his coaching—was an icon of diving whose star never dimmed. "Of all my travels, the highlight was escorting Sam and Roz to the 2012 Olympics in London," says Tom Gompf, former president of U.S. Diving and chair of the FINA International Diving Committee. "I never saw a man so loved and admired."