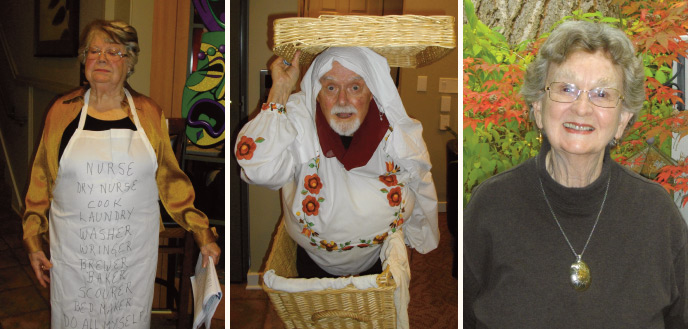 For the members of Nancy Talley '53's retirement community repertory, there's no age in stage
As a junior at Eagle Rock High School, Nancy (Boyden) Talley '53 got her first exposure to Shakespeare—Sir Laurence Olivier's Oscar-winning 1948 adaptation of Hamlet. "I had never seen a man in tights," says Talley, who has taught the Bard's canon and watched 290 stage productions (including 14 Hamlets) over the last seven decades. Now she has combined her love of drama and passion for teaching into an opportunity for a small group of seniors at Providence Point, an over-55 community of 1,008 homes in Issaquah, Wash.
Talley leads a drama class for two hours each week over eight weeks. One dress rehearsal later, the troupe takes to the stage for three performances. (Their most recent production, The Merry Wives of Windsor, played to packed houses in November.) It's a readers theater; the actors use scripts because there simply isn't enough time to memorize their lines. Even so, they understand the plays enough to put on an exceptional show.
"What delights me is the fact that our audience is laughing at the subtle jokes that Shakespeare tucks in," Talley says. "This is a fine tribute to my cast, as it means they know who they are playing and really get Shakespeare's language."
The average age of her students is 80, and while some of them have theater experience, most have never acted before. Some of Talley's best actors first sign up for the class wanting only to be stage assistants. By the next play, Talley says, they want some lines, and after that they want a bigger role. "One woman told me, 'I didn't have any idea I was an actor.' And she is. She's wonderful."
While she never set out to be a director, teaching was always part of Talley's career plan. She majored in physical education at Oxy and taught modern dance for several years before two spine injuries prompted her to pursue a new path. She continued teaching, this time with teenage mothers trying to finish their high school education.
In 1979, she took an interest in senior issues and went back to school for a master's in human development specializing in gerontology at Pacific Oaks College in Pasadena. Talley began counseling senior women, which she loved. She moved to Providence Point in 2004 because of the learning in retirement program, and began teaching the drama class six years ago.
"I cannot imagine my life without Shakespeare," Talley says, quoting classmate Ming Cho Lee '53, the Tony-winning theater set designer and professor at the Yale School of Drama. But her troupe stages other shows as well, from Harvey and Mame to Guys and Dolls and The Producers. Next up is the annual dinner murder mystery, an improvisational show for which Talley's class devises the situation and casts a stage full of suspects. (This year, it's The Curious Case of the Cranky Custodian, set at the 50th reunion of a senior class sock hop.) "The audience decides who done it, so every character has to have a motive and an alibi," Talley says.
The combination of teaching and drama still thrills the tireless educator. "When you see an idea click in somebody's brain, and they get something new to think about or chew on, it's very satisfying to me," Talley says. "I have people come up to me now and say, 'My teacher ruined Shakespeare for me. I didn't realize Shakespeare was so exciting.'"
"She brings such energy and love for the material," says Tony Curry, a professional actor and executive director of Providence Point's learning program. "In my career, I have done Shakespeare, but I don't have the wealth of knowledge she has regarding the plays."
"In this community, we've done everything, from doctors to auto mechanics, but we're not actors," says Gordon See '54, who acted in Providence Point's drama program for years before recently moving across town. "Nancy is able to help this group understand the poetry and the meaning of what Shakespeare was saying 400 years ago."
While her classes savor the opportunity to perform the Bard, Talley whittles the plays down to a running time of about 90 minutes, including a 10-minute intermission. No easy task, but "I have become pretty good at it," she says. "The trick is to keep the story and the characters. You do lose some of the beautiful language, but our audience can't take more than that. They are old, too!"—ASHLEY FESTA