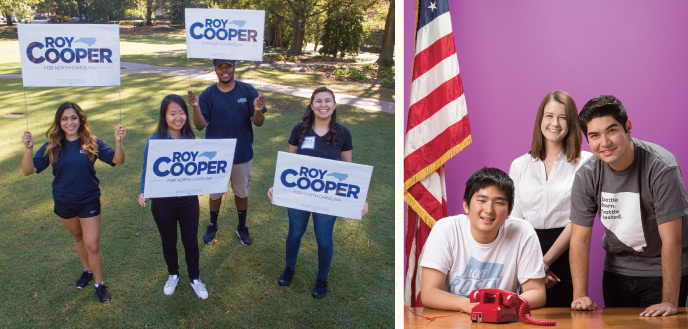 For the 14 undergrads who worked on campaigns nationwide, they learned a lot about American values, grassroots politics, messaging, T-shirts, and the myth of the perfect candidate
While the 2016 election felt all but inescapable for most of us leading up to the November 8 vote, 14 Oxy students lived and breathed nothing but politics as participants in Campaign Semester. Scattered across nine states around the country, students spent 10 weeks in the trenches of some of the most heated races up and down the ballot. While receiving college credit for their internships—still the only program of its kind in the country—they had front-row seats to the most memorable election of a generation.
"These students learned a lot about themselves, they learned a lot about democracy and its flaws and strengths, and they learned a lot about America," said Peter Dreier, the E.P. Clapp Distinguished Professor of Politics, who organized the program with politics professor Regina Freer. "Even though this was for many of them a depressing outcome on the national level, most of them somehow have hope that we can overcome this and turn America into a better place, because they met people who don't fit the stereotype. They saw how complicated people are."
In sharing their findings at a gathering in Choi Auditorium on December 8, a number of common threads emerged among the students' experiences. Interestingly, they all concurred that the Electoral College should be abolished. Among other conclusions:
There's more to winning a race than just looking good on paper. "We get obsessed on the Democratic side with building the perfect candidate," said Seth Miller '18, a politics major from Vermillion, S.D., who worked for Tammy Duckworth's U.S. Senate campaign in Chicago. "I don't think that's what is necessary. We need more candidates like Barack Obama who are legitimately inspiring and legitimately connect to people—not just candidates with the right track record and resume."
Choose a candidate whom you believe in. "If you're not 100 percent in and passionate about what you're doing, it's going to be not fun," said Mackenzie Bretz '18, a politics major from Edmonds, Wash. She picked Florida House of Representatives candidate Dan Horton—who lost his race to the Republican incumbent—"because he was young, passionate, exciting, and looking to make a lot of changes."
The Oxy network is alive and growing in politics. Katharine Tobler '17, a politics major from Ijamsville, Md., was recruited to work on Chris Koster's gubernatorial campaign in Missouri by Alexis Greco '13, who participated in Campaign Semester in 2012. Tobler signed on because Koster "stood by Planned Parenthood and women, which I really liked," she said. "I also thought it would be a really interesting experience to go to Missouri, and it definitely was."
There's more than one way to spin a spat. As a member of North Carolina gubernatorial candidate Roy Cooper's communications team, "I saw how much power there is in marketing and messaging and how a message is framed," said Arianna Sue '18, a politics major from Elk Grove. "We spent a lot of time talking about how HB2 [the transgender bathroom law] was affecting the economy vs. the inhumaneness of the law." The strategy worked: While Donald Trump carried the state by more than 173,000 votes, GOP incumbent Gov. Pat McCrory lost to Cooper by 10,277 votes.
Grassroots politics can truly make a difference. "I did a lot of phone calls and knocking on doors," Bretz said. "It's easy to get discouraged when people are mean to you. But I learned that most people are genuinely good people and want to learn and hear what you have to say. When you have that moment when you see someone understand what your candidate is trying to do, it makes every other moment when someone slams their door in your face worth it."
No one feeds you, unless you count the occasional pizza. In the thick of a political campaign, "You don't have the blessing of the Marketplace or the dining halls on campus to walk to," said Joscelyn Guzman '18, a religious studies major from Modesto, who also worked for Cooper. While she packed her own lunches and bought groceries every two weeks for the majority of her time in Raleigh, in the election's frenzied final weeks, "you have to throw homemade cooking out the door," she added.
While many were shocked by the Donald Trump victory, there were inklings of it in the field. Carson Malbrough '19, a politics major from Los Angeles who campaigned for U.S. Senate candidate Deborah Ross in Raleigh, saw a lot of enthusiasm for Trump at the North Carolina State Fair in October: "There were a lot of angry white guys wearing 'Lock Her Up' T-shirts."
In talking with prospective voters in Pennsylvania, "I didn't get any sense of excitement [for Hillary Clinton] that I think was probably there with Obama," said Milo Keller '18, a politics major from Graton, who worked for the state's Democratic Coordinated Campaign. "That was worrying to me."
Red state or blue state, we can all get along. "I really valued my talks with people, such as my host family in North Carolina," said Manjun Hao '19, an undeclared major from Beijing who campaigned for Cooper in Raleigh. "I learned about the beautiful history of North Carolina and all of its artists and writers. What I took away helps me not to judge people. We need to sit down and talk. We all just want a good life."
"It blew my mind how people from different coasts can have similar values and ideas," Sue noted. "I think those are shaped by their experiences more than where you live." Guzman concurred as well: "Even though we may disagree, people take care of each other and care about one another."
Don't skip the midterms. To effect long-term change, especially at the local level,  "We need to find ways [to make voters] care more about elections every year. We can't care just about the presidential elections," said Ricardo Parada '18, a politics major from New Mexico who worked for the Nevada Democratic Coordinated Campaign in Las Vegas. "People devalue elections, but every vote matters." 
The Andy Beattie '75 Endowment for Campaign Semester has been established in memory of Beattie, who volunteered with the White House Office of Advance for more than 20 years before his death in 2014. For more information, contact Kim Beattie at kbeattie@oxy.edu.