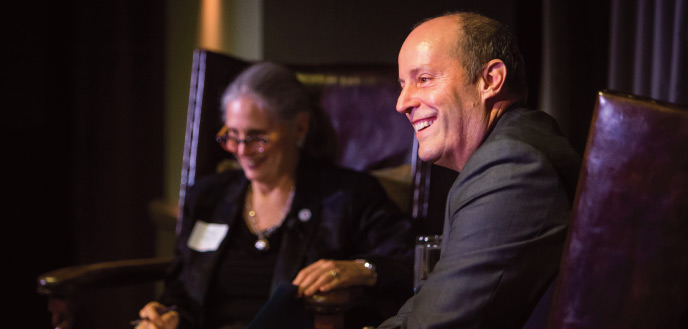 From Bunsen Burners to Page-Turners
Most Oxy students will tell you that the most valuable aspect of their ­education is their interaction with faculty, whether in the classroom, the lab, or a casual conversation in the Quad. Oxy teaching is superb. Yet one of the chief reasons for its quality often goes unremarked—it is continually shaped and enriched by faculty research and creative work.
Consider the flurry of new and recent volumes by Oxy faculty on subjects ranging from the 19th-century Atlantic slave trade (history professor Sharla Fett's Recaptured Africans: Surviving Slave Ships, Detention, and Dislocation in the Final Years of the Slave Trade) to the failures of human intuition (Scienceblind: Why Our Intuitive Theories About the World Are So Often Wrong, by ­associate professor of psychology and cognitive science Andrew Shtulman).
It's exciting to contemplate the kind of classroom insights Oxy students are getting from Xiao-huang Yin, professor of American studies, whose 2016 translation of the essays of Yinxing Hong, The China Path to Economic Transition and Development, gives us an insider's view of the thinking behind China's economic rise. ­Sociologist John Lang's new book, What's So Controversial About Genetically Modified Food?, explores how the social, cultural, ­religious, and ethical meanings of food have shaped the GMO debate. Dale Wright, our Gamble Professor in Religion, contemplates nothing less than the secrets of ­enlightenment in What Is Buddhist Enlightenment? Professor of history emerita Lynn Dumenil's The Second Line of Defense ­explores World War I's role in redefining gender roles for women. And associate professor of sociology Lisa Wade's new book on campus sexual culture, American Hookup, has received a good deal of attention in the national press.
It's exhausting to consider the amount of work these volumes represent—research conducted side-by-side with students, and just as often on weekends, over breaks, during the summer, or on sabbatical. Finding the time to ­collect the data, conduct a survey, visit the archive, review the literature, or do the fieldwork is just the start. Even more precious is uninterrupted time to ponder the evidence, test an idea, and craft a compelling argument. Sharla speaks for all faculty authors when she begins her acknowledgments by saying, "This book has been long in the making."

Not all research lends itself to the book format. Oxy faculty regularly publish their work in peer-reviewed academic journals. The avian genomic research of assistant professor of biology John McCormack has carried the day in determining that the coastal California gnatcatcher will remain on the endangered species list—which has a direct impact on the development of thousands of acres of coastal real estate. Chemistry professor Michael Hill and some of his students recently published a paper on their collaboration with a surgical group at UC Irvine to develop a molecular-based surgery for reshaping cartilage of the head and neck. This kind of expertise means a regular Oxy presence in the media: Associate professor of diplomacy and world affairs Sophal Ear responds to queries about Cambodian affairs from around the world.
The creative output of faculty at a­­ liberal arts college takes many different forms. Professor emerita and poet Martha Ronk was able to follow her muse in her latest volume of poetry, Ocular Proof, but Adam Schoenberg's newest work, a recording of three of his compositions by the Kansas City Symphony, appears on CD. 
To see theater professor John Bouchard's work, I urge you to buy a ticket to this April's production of Stephen Sondheim's A Little Night Music in Keck Theater. You will find the work of Oxy artists such as Linda Lyke, Linda Besemer, and Mary Beth Heffernan in public and private art collections across the country, including the Whitney in New York City and the Los ­Angeles County Museum of Art.
Put it all together, and the academic and artistic output of Oxy faculty is impressive. Equally impressive is the impact that it has back in the classroom—and in the lives of Oxy alumni, whose education helps them thrive in an increasingly complex world.
Jonathan Veitch
President