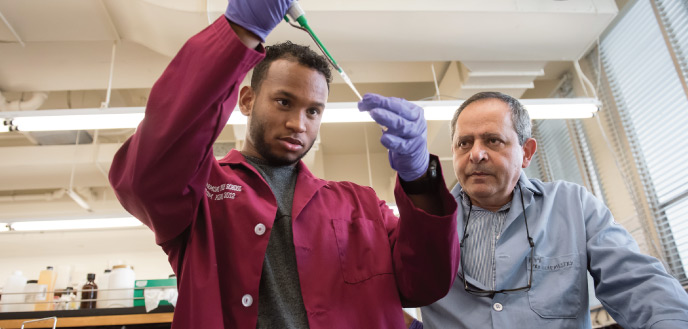 A novel blood anticoagulant discovered at Oxy creates a rush of interest among hematologists
William Reeves '16, a kinesiology major from Claremont, was honored by the American Society of Hematology for his abstract about a novel blood anticoagulant that he—working with classmates and biochemistry majors Alexander Urry and Alexandra Filkins—discovered in associate professor of biochemistry Aram Nersissian's research lab last year. Together, the team identified and characterized the novel anticoagulant protein and proposed to name it Occipodin in honor of the College.
"I'm still in shock," says Reeves, who accepted the $500 Abstract Achievement Award at ASH's annual meeting in December in San Diego, where he presented his research. "I never thought in my four years I would be a part of a published and awarded project."
Urry initiated the project—a collaborative effort between the chemistry and biology departments—by bringing two marine parasites, P. cinncinatus and E. vulgaris, to Nersissian's attention, which he was studying with associate biology professor Shana Goffredi. Similar to leeches, the parasites anchor onto a host fish and feed off its blood. Nersissian suggested his students see if the parasite contained an anticoagulant to facilitate its bloodsucking. Sidelined by a football injury and already enrolled in Nersissian's Chemistry 395 Directed Research course, Reeves took the lead.
Sure enough, the students found that the parasites contained an anticoagulant—but one that works in a way that is different than any previously discovered natural anticoagulant. This discovery has already elicited interest in the medical community due to its potential therapeutic and research applications—specifically, it could serve as an alternative to the more widely known Heparin and Hirudin blood-thinners, Nersissian says.
Further study is needed to fully understand Occipodin so that it can potentially be applied to future clinical use, he adds. However, the interest in the finding at the recent ASH conference "exceeded all my expectations," Nersissian says. "It's one of the biggest and most prestigious medical conferences in the world, and people were lined up to talk to Will."
In addition to preparing samples of Occipodin with Nersissian and his students to send to medical school researchers, Reeves is studying for the MCAT—he plans to attend medical school—and tutoring math in Compton and Tijuana. Filkins is currently involved in cancer research at Memorial Sloan Kettering Cancer Center in New York, while Urry is working at UC San Francisco's Gladstone Institutes. "Getting the award means a lot to our team," Reeves says, "and shows the value and bright future ahead for the project."
—SAMANTHA B. BONAR '90