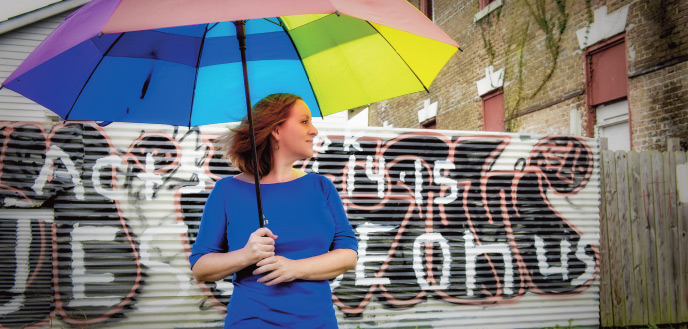 Author and associate professor Lisa Wade examines the college hookup culture through a sociologist's lens—in addition to renovating a 130-year-old home in her adopted New Orleans
Associate professor of sociology Lisa Wade fell in love with New Orleans during an extended visit to the city eight years ago—so much that she put down roots there. Knowing she could never afford to own a home in Los Angeles, buying a "small house in a humble neighborhood" in the Big Easy instead made sense to her—particularly once she decided to take a two-year leave of absence from Oxy to work on her newly published book, American Hookup: The New Culture of Sex on Campus (Norton, $27).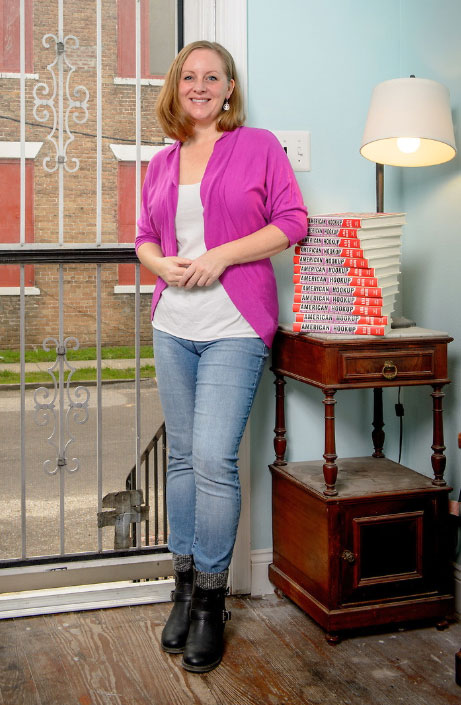 "It's the city that care forgot," says Wade, who in 2014 bought a fixer-upper in the city's St. Roch neighborhood near the historic French Quarter—a dilapidated shotgun shack that she has been renovating while completing the book. "It seemed like something I could do to embrace my love of New Orleans and enable me to spend more time there, and give that city some tender loving care."
While American Hookup was received enthusiastically upon its release in January—including a high-profile excerpt at Time.com and a mostly positive review in The New York Times—Wade's side project has proved more challenging. "I've spent every penny I've ever made in my adult life on that house," she says, adding that the structure basically "dissolved the moment I bought it."
Home-improvement plans are temporarily on hold, however, as Wade takes to the road on a seven-city, three-month tour ("with a nice two-week break for Mardi Gras in the middle") to promote American Hookup. She will be speaking at almost three dozen campuses nationwide on the issues raised by her book, which examines aspects of race, class, and gender under the guise of the "hookup culture" that has come to dominate romantic relationships on campuses today.
Having spent the last five years examining the issue through a sociologist's lens, "What I get from students is that they're really grateful to see the rules of hookup culture laid out clearly," she says. "It's a relief that someone has been able to put clear, nonjudgmental words to their experiences—just someone who stands up and says 'I see what you've been going through.'"
While Wade previously published a textbook, Gender: Ideas, Interactions, Institutions (Norton, 2014), writing a trade book for a nonacademic audience raised the bar for her efforts. "I tried my hardest to do a good job and threw myself into it," she says. "I had a lot of responsibility, because I had 101 students [whose survey results form the core of her research] counting on me to represent them in a way that was authentic. My care for them, my tenderness toward them, is the heart of that book."
Wade is already working on ideas for a new trade book—one possibility would examine political unrest on college campuses, the debate over safe spaces, and the snowflake generation. A big motivation, she admits, is the expense involved in renovating her new New Orleans home. "I've been slowly but surely trying to patch it back up," she says of the 130-year-old, 1,200-square-foot home.
The first thing Wade did was split the space in half, creating two 600-square-foot apartments—one that she could rent out, and the other to stay in during breaks from school (with cats Oliver and Otis).
While the rental apartment is complete, Wade is still working on her own living quarters. She replaced and painted all of the home's siding. Her favorite renovation has been raising the ceiling in her portion of the home up to the roofline and building a sleeping loft over the hallway. "I took the wood from the original ceiling, flipped it upside down, and used it for the floor," she says. The old clawfoot only had one foot—"I managed to buy new feet. Just little by little."
When asked what she loves about the Crescent City, Wade answers like a typical sociologist—but one with a romantic streak. "New Orleans is a city that has suffered so much pain and deprivation, so much poverty and corruption—so much evil really, being a hub of the slave trade—that its culture has had to put a premium on the pleasures of life that cannot be taken away," she says. "The pleasure of a cool breeze on a hot day, the pleasure of food and drink, the pleasure of horns playing music—the way they rattle your neurons. No matter how poor you are, your tongue still tastes and booze still makes you feel woozy. Those pleasures are the only real pleasures in life. Everything else is just invented and imposed upon us.
"Los Angeles is a really interesting contrast in that sense," she continues, "and how much of the pleasure we are told to have comes from exclusive access, status, and titles. I think that's why I'm attracted to New Orleans, because it's the most human place I've ever been."
Wade will be returning to Los Angeles this summer to prepare for the 2017-18 school year, when she will be teaching gender, research methods, and introduction to sociology. She has also written the first three chapters of her next project, a sociology textbook that she hopes will "revolutionize the approach to Sociology 101 in this country."
Instead of a dry textbook, "My goal is to make it an intellectual journey," she says.  "I really want to take a student down a path and feel like they've really grown as a person in the process of reading it. I think that learning sociology should be mind-altering and it should be riveting and it should be emotionally powerful."
But first, Mardi Gras.—SAMANTHA B. BONAR '90