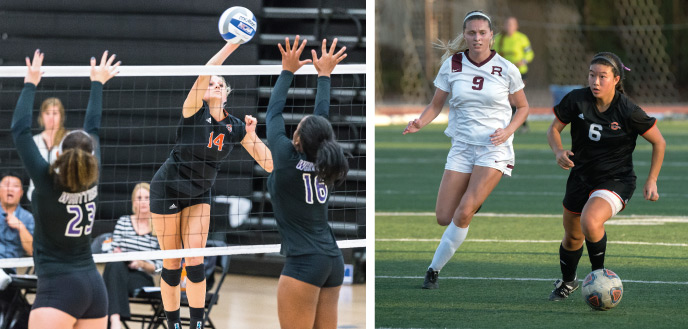 Senior Claire Strohm kills, women's soccer standouts thrill, and Oxy's cross country squads aim for the top of the hill in fall sports action
For the second consecutive year, the men's cross country team ran all the way to the NCAA Division III national championships. The results—a 32nd-place finish on the five-mile course at Principia College in Elsah, Ill.—"weren't what we hoped for, but we'll come back stronger for having had the experience and ready to move on in 2018," head coach Rob Bartlett said after the November 18 race.
The men's team earned an at-large bid to the nationals after finishing fourth at the West Region finals and second in the highly competitive Southern California Intercollegiate Athletic Conference. Roxanne Valle '19, a sociology and Latino/a and Latin American studies double major from Azusa and a 2016 national qualifier, did not make the group of individual at-large bids after leading the Oxy women to a fifth-place finish at Regionals and second place in SCIAC. 
Keenan Leary '18, a cognitive science major from Seattle, led the men's team as Oxy's No. 1. He finished sixth in the region, fourth in the SCIAC, was named First Team All-SCIAC, and received the 2017 Ray Adkinson Award, an annual accolade to the senior athlete who best exemplifies the conference's high ideals during their association with SCIAC cross country.
The Oxy men's team was a U.S. Track & Field and Cross Country Coaches Association preseason No. 2 and the Oxy women a No. 3 in the West Region rankings. Their reputation jumped up a notch after the women finished 12th and the men 13th at the Cowbell Classic hosted by Principia, a meet widely considered a precursor to the national championships.
On the volleyball court in Rush Gym, senior outside hitter Claire Strohm, a Spanish studies and diplomacy and world affairs ­double major from Denver, was named All-SCIAC for the third consecutive year after topping 1,000 career kills. In her last home match, Strohm helped lead the Tigers past La Verne for the first time in four years.
"Claire has been an instrumental part of Oxy volleyball's success for the last four years," says head coach Heather Collins. "Not only is she a dynamic force at the net, but a strong defender, dominant server, and dependable leader."
Strohm wrapped her career with 1,040 kills. She led the Tigers in kills per set (2.77), aces (43), and digs (260), and ranked eighth, third, and ninth, respectively, among SCIAC players in those categories. Oxy finished the season 13-12 overall, 8-8 in conference play.
Robin Waymouth, an undeclared sophomore from Palo Alto, and Nicole Castro '19, a kinesiology major from Mill Creek, Wash., were each named Second Team All-SCIAC after outstanding seasons on the soccer field. Waymouth, a sophomore from Palo Alto, was terrific as a leader with great speed on Oxy's back line, says women's soccer head coach Colm McFeely. "She is a true team player who cares for her teammates and has an outstanding record of starting in all 32 games over the last two years."
Castro was a blue-collar player in Oxy's midfield with consistent solid performances. "Nicole's SCIAC selection has come through hard work, consistency, and the quality of her midfield play," McFeely says. Over the last three seasons, she has totaled 43 starts in conference and non-conference competition. Oxy finished the season 7-7-2 overall and just one point shy of making the four-team SCIAC Postseason Tournament.