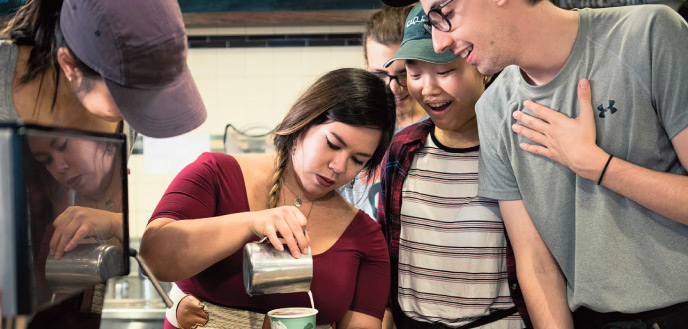 In just eight years, the Green Bean has become a campus fixture and a cultural hub of activity. Now the student-run business has become a launching pad for careers in the hospitality industry
On an average weekday, the Green Bean pours about 925 beverages. (Its best-selling drink is its cold brew, with vanilla and hazelnut the most popular flavors.) When traffic is at its heaviest—between 9 and 10:30 a.m. on Mondays, Wednesdays, and Fridays, and from noon to 1:30 p.m. on Tuesdays and Thursdays—the Green Bean serves about 50 customers every 30 minutes.
Since it opened in October 2009, the student-run business has offered more than fair-trade coffee and sustainably sourced pastries from Porto's (a fan favorite) and Sweet & Divine by Emily (which offers organic, vegan, and gluten-free options). It's created a showcase for students' artwork and an entertainment hub for open-mic nights and political and sports broadcasts—all in an inclusive, diverse, and communal space.
From a student-employment standpoint, "It is one of the most sought-after jobs on campus because of the fun work environment," says Amy Hill, who supervises the Green Bean's five student managers as associate director of student life for orientation and leadership development.
And while the vast majority of former baristas, shift supervisors, and managers go on to careers far removed from the "chaos that is caffeine," a handful of Green Bean alumni have pursued work in the hospitality industry, using the philosophies that the lounge has fostered—creativity, positivity, and sustainability—upon entering the real world.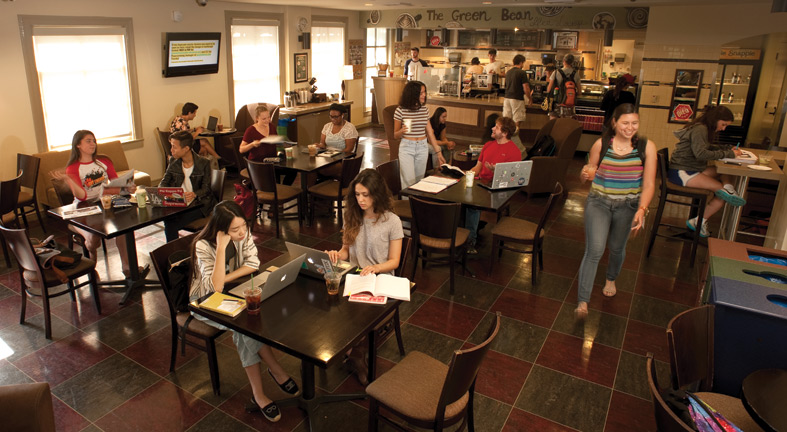 After graduating from Oxy, Hana Kaneshige '14 took a job as lead barista at Highland Park's La Tropicana Market, helping to launch its coffee bar prior to accepting a similar position with Verve Coffee Roasters in downtown Los Angeles. Within six months, she was a supervisor, and in September 2015 she was promoted to manager. Kaneshige credits her management experiences at Oxy for the opportunities she has received at Verve, which made Jetsetter.com's list of "The World's Coolest Coffee Shops."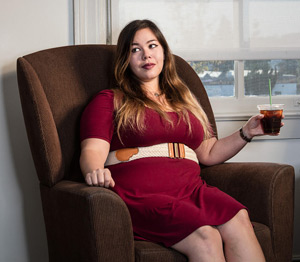 Last January, after winning an in-house competition, Kaneshige flew to Knoxville, Tenn., to participate in the national qualifiers of the U.S. Barista Championship. "The whole competition involved having a chance to taste some of the best coffees Verve had to offer and figuring out how to come up with an espresso recipe that brought out their best flavors," she says. "I spent hours practicing with the coffee, developing recipes and coming up with a signature drink—the reverse coffee boba, a milk-tea jelly floating in grapefruit soda with an espresso shot on top."
A critical theory and social justice major at Oxy, the Bellingham, Wash., native held a variety of roles at the Green Bean, including product purchasing, inventory, staffing, and quality control. The experience motivated her to complete a summer business program for arts, science, and engineering majors at UC Berkeley's Haas School of Business, and maintain an open mind in regard to career opportunities.
In her new role as the L.A. educator with Counter Culture Coffee in Los Angeles, Kaneshige will be responsible for training and quality control with the roaster's numerous cafe accounts around the city. "I am looking forward to having a greater impact on the L.A. coffee community in this next chapter of my career," she says.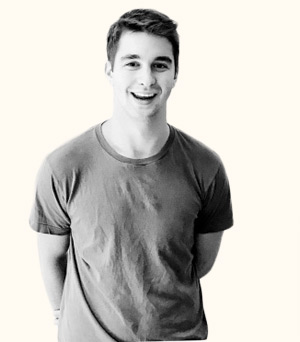 Eddy Perezic '17 took an interest in the hospitality industry while he was a student at Oxy. His managerial stint at the Green Bean only piqued his interest further, leading him to accept a job as an account coordinator with Deutsch Marketing in Los Angeles. "My experience at the Green Bean was exhilarating and fast-paced," says Perezic, left, who is devoting 100 percent of his energies currently to Deutsch's Taco Bell account, "which is huge, fast-paced, and involves tons of moving pieces."
A mathematics major at Oxy, Perezic is fusing the skills he developed in his studies with his time behind the counter to oversee one of his employer's largest accounts on a daily basis. "The Green Bean was the perfect place to build some hard skills that I didn't learn in the classroom," he explains. "It also gave me the ability to use the critical thinking and problem-solving skills I gained in classes—and then apply them to real-life situations."
In Taylor Durham '15's estimation, no learning environment is more challenging than a college coffee shop. "The long business hours, customer volume, size of the staff, and differing levels of staff experience present challenges that rarely exist elsewhere in the hospitality industry," says the kinesiology major and former Green Bean manager from Seattle. "The volume of business alone would intimidate someone who has years of experience in the industry. But to all of us who worked at the Green Bean, that was just the basic level of hustle required to thrive."
Durham discovered Caffe Vita Coffee Roasting Co. while attending a free public education class at one of its locations near company headquarters in Seattle. The experience was "eye opening," she says, introducing her to new brew methods. So she asked Caffe Vita about educational resources and training opportunities, which the company agreed to provide, prior to becoming the Green Bean's coffee and tea vendor.
"Most people just live at the tip of the iceberg, never knowing what they're really holding in their hands—who grew it and roasted it," says Durham, who worked at a coffee and tea shop in Los Angeles prior to accepting her current barista position. "Coffee has taught me the importance of not taking the art and science of the seemingly simple for granted."
As the Green Bean's popularity perks along, it is shaping the lives of current and former team members alike. During her time at Oxy, Huijing Huang '18, a sociology major from Fuzhou, China, and the Green Bean's present health, safety, and sustainability manager, has learned firsthand how a business operates, acquiring practical skills like addressing difficult conversations and communicating with diplomacy.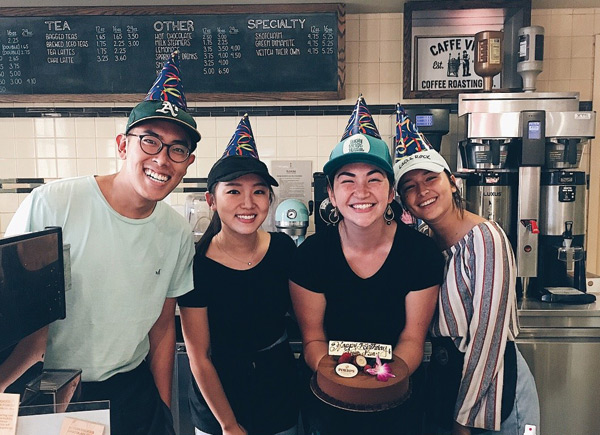 "The Green Bean has been an integral part of my Oxy education," says Huang, who also appreciates the camaraderie of the workplace. "It not only serves Oxy's student body, faculty, and staff, but it also gives the student workers a special bond. It's truly a magical place."
"The unique opportunities for advancement at the Green Bean built up my confidence in my ability to lead," adds Helena Oldenbourg '18, the lounge's former programming and customer experience manager, who completed her Oxy studies in cognitive science in December. Growing up in Falmouth, Mass., Oldenbourg has worked at cafes since she was 15: "By working as a supervisor and manager, I know now that I am a capable leader."
Huang and Oldenbourg are both interested in pursuing careers in the hospitality industry, particularly in sustainability. In her current role, Huang represents the Green Bean in sustainability-related meetings on campus and has noticed the impact the Green Bean has had on students' decisions to compost and use reusable mugs—a level of influence she would like to continue to have in the future. Likewise, Oldenbourg is focused on utilizing her past experiences in sustainability as she prepares for her career.
"I hope to take what I have learned and work with communities that do not have such spaces like the Green Bean of their own," she adds. "The Green Bean has shown me the power that businesses have to bring sustainable change and to educate consumers about how their decisions matter."
Because the Green Bean is run by students, it can easily adapt to the ever-changing preferences of its main customers, Amy Hill says. "It also provides a unique opportunity for students to showcase their talents through fiscal responsibility, creativity, and leadership." In just the last two years, she notes, the team has overseen a complete change in coffee vendors, along with a remodeling of the front of the shop.
"It's been interesting to watch these students graduate and seek out the 'expected' careers of liberal arts graduates before deciding they are happiest working in the hospitality industry, specifically with coffee," she adds. "In the end, that's really what a liberal arts education is about—keeping yourself open to whichever educational opportunities present themselves as you pursue your passion in a way that not only benefits yourself, but also the greater good." 
Chris Lewis wrote "Interns Without Borders" in the Summer 2016 magazine. Photos by Max S. Gerber and Kevin Burke.