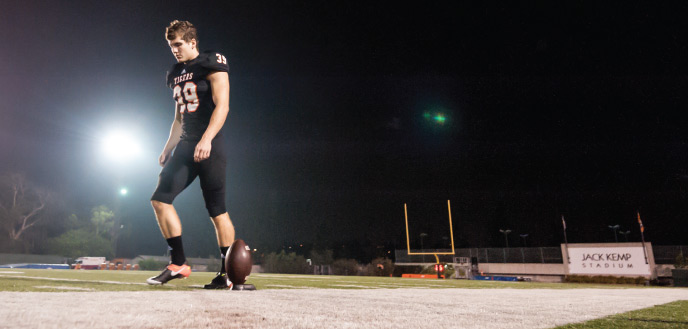 As Oxy football continues to recruit and rebuild for 2018, a College-wide task force evaluates the program's future. Can—and should—Oxy football be saved?
All-SCIAC offensive lineman Nick Lunn '18 started and played in all 27 games during his first three years at Oxy. But the economics major from Los Angeles opted out of playing football as a senior following the abrupt retirement of 56-year-old Doug Semones, the Tigers' coach for the last four seasons, on July 18—three weeks before training camp. Lunn had his reasons.
"I tore the labrum in both shoulders, had meniscus surgery on my knee, I have a screw in my wrist, and I had a really bad concussion last year," he explains. "You couple all of that with a 1-8 season, our defense was going to be the same, our best offensive players were leaving, and our head coach left. Everything fell apart. Why would I risk brain health when it seemed like we had nothing to play for?"
It's a sentiment shared by a number of his former teammates. Dan Gittelman-Egan '19, a computer science major from Brookline, Mass., and a starting wide receiver/tight end for the Tigers as a sophomore, had already made the decision to quit before Semones left. He cites the combination of poor recruiting classes in front of and behind him, and the "negative perception" that he says comes with being an Oxy football player on campus.
Linebacker Marcus Lee-McDuffie '18, Oxy football Newcomer of the Year in 2014 and a kinesiology major from Moreno Valley, left the team shortly after last season. Running back Chris Rom-Toribio '19, a cognitive science major from La Quinta, ran at the Division III Outdoor National Championships in 2016 and chose to focus just on track this season. Zach Hunter '18, a history major from Murrieta and Oxy's best returning defensive lineman, and starting wide receiver Isaiah Amaechi '19, an economics major from Los Angeles, exited the program the day before camp started.
From the time Rob Cushman was announced as the Tigers' new coach on August 1 to opening kickoff 38 days later, the squad dipped in size from 56 to 47 players—20 of them freshmen. "Every program has its challenges, but this is different, obviously," says Cushman, who inherited an 0-10 squad at his most recent coaching stop at the University of Minnesota, Morris. "I never expected this when I got here."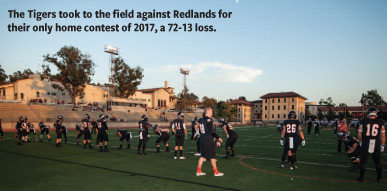 On December 15, the Division III football season culminated with the University of Mount Union of Alliance, Ohio, notching its 13th national title over the last 25 years. For Occidental, the season ended nearly two months earlier, with the cancellation of the remaining four games of its 2017 schedule over safety concerns raised by the injury-diminished roster. That meant the Drum—symbol of one of the longest-standing rivalries on the West Coast—would stay at Pomona for another year. And it meant there would be there no contest for the Shoes, stolen from Little All-American running back Myron Claxton of Whitter in 1939, subsequently bronzed by the Poets, and awarded to the winner of the now 110-year-old football rivalry every year since.
The history of Oxy football is loaded with such lore: the 1949 Raisin Bowl victory over the Colorado A&M Aggies in Fresno; the Jack Kemp '57-to-Jim Mora '57 combination that electrified fans in the mid-1950s; the 1982 squad that, in Dale Widolff's inaugural season as head coach, upset the University of San Diego in a game broadcast by CBS during the NFL players' strike to 60 percent of the country; and the 2004 team that, behind the phenomenal arm of Andy Collins '07, went to the Division III Regional Finals in what is widely regarded as the Tigers' best season ever.
How could one of Oxy's most storied programs have fallen so far, so fast? Many former players point to the 2012 dismissal of Widolff, the winningest coach in Occidental football's 123-year history, after repeated violation of NCAA recruiting rules. Widolff once said of the program: "Our success is a result of our ability to encourage quality football players to come to Occidental. When we recruit prospective student athletes, we look for individuals who are competitors, who love to play football, and who aren't afraid to make a dual commitment to athletics and education."
"I was surprised the season got canceled, but I was told before the season even started they were lacking players," says Mike Tromello '04 M'05, who played for Widolff for three years and spent another five years as a secondary coach for the Tigers. "This is college football. You need guys. You need bodies."
"On a scale of 1 to 10, I feel the crisis is a 10-plus, but I feel the administration maybe looks at it as a 3-plus," says Vance Mueller '86, SCIAC offensive player of the year in 1984 and 1985 and three-time team MVP, who played five years of pro ball with the Los Angeles Raiders. "My question to President Veitch on several occasions has been, Why not? What is the disadvantage to the College of having a successful football program? I don't understand why this is even a difficult thing to solve. I'm a little bewildered, to be honest."
"Football has a long and storied history that is woven into Oxy's fabric, and we have to begin by acknowledging that," Veitch says. "At the same time, we have to recognize that there are some serious budgetary and admission constraints that we are operating under—constraints that we are reluctant to change for some very good reasons. It's a complex issue with far-reaching implications."
In the near term, Occidental is taking steps to field a competitive football team next fall, beginning with an all-out effort to retain the 40 returning athletes currently on the roster. Cushman has signed a contract to stay on as head coach through the 2018-19 academic year. In the wake of the season's cancellation, on the recommendation of Athletics staff, the College will hire an additional full-time assistant coach who can help with recruitment, as well as a full-time recruiter for Athletics versed in data analytics as well as other proven tactics and strategies "to ensure a robust recruitment effort across all sports," starting with football, President Veitch wrote in a November 1 letter to the Oxy football community.
Meanwhile, in addition to his current staff, Cushman will be aided by former Oxy head coach Bill Redell '64, the veteran Oaks Christian High School coach who was brought on as consultant for football operations during the heavy recruiting months of December and January, and the efforts of Mora, Mueller, Tromello, and other football alumni who have agreed to meet with recruits and make phone calls on Oxy's behalf.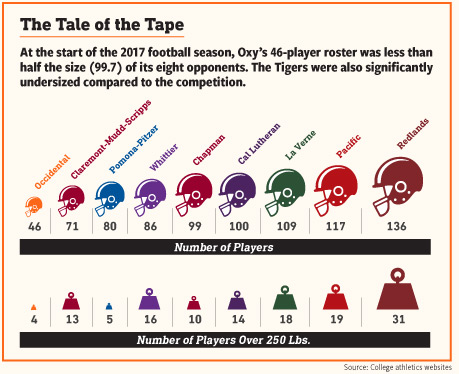 "Generally speaking, if you get to 60 players or above, you have enough players for every position," Veitch says. "I would go to our games and I would sometimes see over 100 players on the opposing team. For us the perennial problem is finding linemen. But we are often in situations where we are giving up 30, 40 pounds across the line." Redlands' 136-player roster, for instance, includes 18 players weighing 275 pounds or more; Oxy's heaviest offensive lineman is listed at 270.
"You can imagine there are injuries that result from that," Veitch continues. "One of the things that started to happen when our numbers started to dwindle was that our defense would be on the field for more than 90 plays, and we only had one or two linemen that could substitute. Fatigue sets in, and then students get injured.
"Surprises are part of the job as a college president, and I never imagined football would be one of them," he adds. But conversations around football have crowded his schedule since Oxy canceled its second game of the season—the Tigers' home opener—against Pacific University in mid-September.
Between 2000 and 2016, the high school sports that saw the largest increases in participation were cross country (45 percent), soccer (37 percent), and outdoor track and field (25 percent), according to the most recent survey published by the National Federation of State High School Associations. Football remains the No. 1 sport overall, but the number of participants dropped by 25,901 in the 2016-17 school year.
Of the almost 1.1 million high school football athletes, an estimated 6.8 percent go on to play NCAA football—2.4 percent at one of the 248 Division III colleges and universities that field the sport (an increase of 10 schools over the last five years). The number of men playing Division III football—19,484—is at an all-time high in the 35 years measured by the NCAA survey.
That D3 growth spurt isn't reflected in the numbers at Oxy, where a smaller percentage of men enrolled at Occidental is suiting up for the sport. In 1967, 76 men (7.1 of the total male enrollment) played with varsity or freshmen football. In 1992, 89 men (11.3 percent of the total male enrollment) played football for the Tigers. From 2012 to 2016, the average roster size was 62 players. (In 2011, Widolff's last season, Oxy fielded a team of 60.) On opening day of the 2017 season, less than 5.5 percent of the total male enrollment was on the football roster.
Overall, the relationship between Athletics and Admission is essential to Oxy's enrollment success, says Vince Cuseo, vice president of enrollment and dean of admission. "Roughly a quarter of our student body plays a varsity sport. In order to meet our enrollment goals and field competitive teams, our offices must work in tandem about procedures, messaging, admission criteria, and individual applicants."
Even as the number of applicants to Oxy has jumped 10.4 percent since 2012, the College has experienced a decline in the raw number of recruited student-athletes for football (and the actual number of men enrolled at Oxy has dropped from 954 to 857—42.1 percent of the student population). The issue has been a smaller number of applicants who have expressed an interest in playing football rather than any question about their academic standing, according to Cuseo.
"We believe the issue is the size of the top end of the recruiting funnel for football compared to years prior," he explains. "Is there less interest in playing football for Oxy in particular? A lack of effective recruiting on the part of the football program? It's hard to answer these questions with confidence."
"It is first and foremost a recruitment issue," Veitch says. "It has to do with a charismatic coach and a much greater and more sophisticated approach to recruitment than we've ever had before. But it also means a couple of bad seasons start to erode the franchise. Because of its size, you see that sooner with football than with other sports."
While football is far from an endangered species at the Division III level, there are some notable predecessors to Oxy's predicament. In 2008, financially strapped Colorado College discontinued football, softball, and water polo all at once, reducing its athletic expenditures by more than 10 percent. (Those Tigers had enjoyed only one winning season since 1993.) Eight years earlier, Swarthmore College, which had an enrollment of 1,400 at the time, cut its football program—the 15th-oldest in the country—because it was recruiting athletes at the expense of admitting more academically qualified students. (The Quakers won only five games in its last seasons, going 0-28 at one stretch.)
"We are not changing the academic profile of this institution in order to field a football team," Veitch says. "We already have a case-by-case analysis where we evaluate people holistically. Rather than any dip in academic standards, we should build the roster by doing a better job of opening the funnel and recruitment, coupled with a strong coaching staff."
Although there is a perception among some football alumni that Oxy now discourages transfer students—a cohort that has produced countless standout players over the years, not the least of whom is Andy Collins—Cuseo insists there is no institutional bias at work: "Enrollment trends change over time. As our application pool for first-years has grown, we've had to rely far less on transfers to meet enrollment goals. When I arrived in 1999, the needed transfer enrollment target was 60 to 65. Now we're seeking 35 transfers each year." The other piece of the equation, he adds, "is that coaches aren't recruiting as many transfers." (Cuseo notes that Semones recruited only three transfer students over his four years at Oxy.)
While the admission outlook is being eyed very closely, there are other factors to be weighed before the Tigers return to the field. On January 19 and 20, a multi-constituency task force headed by alumni-athletes Bill Davis '80, who swam and played water polo for Oxy, and Sue Bethanis '82, who helped lead Oxy volleyball to the national championships, will meet to carefully consider the long-term prospects for football at Oxy. (Among the other members of the task force, which was announced October 17: football alumni Eric Moore '83 and Mueller, Oxy professors and SCIAC representatives Linda Lyke and Lynn Mehl, two additional faculty, two trustees, and two current student-athletes.) A week later, the Board of Trustees is expected to address the future of the program based on the task force's recommendations.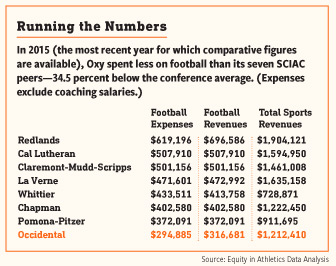 Informing their work is a football alumni subcommittee co-chaired by Mueller and Tromello that met with Veitch soon after the cancellation of the season and has been "trying to provide viable solutions and ideas on what it would take to modernize and keep the program going," says Mueller. From an institutional standpoint, he adds, "There has to be a philosophical sort of change from Oxy's current situation regarding athletics. They really have to make a commitment financially and personally and make student-athletes feel important."
"Generally speaking, there is more of an indifference to football at Oxy than there is a stigmatization," says Veitch (who calls football "the canary in the coal mine that is surfacing after 30 years of benign neglect for athletics"). "Football is symptomatic of a larger problem—and I think it is a problem—in which there are fewer campuswide events that unite us. With the exception of Homecoming, the days when everyone gathered around the campfire or the football game are over."
On the same weekend as the trustees' meeting, dozens of high school recruits are expected to be visiting campus as Cushman and his assistants continue to pitch the prospects and their parents on joining the rebuilding effort at Oxy. Meanwhile, Tromello and Mueller are planning to come back to campus in January to "re-recruit" the roughly 40 players from the 2017 squad to encourage them to return next season. "There are some damn good players," he says, "and those guys will make or break the future of football at Occidental."
Hovering over the debate is the specter of chronic traumatic encephalopathy (CTE), a progressive degenerative disease of the brain found in people who experience brain trauma. Following the cancellation of Oxy's Homecoming game in October, associate professor of sociology Richard Mora raised the ethics of even continuing to play the sport. As he wrote in a campuswide email, "While there is still much we do not know about CTE, what we do know is scary, and raises the question: Why does the College, which espouses a commitment to the life of the mind, still have a football program?"
Mora's position is supported by a number of former Oxy players who have shared their opinions with Veitch. "I cannot understand how a sport which scientific research has shown to expose student athletes to potentially life-threatening injury falls within the overall mission of the College," wrote football and track athlete Ron Whitney '64, who placed sixth in the 400m hurdles at the 1968 Summer Olympics. "Fortunately, Occidental does not depend upon football for profit and is able to focus on loftier goals when addressing its educational mission."
On the other side of the coin, Daryl Ogden '87 mirrored the feelings of many alumni in his email to Veitch: "It is beyond my capacity to emphasize adequately the degree of harm that I believe ending the program would have on the College and its reputation on multiple dimensions," including the loss of affinity to Occidental that generations of former players would experience; the cumulative loss of future generations of "would-be Oxy student-athletes who will pursue their studies and competitive interests elsewhere"; and the ending of Oxy's longtime competitive rivalries with its SCIAC kinfolk, such as the Claremont Colleges, "which have important analogues in higher education directly relevant to the College's standing and reputation."
"What we've decided is that we want to be competitive but we recognize that given our limited budget we cannot be competitive across the board," Veitch says of the College's athletics strategy, which largely follows the 2014 recommendations of a 17-member planning committee to invest in one sports area at a time. "We did that with track and field and cross country," Veitch says, "and we're going to do that with swimming and water polo and tennis next. That's a long march back, but now all of a sudden there are three sports that are going to be perennially strong at Occidental, and then we can begin to add to those sports as we go forward.
"There are a couple of recognitions that came the hard way for me," Veitch adds. "First, while a program has to have a shot at being successful, the argument for athletics at Occidental is that it inculcates the values of teamwork and patience and diligence, and grace in victory and defeat—all those soft skills that are also part of a liberal arts education. That, to me, makes for a stronger argument for investing in athletics.
"The more recent revelation is around the absolute importance of our coaching staff in recruitment," he continues. "They're like admission officers, and I didn't fully appreciate that. They need to be given the proper tools to be effective—the same kind of data management systems that our admission people have—and they need a system of incentives to make sure they are opening the funnel so that Vince has good choices."
Relationships are ultimately the key to recruiting, according to Cushman. "I'd rather do a great job recruiting 50 kids and build those relationships instead of having 75,000 names and maybe one of them will show up here. To develop a relationship, I try to call them, text them, stay in touch, get them to visit. The funnel becomes important once we have identified the key guys."
Being competitive again in the SCIAC is far from impossible, as there is no one dominant football team in the conference right now. In the six seasons since Widolff's departure, Chapman and Redlands have two championships each, Cal Lutheran and La Verne one apiece. (Whittier hasn't won a conference game—or any football game, for that matter—since Oct. 18, 2014.)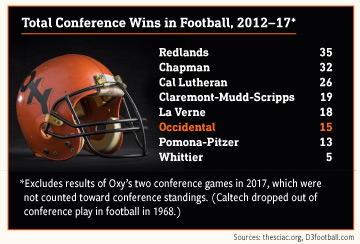 One of the seniors who stuck it out this season was wide receiver and team captain Ian Bonde, an economics major from Ala­meda, who scored both Oxy touchdowns in the Tigers' contest against Redlands on September 30. "I think the demise is a combination of poor recruiting on top of guys of deciding football wasn't worth it," says Bonde, who also plays basketball for the Tigers. "It's a rigorous school academically, so it's tough to manage school with being on the team. Early morning practices are tough if you aren't getting playing time, and on top of that, we were coming off a 1-8 season with a big senior class graduating. Guys were thinking, 'If we're not winning now, why would I put this work in for another terrible season?'"
2016 SCIAC Offensive Player of the Year Bryan Scott '17, who quarterbacked the Tigers through three winning seasons and watched the team's struggles from the bleachers in 2017, suggests that Oxy is trying to fix too many things at once when recruiting should be the focus of the College's efforts for next year: "We need to stop trying to change everything about it and just focus on the little thing that gets to the big thing.
"Once we forfeited the season, it was amazing to see how many alumni truly care, how many people love Oxy football, and how many people want it to be successful," Scott adds. "We need more guys that can play, and we need to establish leadership within and outside the football program. I think it's important that the people coming in be 100 percent confident in football's future at Oxy."
You won't have to wait until next September to see the football team in action. They just won't be wearing pads. "We'll be doing some campus work and community service next semester, and selling doughnuts and coffee and soda during study breaks, just to let people know we're alive and well," Cushman says.
"We're working hard to play next year, to have a program," he adds. "At the end of the day I can't guarantee people anything. But our staff is doing an amazing job." In December, at least 40 recruits visited campus for one of two planned events, with an additional 10 or so visitors scattered throughout the rest of the month. Another 25 high school seniors visited earlier in the semester, and Cushman estimates that more than 30 football prospects were applying for Early Decision II by January 1.
"At my last job, I took an 0-10 team with 28 returners to 46 players the first year and 64 players the next year," Cushman says—and that was in Minnesota. "I know how to do this. I'm committed to it. And we've had some really good kids here at Oxy who want to be part of the solution.
"I just hope it's not too late." 
Photos by Ed Ruvalcaba.