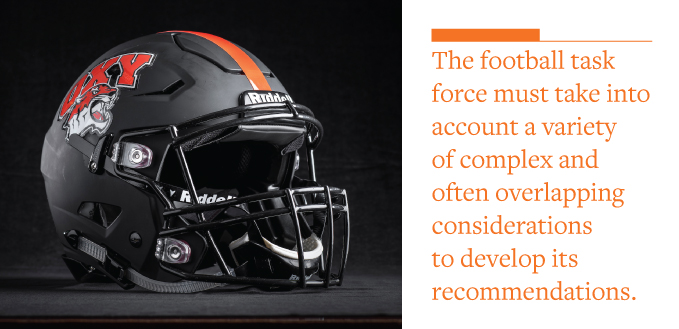 Any Given Saturday: The Task at Hand
This January, a broadly representative task force of trustees, faculty, students, staff, and alumni will convene to consider the future of Occidental's football program. For football advocates, the issue is a simple one. Football is one of Oxy's original sports, part of a proud tradition that has played a central role in the life of the College since 1893. As is true for Oxy athletes in every sport, football alumni regard their participation as a central part of their college experience, one that helped shape the people they are today.
Yet the situation in which we find ourselves—a season ended prematurely over safety concerns arising from a diminished roster—is not a simple one. This season of disappointment has been decades in the making. As Oxy's athletics strategic planning committee concluded three years ago, "The prolonged period of 'benign neglect' Athletics has suffered from has had a profoundly negative impact on the performance of our teams and athletes."
To reverse that trend, the 17-member committee recommended rebuilding one sports area at a time, starting with track and field and cross country—a strategy that has yielded some promising results, including nationally ranked cross country and track and field teams.
However, like the strategic planning committee, the football task force will have to consider a series of institutional constraints that include:
Admission standards. From the beginning, Occidental has prioritized the life of the mind. As the 1902 catalog stated, Oxy is "heartily in favor of outdoor sports that … do not involve a sacrifice of intellectual or moral excellence." The College remains committed to maintaining (and increasing over time) its selective admission criteria. Rather than allowing any "dip" in our standards, we must continue our effort to more effectively identify and recruit qualified athletes to build our rosters. Any commitment to a competitive football program at Occidental must begin with an endorsement of this premise.
Budget realities. Any realistic discussion of the future of football must begin with the recognition that the College has two fundamental financial commitments that come before anything else: scholarship support for our students and continued support for the academic excellence of the institution. With a relatively modest endowment that produces less than 20 percent of Oxy's ­annual operating budget, allocating scarce ­resources to one particular area means fewer resources to devote elsewhere. Competition is fierce for budget dollars, and the task force will have to consider the opportunity costs involved in making football—which already has the largest budget of any single sport—a truly competitive program.
Fundraising needs. Given that the College as a whole is under-resourced, any significant expansion of the budget for football or any other sport will depend in large part on the willingness of alumni to contribute to the success of the program. An important part of the success of Oxy's track and field program has been the generous support of alumni such as trustee emeritus and Athletics Hall of Famer Tod White '59. With the support of such donors, we believe we can do the same for swimming and diving and water polo, now that construction of the new De Mandel Aquatic Center is underway. This is a successful model that suggests a way forward for football and other sports.
Player safety. Injuries are a part of any sport, but any discussion of the future of football has to take into consideration the growing body of knowledge about the long-term effects of concussions (in fairness, an issue in other sports as well). This awareness has led to the new training protocols and rules governing tackling and blocking on all levels of the sport, and has been blamed in part for the recent decrease in participation in youth football programs. Safety issues at Oxy have been compounded by the small size of our roster, both in numbers and the physical size of our players as compared to other, much larger teams in the conference.
Any way you look at it, the task force must take into account a variety of complex and often overlapping considerations to ­develop its recommendations. This will involve multiple tradeoffs on all sides. I'm grateful to its members who are willing to give us the benefit of their time, expertise, and love of the College to help us navigate this important issue.
Jonathan Veitch
President