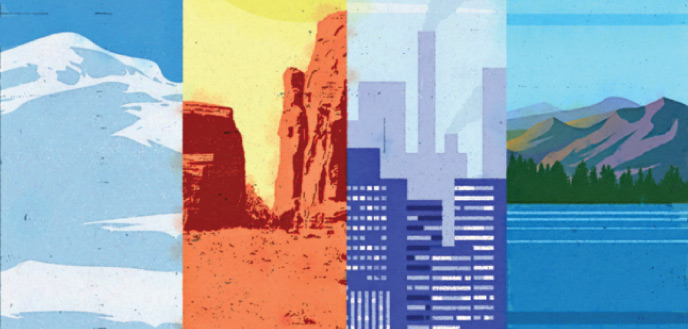 Two sides of the coin on the football debate, and timely questions about climate change
Handle the Truth
I was stunned to read some of the statements in "An Occidental Truth" (Fall 2017). The statements that warming is likely tied to humans, but "the exact causes [of climate change] are murkier," and that whether climate change is caused by "anthropogenic carbon dioxide emissions" is not known, are demonstrably false. That a professor at Oxy in any discipline could say as recently as five years ago that climate change was "hypothetical" is so wrong that I can only hope it was a misquote or misprint. What's going on, folks?
The science of climate change has been well-settled for decades. I decided to study up on climate change when I retired in 2014. Here's what I learned: It's real; it's us; it's very, very bad; but there is hope ­because there are ways to move to a 100 percent clean energy economy, if we begin that transition in the next few years.
Since 2014, I have worked as part of Citizens' Climate Lobby to achieve this goal so that we can leave a livable world to our kids and grandkids. I felt compelled to do so because the science was so clear.
The suggestion of scientific dispute on these issues is something I expect to see on the Heartland Institute website, not in a journal from Oxy. You owe your readers a full retraction of the statements made in the article suggesting that the science on the basic issue of human causation of climate change is in any doubt.
Carl Yaeckel '72
San Diego
Two Sides of the Coin
I keep hearing stories that Oxy will be giving up football because of lack of interest, poor equipment, and other reasons ("A Season on the Brink," Fall 2017). There are 248 other Division III schools playing it, including all SCIAC schools except ­Caltech. Eliminating football would be so wrong when, only a short time ago, Oxy had a stellar program and coach of 30 years. The Tigers were even on national TV one year. Great publicity for the school.
Ron Duncan '64
Dallas
(The following letter is excerpted from an email sent to President Veitch in November.)
No one wants to stop anything that builds a sense of community, and football certainly can do that. It doesn't surprise me that many former players are up in arms. Change is always hard. However, it sounds like the team had a low turnout, and injuries further reduced the squad. Shrinking numbers puts more pressure on those who can play. The College would have no defense if a player was seriously hurt due to a lack of substitutes. That is a risk which is hard to justify.
In a recent Wall Street Journal article showing the number of high school football players by state, Florida, Texas, and others showed a growth from 2015 to 2016. However, many other states showed declines, and California showed a reduction of about 20 percent in just one year. I am guessing that reflects parents weighing the risks and benefits of children playing this great, but dangerous, sport.
Thank you for your leadership. It will be interesting to see how this plays out.
David A. Brown '65
Piedmont
Department of Corrections
A photo of new deans Wendy Sternberg and Rob Flot on the contents page of the Fall 2017 issue should have been credited to Katja Livingston, a department assistant in the Office of Student Life.
In "Someone's Somebody" (Fall 2017), the context of Kevin F. Adler '07's opening in his letter of appeal to UC Berkeley's admissions office ("You made a mistake.") was not fully explained. Click here to read Adler's Huffington Post column on the topic.