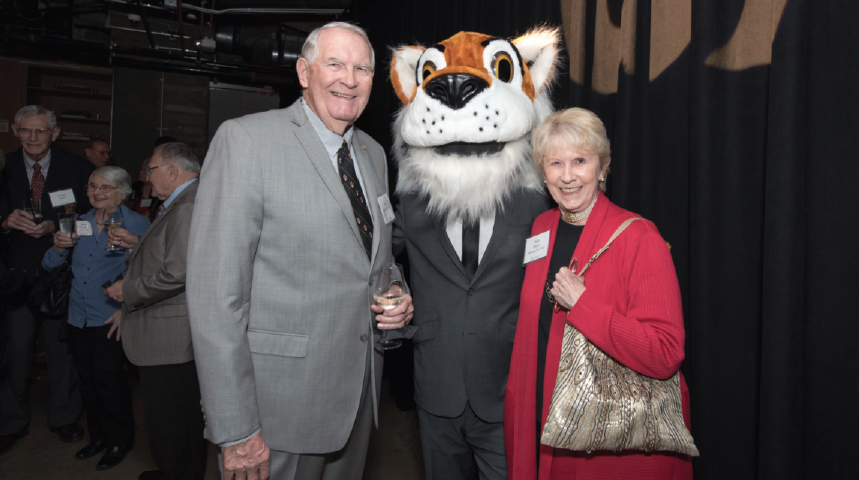 There were few bigger Oxy boosters than Glen Johnson '61—and that's not hyperbole
An outstanding four-sport athlete who eventually grew to a height of 6'6", the Huntington Park native moved to Beaverton, Ore., with his family as a teenager and remained there for his senior year of high school after his family moved back to Southern California. It turned out to be a good decision: He became the Oregon state prep shot put champion in 1956.
As a freshman at Compton City College, Glen—who died January 1 at his home in Torrance—was ranked No. 3 nationally among junior college shot putters. Recruited to Oxy by Coach Chuck Coker, Glen was part of the golden age of Tigers track and field, a member of teams that routinely competed with USC, UCLA and Stanford (defeating all but USC). Glen twice placed in the shot put at the NCAA Championships—sixth in 1958, fifth in 1959—and set a school record of 57'7¾" that today stands second on the all-time list. He competed in the 1960 U.S. Olympic trials and is a member of the Occidental Track and Field Hall of Fame.
After graduating from Oxy with a degree in sociology, Glen spent more than three decades in the aerospace and tele­communications industries, much of that with TRW. He earned a master's in clinical psychology from Pepperdine in 1994 and launched a new career with his wife, Julie (Dees) Johnson '61, whom he met at a weekly dance at the student union at Oxy. The two opened a marriage and family therapy practice in Torrance and worked together until Glen's death.
A loyal and generous supporter of Occidental, Glen served on the Alumni Board of Governors and Tiger Club board, and was president emeritus of the Tiger Track Alumni Association. "My dad practically bled orange and black," says daughter Susan Johnson '87. The couple attended St. Andrews Presbyterian Church in Redondo Beach, where Glen served as a deacon, and later joined Rolling Hills Covenant Church, where they joined the choir and offered classes on such topics as parenting teens and having a successful marriage. He served on the board of directors of Love in the Name of Christ, which serves homeless and under-resourced people in the South Bay.
In addition to his wife and daughter, Glen is survived by son David and grandchildren Kiana, Malakai, Chloe, and Quinn.